WASHINGTON — President Barack Obama was officially sworn into a second term in a private ceremony at the White House on Sunday, but the public ceremony does not take place until Monday — and officers with the Utah Highway Patrol are on hand to help make sure all goes as planned.
Washington is expecting more than 500,000 people to attend the ceremony, followed by speeches, parades and parties.
"Yeah, we were invited by Washington, D.C., to attend the inaugural; we're going to be doing security along the parade route," said Commander Robert Anderson with the Utah Highway Patrol.
Presidential inauguration ceremonies are perhaps the country's largest and most well-planned public parties. Hundreds of thousands of people converge on the mall in Washington, D.C., every four years to see the president take the oath of office and to listen to the inaugural speech.
The behind-the-scenes planning has gone on for months, and security is huge. Helping out with that effort are thousands of law enforcement officers from all over the country, including 40 troopers from the UHP. The UHP helped out at the inauguration four years ago, and have been asked to participate again.
"We were deputized as federal marshals, temporarily," Anderson said.
The UHP troopers selected to participate represent the entire state, from Logan to Kanab; among them are troopers Mary Kaye Lucas and Jalaine Hawkes. They and their UHP colleagues will be assigned to the parade route on Pennsylvania Avenue.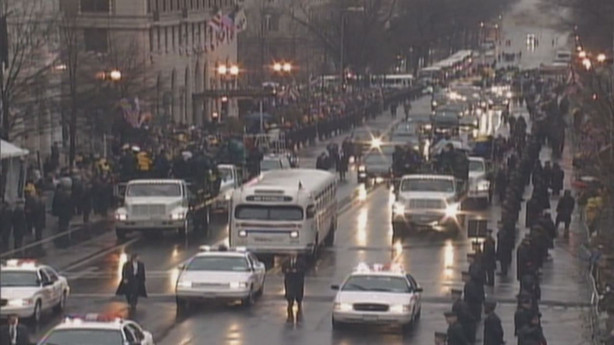 "Pretty much everybody in the highway patrol, trooper-wise, wanted to go to this," Anderson said. "The hard part was being able to whittle it down to the 40 that are going."
The UHP team joined a couple thousand other officers from around the country in a D.C.-area basketball arena for a briefing and training instructions on Sunday morning.
"It's a long day," Anderson said. "We'll get there very early in the morning and help secure the parade route, and then we'll be there throughout the parade and after."
No one is complaining. Many of the UHP troopers have never visited Washington D.C., so they'll enjoy every minute of it.
"Every single member that's going is very proud of that, and we are looking forward to the opportunity to serve that day, and be a part of history," Anderson said.
The federal government is paying the cost — about $120 million — of sending the UHP troopers and the others to Washington.
×
Photos
Related Stories