Estimated read time: 2-3 minutes
This archived news story is available only for your personal, non-commercial use. Information in the story may be outdated or superseded by additional information. Reading or replaying the story in its archived form does not constitute a republication of the story.
SALT LAKE CITY — A Mormon presidential candidate, an NBC special and a Broadway satire has given the Church of Jesus Christ of Latter-day Saints international spotlight. But do people understand the church better than before? A new Pew Research Center poll says "maybe."
Despite the religion's spotlight over the past year and a half, Pew found that the public's factual knowledge of the LDS Church during 2012 did not change. Less than one-third of American adults (29 percent) were able to answer to questions about the history and scripture of the church, a percentage that remains unchanged from 2010.
Of those surveyed, 32 percent of U.S. adults said they learned "not very much" about the LDS faith, whereas 50 percent said they learned "nothing at all," despite Romney being the subject of twice as much religion-related media coverage as President Barack Obama during the election.
There was no difference between political parties in factual knowledge about Mormonism.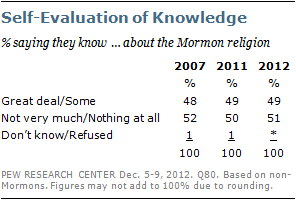 The poll did find, however, that attitudes toward Mormonism have changed. Of the non-Mormon American public, 61 percent said they see Mormonism as "very different" from their faith. In 2011, that number was 65 percent. On the other hand, 25 percent said Mormonism has "a lot in common" with their beliefs in 2012. Protestants — 31 percent — said they have a lot in common with Mormons, up from 25 percent in 2011.
"This warming of attitudes about the Mormon religion is concentrated among Republicans and independents who lean Republican," Pew reported.
When asked to describe Mormons and the LDS Church, more people responded with positive impressions in 2012 than in 2011.
Seventy people responded with "cult," but 51 said Mormons were "good/good people," 45 responded with "family/family values" and 29 said "faith/faithful." "Different" was the word of choice for 27 people, 23 responded with "polygamy/bigamy" and 21 said "strict/restrictive."
×
Related links
Related stories
Most recent Utah stories