Estimated read time: 1-2 minutes
This archived news story is available only for your personal, non-commercial use. Information in the story may be outdated or superseded by additional information. Reading or replaying the story in its archived form does not constitute a republication of the story.
PYONGYANG, North Korea — City lights are normally a fairly accurate predictor of population size, with some exceptions — the most glaring of which is North Korea.
New satellite images released by NASA show the striking contrast between South Korea, population 49 million, and North Korea, about half that size. South Korea's lights are scattered throughout the country, with the brightest lights concentrated around Seoul, the country's capital. In North Korea, lights are only visible — barely — around Pyongyang, the capital city.
The contrast is nothing new. Military satellites in the 1990s captured images of North Korea showing up as a gaping hole among the lights of Japan, South Korea and China. But new imagery shows the lights, and lack thereof, in more detail than ever before.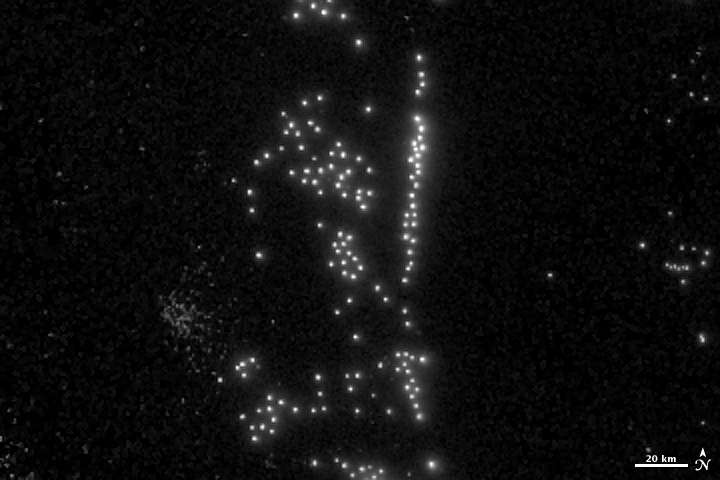 NASA's Suomi NPP satellite — the same one that captured stunning nighttime views of Earth earlier this month — took the newly released pictures on Sept. 24. Notably, even the Yellow Sea gives off more light than North Korea, as fishing boats remain on the water even at night.
NASA points out the vertical line of lights in the middle of the Yellow Sea that seem to form a boundary between nations.
North Korea ranks 73rd in energy consumption and 71st in energy production, according to 2009 CIA estimates.
×
Related links
Related stories
Most recent Science stories