Estimated read time: 2-3 minutes
This archived news story is available only for your personal, non-commercial use. Information in the story may be outdated or superseded by additional information. Reading or replaying the story in its archived form does not constitute a republication of the story.
SEATTLE — There should be a way to make cancer cells glow.
That was the wishful thinking of Dr. James (Jim) Olsen and his neurosurgical intern as they tried to surgically remove the tumor of a 12-year-old female cancer patient. It was unclear which cells in the child's brain were part of a cancerous tumor and which were healthy. Olsen was a man in search of a solution.
Olson is a pediatric neuro-oncologist at the Seattle Children's Hospital Research Institute and a Professor at the University of Washington School of Medicine. A neuro-oncologist is a physician trained to diagnose and treat patients with tumors of the brain and nervous system.
Ultimately, Olsen and his colleagues stumbled onto a report by Harald W. Sontheimer showing that scorpion toxin binds to brain tumor tissue, but not healthy cells.
Moreover, "it can cross the blood-brain barrier — a cellular and molecular fortification that lines blood vessels in the brain and prevents most compounds from entering," according to Sontheimer. "Usually, peptides don't get into the brain unless they bind to something specific that carries it in there."
Sontheimer is credited with identifying the neurological potential of the scorpion protein. He is affiliated with University of Alabama in Birmingham.
That gave them the idea for Tumor paint, which uses the unique properties of the venom to make tumors glow exactly like they wanted.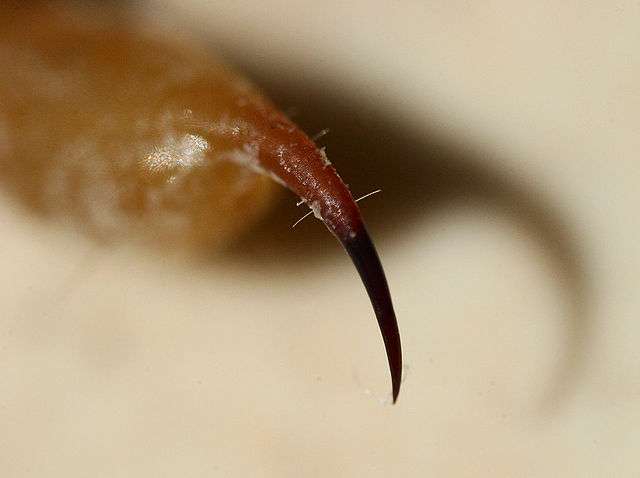 The paint technology is administered through an injection. By linking a synthetic version of the scorpion protein to a molecule that glows — a beacon fluorescent — it attaches itself to a peptide derived from the toxin. The toxin then latches onto cancer cells' receptors, adding florensence.
Tumor Paint allows surgeons to use a near-infrared camera to see the cancerous tissue in real time "live" during surgery with an enhanced resolution over pre-operative MRI or direct intra-operative observation. The ultimate goal is to give the surgeons a better chance of removing all of the cancerous cells without injuring surrounding healthy tissue.
"Clinical trials could begin next year," said Heather Franklin, CEO at at Blaze Bioscience, a company formed to commercialize the new technology. They licensed the technology to the Fred Hutchinson Cancer Research Center last year.
Blaze Bioscience has since raised $5 million in "Series A" financing to put Tumor Paint through further development.
"This funding is a significant milestone" Franklin said in a press release. "It will allow the company to transition from the seed stage to full execution mode."
Mel Borup Chandler lives in California. He writes about science-related topics, technological breakthroughs and medicine. His email address is mbccomentator@roadrunner.com.
×
Related links
Related stories
Most recent Science stories