Estimated read time: 5-6 minutes
This archived news story is available only for your personal, non-commercial use. Information in the story may be outdated or superseded by additional information. Reading or replaying the story in its archived form does not constitute a republication of the story.
SALT LAKE CITY — In a bizarre finish, the Runnin' Utes held on to defeat Southern Methodist, 62-53, Tuesday night at the Jon M. Huntsman Center.
Utah hit six free throws in the final 13.3 seconds after SMU's bench was called for two consecutive technical fouls, and one assistant coach was ejected. Senior guard Jarred DuBois sunk the four technical free throws, and then freshman forward Jordan Loveridge was fouled on the Utes' subsequent possession and nailed both of those freebies, turning a 3-point lead into a 9-point victory.
The contest, a rematch of a Nov. 28 SMU victory in Dallas, was all tied up at 51 with three minutes remaining. DuBois penetrated into the paint and kicked the ball out to an open Justin Seymour, where the true freshman guard spotted up and buried the huge go-ahead 3-pointer.
---
It was an absolute team win. We needed some guys to make some plays or we wouldn't have the result that we have.
–Utah basketball coach Larry Krystkowiak
---
"(DuBois) drove, and I was just in the corner ready to line it up," said Seymour. "When he kicked it to me, I was ready to knock it down, and that's what I did."
"He's started to let the game come to him," Utah head coach Larry Krystkowiak said of Seymour. "And if we're playing the game the right way, making extra passes and stuff, there's nobody on our team that I'd rather have shooting that shot."
Maintaining that 3-point lead with the ball back and under a minute to go, the Utes drained most of the shot clock before DuBois pulled up for an 18-footer. The ball came off the rim, but there was Loveridge to tip it in, increasing Utah's lead to five.
"That might have been one of the plays of the game," Krystkowiak said of Loveridge's tip in. "That was a huge swing. But that's kind of the message for everybody: It's not going to be easy on certain nights. It's just about the next play. You've got to keep battling adversity. A lot of guys stayed persistent with the effort and never stopped. Jordan is a good example to never quit, to keep going."
The Mustangs (8-3) were able to answer with a quick transition bucket to make it 56-53, but that's when their coaching staff got a little too upset with the officiating crew, and the result was a 62-53 decision in Utah's favor.
Seymour led the Utes (7-3) with 11 points, five rebounds and three steals off the bench. Fellow freshman guard Brandon Taylor scored 10 points in 12 minutes of play, after scoring just eight total points up to this point in the season.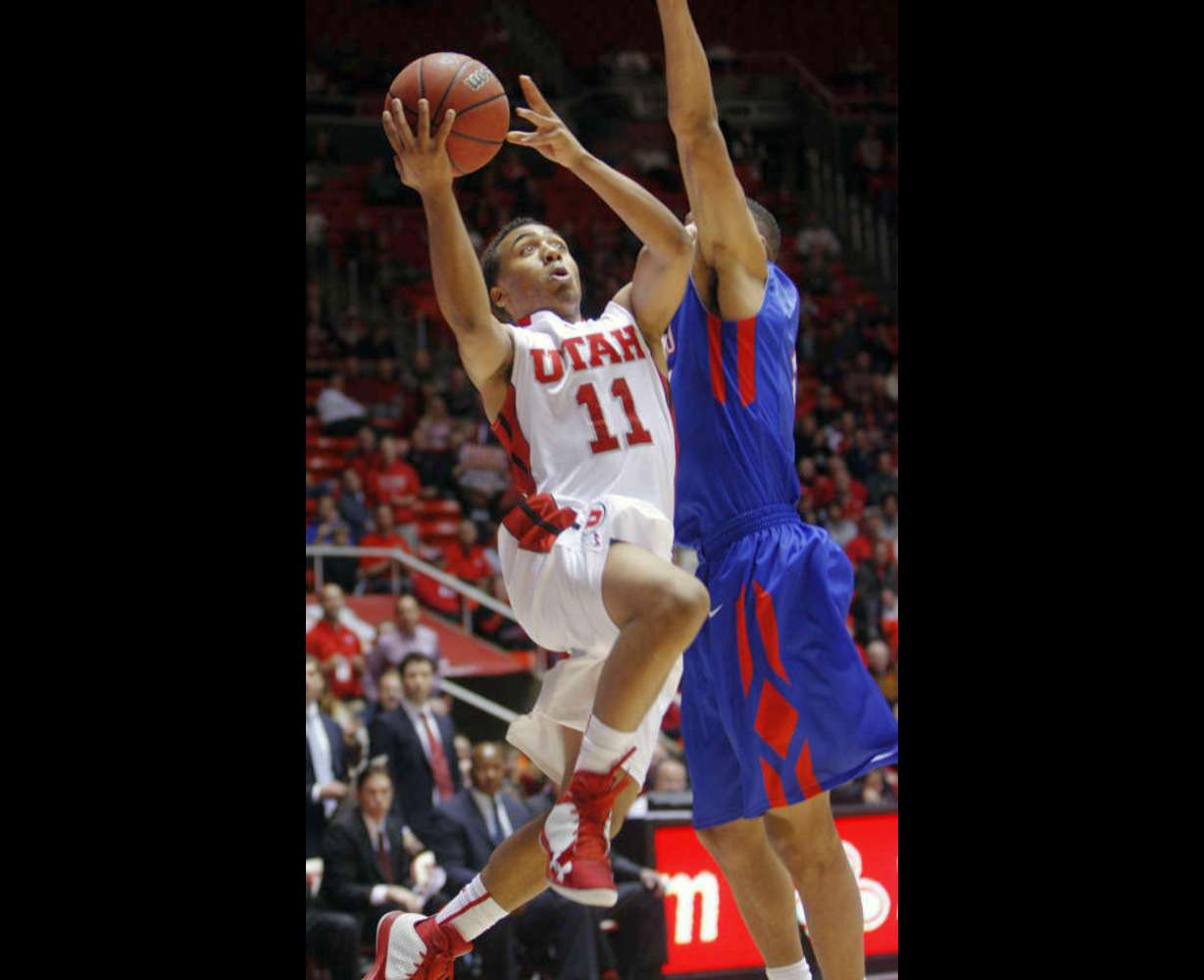 "Taylor came in tonight and gave us an instant spark," said senior center Jason Washburn. "Seymour does what he does: He hits big shots. That's what he did tonight. It's good for our program to see freshmen play like that. It gives you a lot of hope for the future. These guys are the future, and it's looking pretty bright."
Washburn put in 10 points of his own for the Utes, to go with six boards and three blocks. With those three swats, Washburn ties Michael Doleac for fifth place on Utah's all-time shot blocker list with 124. The Utes are also 4-0 this season when Washburn scores 10 points or more.
DuBois finished the game with eight points, while Loveridge added six points and seven boards, marking the sixth time this season in which Loveridge has led the team on the glass.
In fact, Utah's 36-27 rebounding advantage was also the sixth time this season that it outrebounded an opponent by nine or more.
"Part of the reason you play SMU twice is to make adjustments," Krystkowiak said. "They absolutely killed us on the glass last time and got every 50-50 ball, and they got to the line 20 more times, roughly, than we did. So we come into this game and outrebound them by nine, and we get to the line. (Those) were positive things."
Utah shot 40.8 percent from the field compared to SMU's 39.6 percent, continuing the Utes' trend of outshooting every team they've played so far this season, percentage-wise. The win over SMU also marked the seventh time they've held an opponent to under 40-percent shooting.
The Mustangs' junior guard Nick Russell led all scorers with 13 points, while sophomore center Cannen Cunningham chipped in with 12 points, eight rebounds and three steals.
The Utes got out to an early 8-2 lead, before SMU went on a 19-5 run over a 12-minute span to take control.
That's when Taylor entered the game and sparked the Utes, leading the charge on an 18-7 run to close the half and give Utah a 31-28 edge.
"Taylor hasn't been getting a lot of playing time lately, but he's been battling in practice," Krystkowiak said. "He's doing a great job. He gets his number called and he had a lot of poise. He hit shots. You would have thought he was a seasoned veteran."
The second half remained close, going back and forth until the final minute when the technicals began to be handed out, and Utah held on for the victory.
The Utes had blown leads in the final minutes of two games this season — against Sacramento State and at BYU — so clutching onto this win is a positive for the team going forward.
"It was an absolute team win," said Krystkowiak. "We needed some guys to make some plays or we wouldn't have the result that we have."
The victory gives Utah its seventh win of the season, already surpassing last year's win total of six after just 10 games played.
On Friday night, the Utes welcome Cal State Northridge (8-3) to the Huntsman Center, where they have outscored opponents by an average margin of 17.6 points per game. That matchup will get started at 8:30 p.m. MST, airing on the Pac-12 Network and on the radio at AM 700.
Tyson Maddy has covered the University of Utah football and men's basketball teams as a contributing writer for KSL.com Sports since 2011. Follow his Utes coverage on twitter @Tyson_Maddy
×
Related links
Related stories