Estimated read time: 1-2 minutes
This archived news story is available only for your personal, non-commercial use. Information in the story may be outdated or superseded by additional information. Reading or replaying the story in its archived form does not constitute a republication of the story.
SALT LAKE CITY — How religious is the world we live in? A new study shows more than eight-in-10 people worldwide identify with a religious group.
For "The Global Religious Landscape," Pew Research Center's Forum on Religion & Public Life conducted a demographic study of more than 230 countries and territories. Pew researchers said the study was based on analysis of more than 2,500 censuses, surveys and population registers.
It estimates there are 5.8 billion religiously affiliated adults and children around the globe. That represents 84 percent of the world population of 6.9 billion, as measured in 2010.
The religions were noted as follows:
Christians - 32%
Muslims - 23%
No religion - 16%
Hindus - 15%
Buddhists - 7%
Various folk or traditional religions - 6%
Jews - 0.2%
Other religions -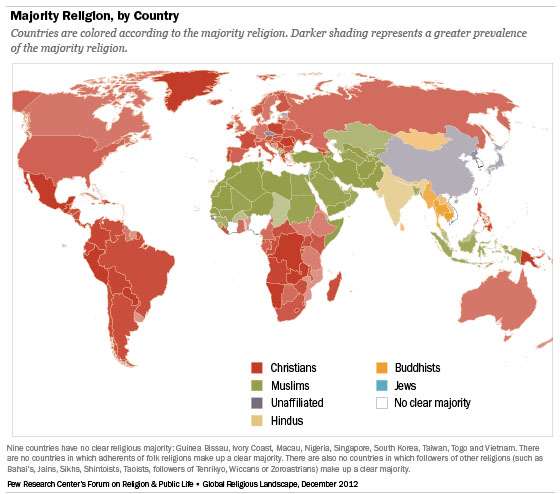 The study also shows that about one-in-six people around the globe have no religious affiliation, making that group the third largest worldwide, and about equal to the world's Catholic population.
Polls show may of the religiously unaffiliated still hold spiritual beliefs although they don't identify with any particular faith.
In the U.S., a Gallup poll released earlier this month shows seven in 10 Americans consider themselves moderately or very religious.
The Pew study also found that some religions have much younger populations, on average, than others. Those with a lot of members in fast-growing, developing countries tended to be younger, with Muslims and Hindus having the youngest populations.
Read more about the study at Pewforum.org.
×
Related links
Related stories
Most recent Features stories