Estimated read time: 4-5 minutes
This archived news story is available only for your personal, non-commercial use. Information in the story may be outdated or superseded by additional information. Reading or replaying the story in its archived form does not constitute a republication of the story.
OGDEN — BYU won its first road game of the season in Ogden against Weber State, 78-68, behind a career high in points by senior Brandon Davies and solid bench play during the second half.
BYU relied on Haws and Davies on the road against the Wildcats, who combined for 30 points in the first half and 56 points for the game.
"We had Brandon as good as we've ever had him for 40 minutes," BYU coach Dave Rose said after the game in an interview with KSL radio. "I liked that our guys kept going down there (to Davies) throughout the game. It's good to get wins on the road, and you need consistent players to do that, and Brandon (Davies) did that tonight."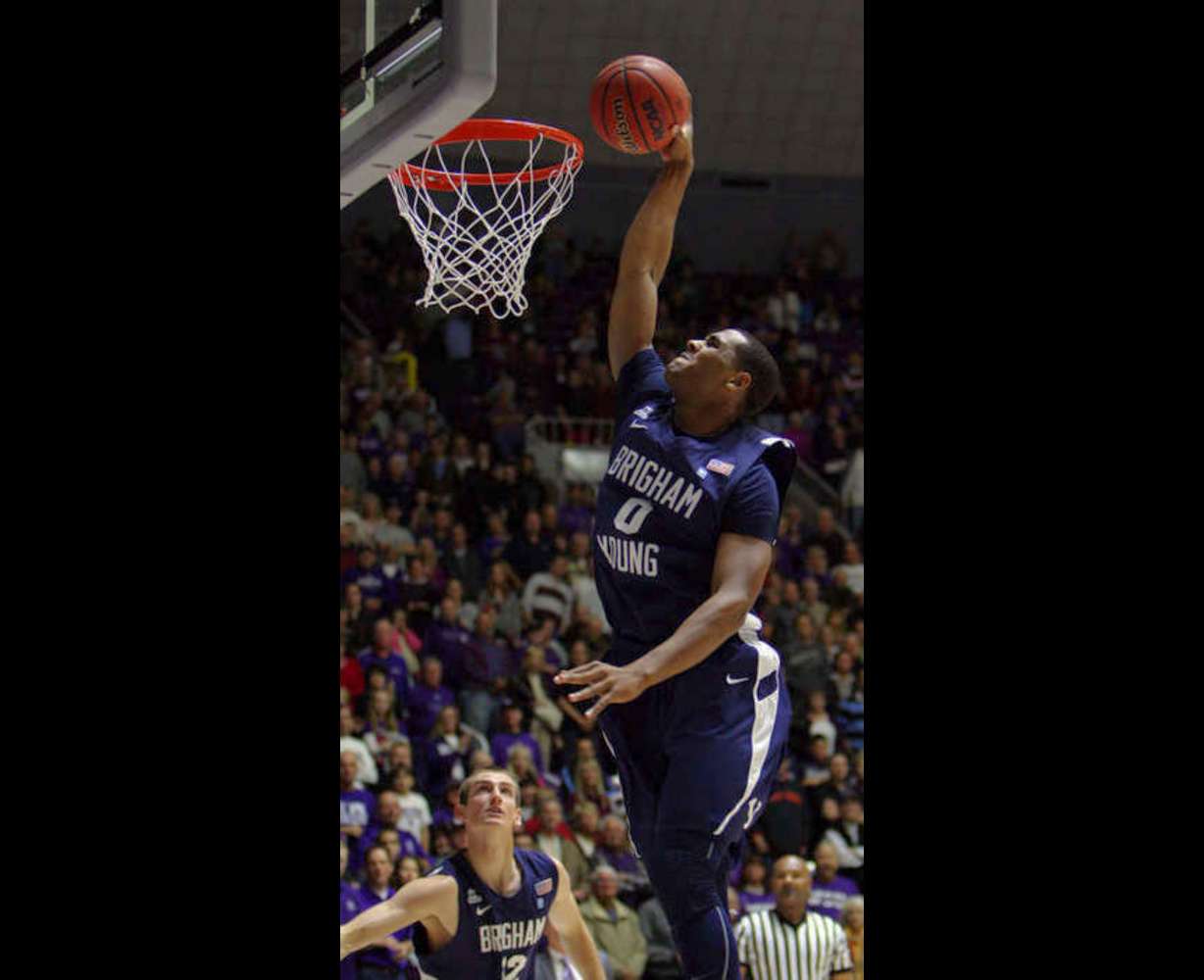 "This one feels really good because it was our first real road test," Davies said in a post-game interview with KSL radio.
Davies had a physical match-up against Kyle Tresnak, the senior from Weber State. Davies dominated the match-up however, limiting Tresnak to 4 points and 2 rebounds in only 17 minutes of play.
Davies set the tone for the game in the first half, scoring 18 points on 7-8 shooting, including a perfect 4-4 from the line. The 18 points is a career high for first-half points by Davies, who had previously set a first-half record of 15 points twice during his junior year.
Davies had two fouls in the first half, one on each end of the court, with the second foul coming with 3:32 left. However, Davies avoided drawing a whistle from the officials the rest of the game, finishing with two personal fouls in 36 minutes.
Weber State came out of the locker room committed to playing physical against Davies, pushing him out toward the perimeter possession after possession. However, the Wildcats decided to defend Davies one-on-one, a privilege Davies has not had this season, as he has often been double teamed as soon as he receives the ball.
"It's different, I've seen a lot of doubles," Davies said. "You kind of lick your chops when they try to defend you straight up."
Davies showed a variety of post-moves on his way to his career high of 33 points, spinning, backing up, shooting over his man, running the floor and making his free throws. Whether it was scoring before the double team came, or knocking down jumpers, everything was falling for Davies, who shot 82 percent, much better than his season average of 52 percent.
BYU powered through the Weber State defense, going on a 15-1 run after a layup by Gelaun Wheelwright brought the score to 50-49. The run was sparked by a 3-pointer by Cory Calvert, who came off the bench and scored nine points in 10 minutes. Calvert had not seen much of the floor in the last five games, playing a combined 16 minutes after playing 12 minutes against Florida State.
"Cory (Calvert) did a great job in practice this week, and there was just something different, and he earned the minutes tonight," Rose said.
Weber State finished the game shooting 14-25 on free throws, compared to the 18-20 mark BYU set. Weber State was also outrebounded by the Cougars, 27-36, despite being aggressive most of the night on the glass. The Cougars were led in rebounding by Davies with eight, with Nate Austin chipping in six rebounds in 20 minutes.
With the win against Weber State, Davies finishes his career undefeated against the University of Utah and Weber State. The team also improves to 7-3, while Weber State falls to 4-3.
Weber State plays Eastern Washington in its next game, with tipoff at 7:05 MST in its fourth road game of the season.
BYU plays Eastern New Mexico University at 7 back at home in the Marriott Center on Tuesday evening for the Cougars' next game.
In addition to the basketball game, students collected donations to send in support of the families of the Connecticut shooting in time for Christmas. Information on how to donate can be found by searching, "Coins for Connecticut," on Facebook.
Daniel Lewis covers the BYU men's basketball team as an intern with KSL.com and is currently attending Brigham Young University, earning a degree in communications with an emphasis in multimedia journalism.
×
Related stories
Most recent Sports stories