Estimated read time: 3-4 minutes
This archived news story is available only for your personal, non-commercial use. Information in the story may be outdated or superseded by additional information. Reading or replaying the story in its archived form does not constitute a republication of the story.
SALT LAKE CITY — The final horn sounds and the Utah Jazz walk from yet another NBA floor with a road loss. It's not the way things are supposed to be. With a veteran running the back court and a big money, high- scoring big man giving you 20 and 10 each night, the road wins were supposed to come. Add a deadly three-point shooter, among the top in the league, and fans expected more.
The early 1993-94 season was shaping up to be another disappointment, but Jazz management was about to take bold action. The search was on, and later that season Jeff Hornacek joins John Stockton, Karl Malone and Bryon Russell.
Just three seasons later the Jazz appear in their first of two consecutive NBA Finals. Hornacek brings just the right mix to a solid nucleus, and the road is no longer a Jazz nemesis.
Ask Hornacek today why he was the catalyst and he gives you that "awe shucks" look and the answer will always begin with, "well..." When you get past the self-deprecation you start to think. He talks of his shooting percentage at home and on the road being within 1 or 2 points of each other. You hear about taking different shots on the road. Knowing when to shoot and when to pass is even more critical when there are 20,000 hostile fans screaming obscenities, or at least insults your way.
Jeff will tell you those fans are your best friends, if you'll let them be. Embrace them and take great pleasure in sending them home hurt and angry. Ruin a birthday, anniversary, even Christmas. Watch their crest-fallen faces leave high-priced seats with nearly a quarter to go and don't give a second thought to the fact some have looked forward to, and saved for, just one NBA game all year.
Be like Mike, or Kobe and relish in not letting the crowd get to you. Become hated in state after state as the ones who make little boys and girls cry. When they go to school the next day, there's no joy in reporting their NBA experience. Their team lost.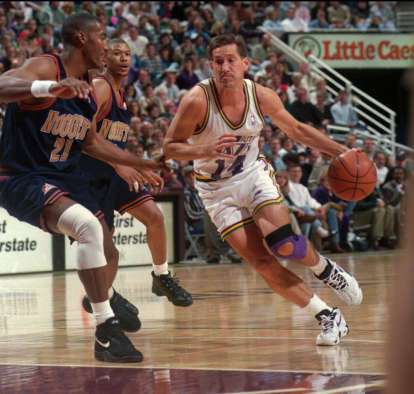 Hornacek says you can't do it with 1 or 2 guys like that, you need at least 3. This team doesn't have those players, at least not yet. Are there three "someones" out there who are willing to make little kids cry and take delight in spoiling a special night? If not, the Jazz road woes are likely to continue.
Stockton and Hornacek would sometimes come from a Sunday Mass service on the road then head over to the arena and tear the hearts out of hometown fans. They slept just fine thank you.
An 82-game NBA schedule demands players develop a routine. Hornacek's road routine was as much like his home routine as possible. A game day nap is a staple in the league, but for Hornacek it didn't work. He did it once, played lousy, and never did it again. Instead, he would mow the lawn at home, or take the kids to their various practices. On the road, walking the mall, riding a bike in the hotel gym or light lifting kept him busy. Each player has to find what works and stay with it.
Sometimes, no matter how many internal fixes a team tries, nothing works. Coaches can organize team breakfasts, change shoot around intensity, eliminate it altogether, opine on getting rest or letting individuals figure out their own best regimens, all without success.
At some point, every organization looking to join the upper echelons of the NBA must solve the puzzle of the road. In that 1993-94 season it took losing a well-liked veteran in Jeff Malone to acquire the missing piece.
Is there another Jeff Hornacek out there?
×
Related stories
Most recent Sports stories