Estimated read time: 5-6 minutes
This archived news story is available only for your personal, non-commercial use. Information in the story may be outdated or superseded by additional information. Reading or replaying the story in its archived form does not constitute a republication of the story.
SALT LAKE CITY — The late Rick Majerus had a courtside seat reserved for him, blanketed with one of his signature white sweaters Wednesday night at the Jon M. Huntsman Center.
And if he happened to be there in spirit, he had to have liked what he saw.
The Runnin' Utes played inspired basketball in memory of Majerus, stomping Boise State 76-55 in a game that was never close.
"There's no doubt that coach (Majerus) was in the building, and our guys just played really inspired," Utah head coach Larry Krystkowiak said. "They just played as hard as they possibly could on all the possessions. It was a special night for us."
---
There's no doubt that coach (Majerus) was in the building, and our guys just played really inspired. They just played as hard as they possibly could on all the possessions. It was a special night for us.
–Utah head coach Larry Krystkowiak
---
Utah led from the get-go after senior guard Jarred DuBois nailed a 3-pointer on the opening possession, and the Utes never looked back.
DuBois led all scorers with 18 points, hitting 5-of-10 from the field and 2-of-4 from beyond the arc. Fellow senior Jason Washburn finished with 13 points and six rebounds, hitting all six of his shots from the field, and true freshman forward Jordan Loveridge added 11 points and five boards.
The Utes controlled the entire game with suffocating defense on one end and efficient offense on the other.
"I looked at the stat sheet at half time and we were 15-for-20 from the field, and a big part of Boise State's attack is in transition," said Krystkowiak. "When they have to take the ball out of the net 15 out of 20 times, it gives us an opportunity to get back and match up with them."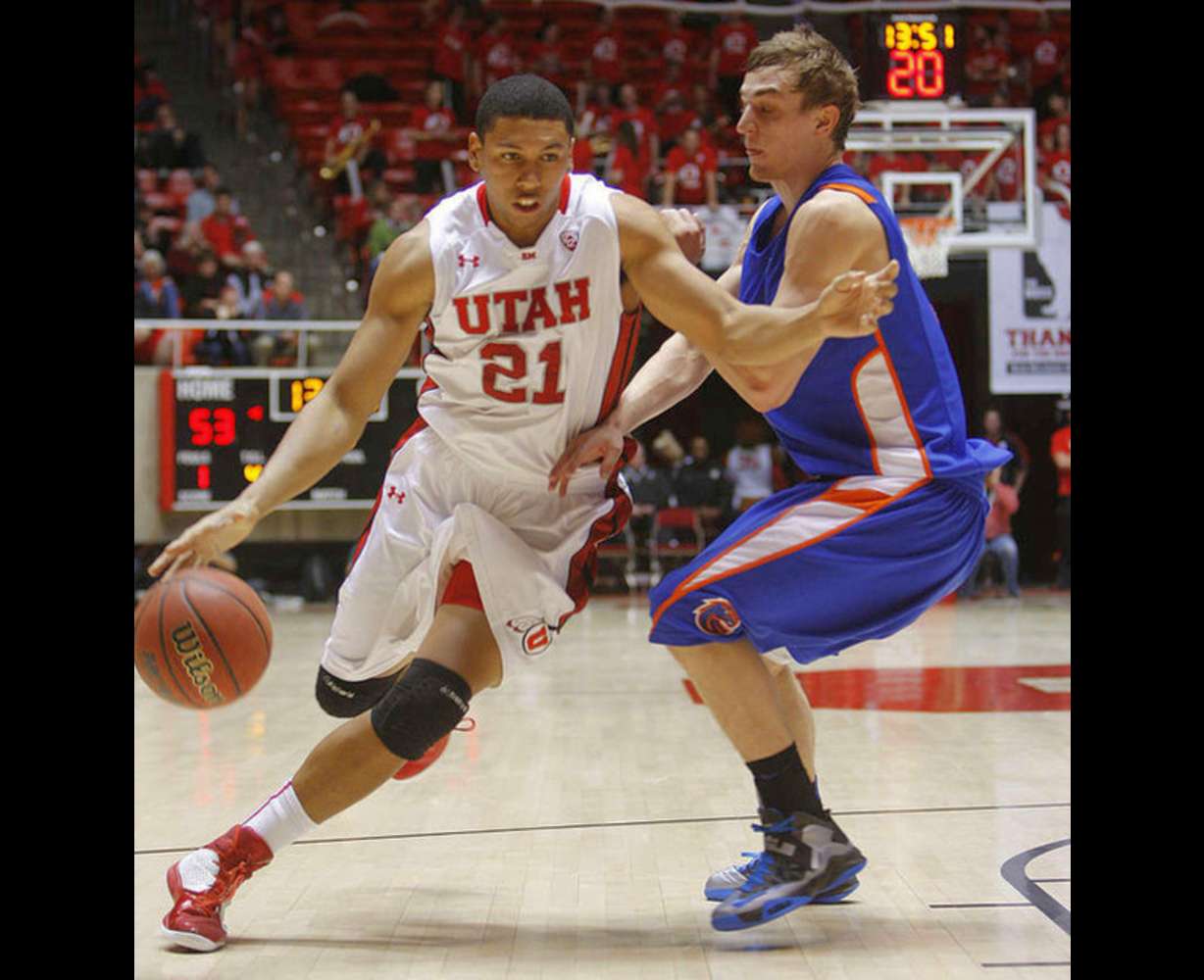 Just over four minutes into the second half, senior guard Cedric Martin drew a charge on defense and then got to the basket for a slick up-and-under layup on Utah's subsequent offensive possession. Martin finished the night with nine points and five assists.
Two minutes later, Washburn caught the ball inside, swiftly spun, and sunk a smooth jump shot before running back and swatting Boise State's Mikey Thompson to once again ignite the crowd.
"Offensively, it was like a machine out there," Washburn said. "We all knew what we needed to do. We executed and went hard. On the defensive end is where I think we did our thing. We got stop after stop after stop and kept them off the offensive glass."
Utah shot a scorching 75 percent from the field in the first half and 67.5 percent for the game, while giving up just a 40.4 field goal percentage on defense. Just a single Ute shot under 50 percent on the night, and that was sophomore center Dallin Bachynski, who went 0-for-1.
"If you take that kind of defensive intensity, the rim on the other end opens up," Krystkowiak said.
Boise State (6-2) was receiving votes for the AP Top 25 this week before getting plastered at Utah. Only two Broncos managed double figures, led by sophomore guard Derrick Marks' 18 on 7-of-16 shooting. Thompson, a freshman guard, added 16 on 5-of-15.
It was Utah's most impressive win of the season, and the players were confident that coach Majerus was on hand with a jolly smile.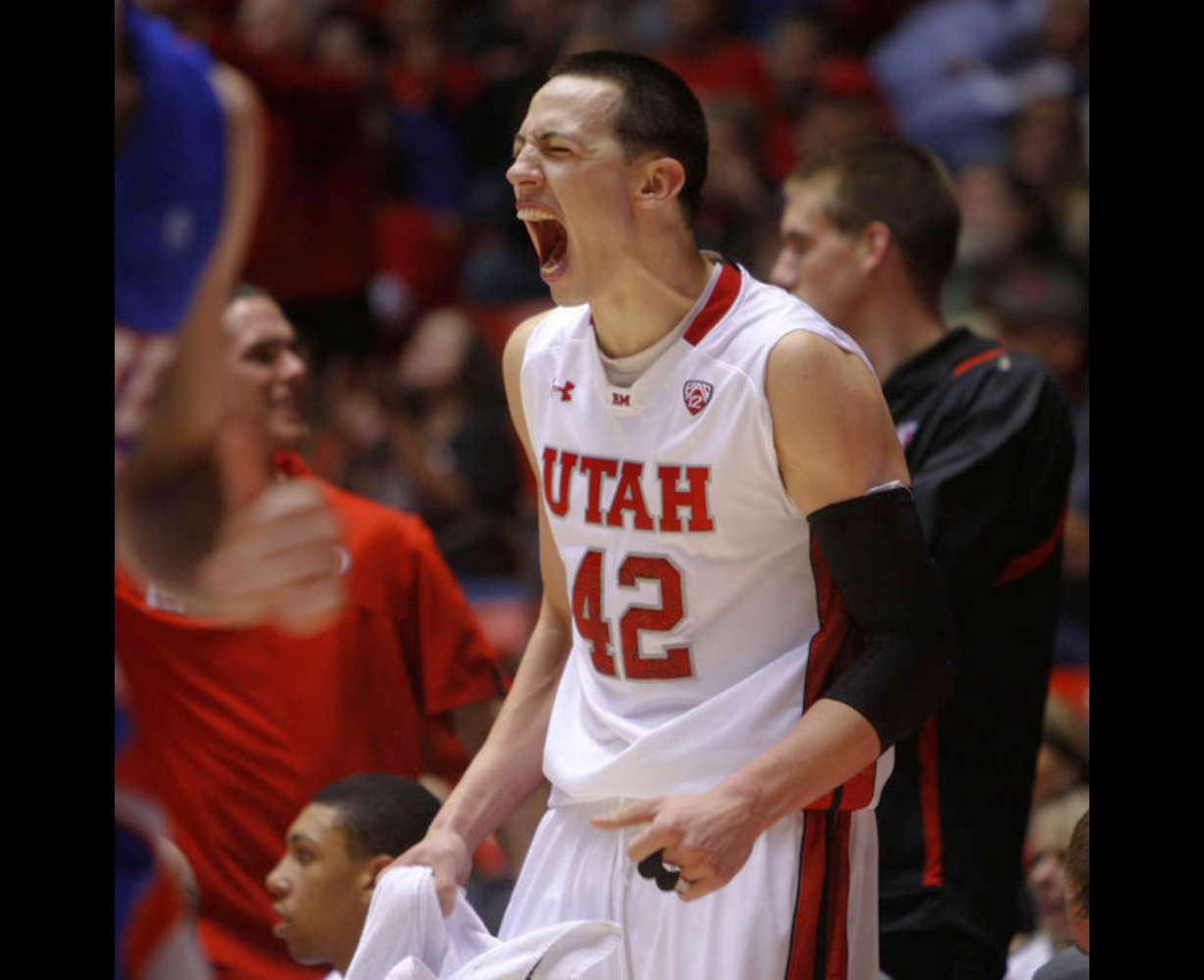 "We wanted this one tonight," Washburn said. "(Coach Majerus) was right there with us. He was sitting on the bench with us. We saw some of his antics on the big screen when we did the memorial. We could feel it. It was a good feeling."
"I definitely think there was a lot of energy in this building with coach passing," DuBois said. "A lot of former players and people in the community came out and supported. I think it was a big win for not only us, but for the community. And we're going to come out for Saturday's game like we did for tonight's game."
"He's a legend here," said junior guard Glen Dean, who finished with eight points, nine rebounds and six assists. "Before the game, we talked about it and I think it kind of just sparked all of us. You could feel some type of energy come in and take over, and we just rode it."
Krystkowiak had talked to his team about Majerus' legacy and what he meant to this program before facing Boise State.
"I'll probably keep (everything I said) a secret, but we talked about (Majerus); we talked about (him) every day," said Krystkowiak. "I think Rick Majerus would be the first guy named when you mention Utah basketball. And that's no discredit to the Andre Millers and the Andrew Boguts. He's Utah. I just got a lot of respect for what he did here, and for me it's a bit of a motivator.
"You never want anybody to pass, but things happen for a reason and I think it's an inspiration for all of us. I'd like to be one-tenth the coach that Rick Majerus was. There's no doubt he was a big part of the evening, and I'm glad we were able to get the win. That's the way we need to play, like his teams played, where you just fight like heck on every possession."
The Utes improve to 6-2 on the season and will now prepare for the trip down south to face Brigham Young (5-3) Saturday night at the Marriot Center.
Tyson Maddy has covered the University of Utah football and men's basketball teams as a contributing writer for KSL.com sports since 2011.
×
Related stories
Most recent Sports stories