Estimated read time: 4-5 minutes
This archived news story is available only for your personal, non-commercial use. Information in the story may be outdated or superseded by additional information. Reading or replaying the story in its archived form does not constitute a republication of the story.
UNIVERSITY PARK, Texas — For the only out-of-state road trip on their non-conference schedule, the Runnin' Utes will make their way to the Lone Star State this week to take on Southern Methodist and Texas State.
After sweeping its Thanksgiving tournament, Utah has won three straight games for the first time since February 2011, when it defeated Wyoming, New Mexico, and TCU in a three-game span.
That Feb. 19, 2011 win over New Mexico also marks the last time this program won a regular-season road game. The Utes have since lost 18-straight matchups away from the Jon M. Huntsman Center.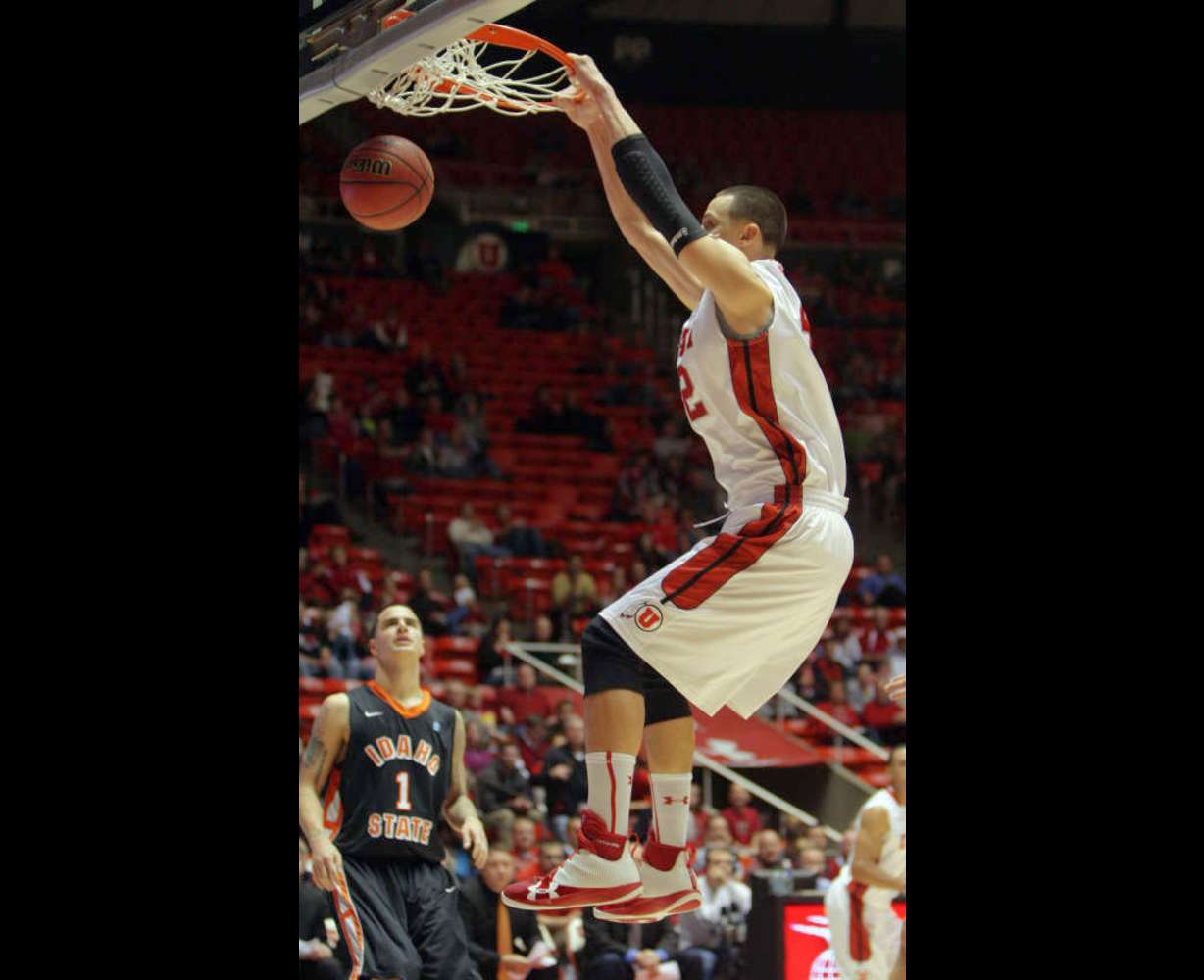 If Utah head coach Larry Krystkowiak's young team is going to take that big step forward this year, it must be able to get some wins on the road.
"We haven't been on an airplane or at an airport since Brazil," Krystkowiak said, referencing the exhibition tour the Utes took in August, in which they went 2-2 against Brazilian club teams. "So I think we can flash back to that. I think it creates very much a family atmosphere and solidifies a lot of what we're talking about within our culture of building on it and getting to know each other better.
"At the end of the day, you've got to go into a couple of hostile environments and try to play basketball. And that challenge is a big one for us, but it's also obviously something we're going to need to do. We need to learn how to compete on the road in a different environment."
Four Utes average double figures, starting with sophomore center Dallin Bachynski. The 7-footer is scoring 13.2 points per game, while also leading the team on the glass with nine rebounds per game.
Though posting impressive stats, Bachynski knows he needs to focus on improving his defensive technique.
"From the day he showed up, he's wanted to get better," Krystkowiak said of Bachynski. "His energy that he brings to the game is fantastic, but at the same time there are mistakes that are being made defensively. From a coaching perspective, he's everything that we want, and some of the things that we need to work on are fixable. He's willing, eager to get to it. You can't get a kid to play harder (than Bachynski)."
Senior guard Jarred DuBois scores 12 points per game and leads the team in assists, averaging four. Jordan Loveridge, the true freshman out of West Jordan High, averages 11.8 points and 8.2 boards. Glen Dean is the fourth Ute averaging double digits, scoring 11.4 per game. The junior guard is knocking down 48 percent of his shots from beyond the arc so far this season.
After going 0-16 in games away from Salt Lake City a season ago, the Utes will look to break that streak right away against Southern Methodist Wednesday night.
SMU hired Larry Brown, the hall of fame head coach who won an NCAA championship with Kansas in 1988 and an NBA title with the Detroit Pistons in 2004, as its new head coach this past April. Brown has guided the program to a 6-1 start, its best seven-game record since the beginning of the 2006-'07 season.
The Mustangs won each of their first five games before falling to Arkansas-Little Rock, 69-56. They bounced back from that loss with a one-point victory over Missouri State Sunday night.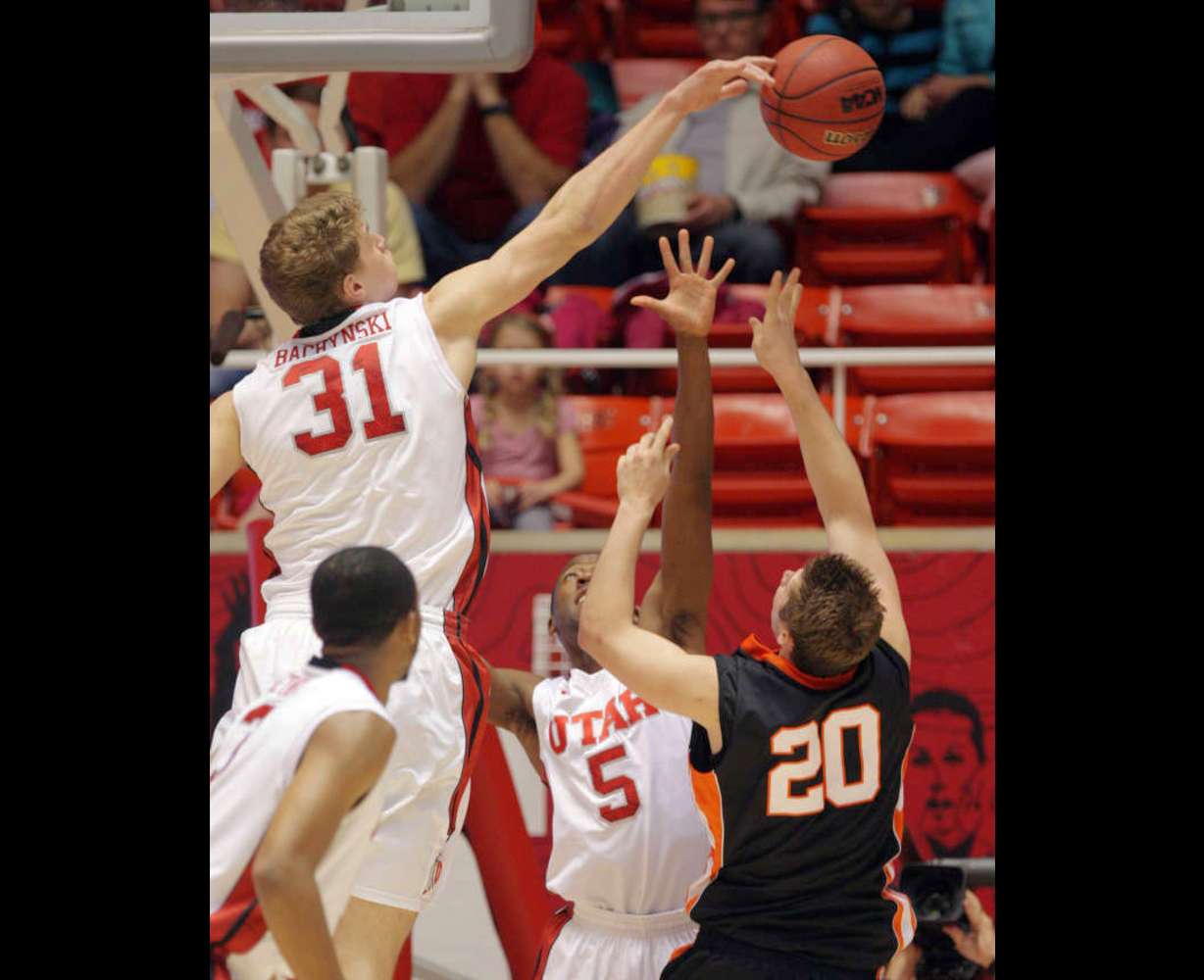 The Conference USA program has three players scoring double figures, led by junior guard Nick Russell with 16 points and 3.9 assists per game. Jalen Jones scores 15.4 points with a team-high 6.7 boards, while fellow sophomore guard Ryan Manuel averages 13.6 points per game.
After battling SMU, the Utes will head down I-35 from the Dallas area to San Marcos, Texas, where they will face off with Texas State Friday night.
Forwards Joel Wright and Matt Staff lead Texas State in scoring, averaging 15.2 and 15 points per game, respectively. They both average 5.2 rebounds per contest, tied for most on the team, which is a member of the WAC and has opened this season with a 3-3 mark.
The Bobcats won their first two games before falling in three straight, starting with a 78-75 loss to SMU. Texas State rebounded with a win over UC-Riverside last Saturday and will have nearly a week to prepare for the Utes.
Following this road trip, the Utes will play the rest of their games in the state of Utah until Pac-12 conference play begins in January, with their only remaining nonconference road game being at BYU on Dec. 8.
Both road trip games will tip off at 6 p.m. MST, and each can be heard on the radio at 700 AM.
Tyson Maddy has covered the University of Utah football and men's basketball teams as a contributing writer for KSL.com Sports since 2011.
×
Related links
Related stories
Most recent Sports stories