Estimated read time: 3-4 minutes
This archived news story is available only for your personal, non-commercial use. Information in the story may be outdated or superseded by additional information. Reading or replaying the story in its archived form does not constitute a republication of the story.
LOGAN — The Utah State Aggies (9-2, 5-0 WAC) are on a five-game winning streak and are returning from Ruston, La., having defeated a ranked team, No. 19 Louisiana Tech (9-2, 4-1), for the first time on the road in school history.
The Aggies managed to rack up 646 total yards and scored 48 points against Louisiana Tech, though the USU defense did allow 41 points and 629 total yards. Utah State was able to own the overtime period and pulled out the victory after leading 41-24 at the end of the third quarter. For his efforts over the Bulldogs, sophomore quarterback Chuckie Keeton received WAC Offensive Player of the Week honors for the fourth time this season.
Last Saturday's victory meant a lot to the Aggies, who host Idaho on Saturday.
"That was a tremendous football game," said USU head coach Gary Andersen of beating Louisiana Tech. "There was a lot to see, ups and downs, back and forth, swinging momentum, and some tremendous athletes on both sides. I thought it was just a great environment and it lived up to its billing, if you will, as far as being two of the best teams in the conference facing off. I'm very proud of our team."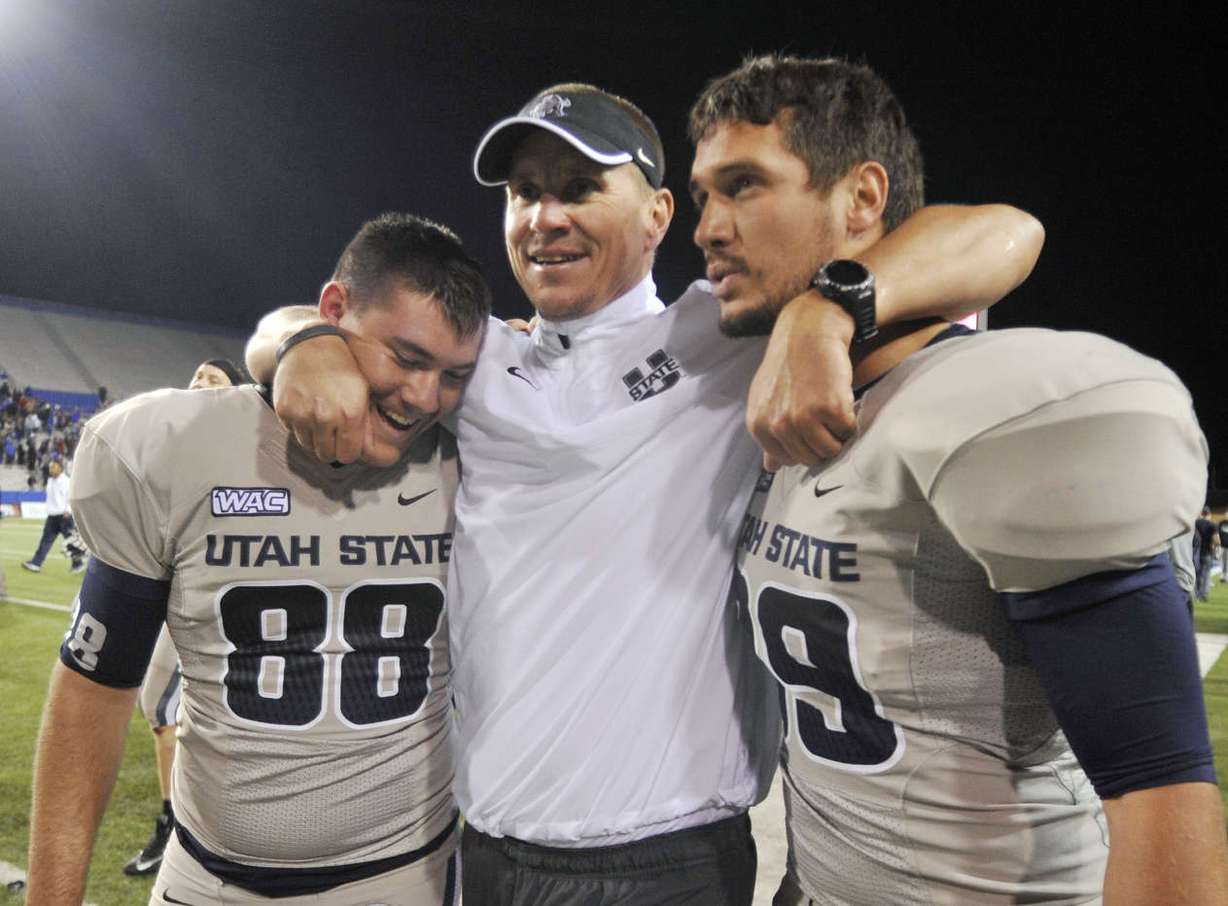 With the win, the Aggies became ranked in the AP Poll, coming in at No. 25.
"Well it's another very special moment for the kids and for all the coaches," Andersen said of being ranked. "It's a big accomplishment. It is something that hasn't happened for a long time. When we all started this adventure — and I mean all of us — four-and-a-half years ago or however long it was, we wanted to reach out and try to wrap our arms around some of those things. … It's fun times and it's well deserved in my opinion. I am just happy for everyone that is involved. It's fun to turn on your phone and pull it down, see those schools, have their logos listed and boom: There is ours at 25. It's a pretty special moment."
Andersen also had some special things to say about his graduating seniors.
"First of all, my appreciation for them, my thanks for them," he said. "I can't really put it into words for their belief, their want to. You walk in here and everything is new. There is not a lot of those kids that were in that first team meeting that are left on this team."
Senior running back Kerwynn Williams has had an amazing season to date: Williams is the NCAA's active leader in four statistical categories: all-purpose yards (6,510), all-purpose yards per play (12.04), kickoff return yards (3,408) and kickoff returns (135). Williams has rushed for over 1,000 yards this season and is the 16th Aggie in history to achieve that mark. With 2,170 rushing yards in his career, Williams is now 37 yards shy of passing Tom Larscheid for eighth all-time on Utah State's career rushing list.
Utah State has had a very special season up to now and Andersen and his squad want to close it the right way. Lowly Idaho will be in Romney Stadium for Senior Day and the outgoing seniors will undoubtedly hope to earn a win in their final home game.
Utah State can clinch its first ever outright WAC Championship and first outright conference championship since 1936 by defeating Idaho.
Justin McKissick is a ksl.com contributor originally from the San Francisco Bay area. He has been covering USU sports since 2011. Follow him on Twitter: @justin_sr.
×
Related stories