Estimated read time: 5-6 minutes
This archived news story is available only for your personal, non-commercial use. Information in the story may be outdated or superseded by additional information. Reading or replaying the story in its archived form does not constitute a republication of the story.
SALT LAKE CITY — At this point can we just set up some radar that tracks how the conferences are shaping up. The Big 10, or now 12, is about to become 14, or 10 still. They will still be the Big 10, just with 14 members. Poaching more markets and teams from the Big East and the ACC.
You know the Big East, the conference that was trying to get BYU and TCU, and didn't get either, will soon get Boise and San Diego State. However, the Mountain West Conference is jumping back into play with these schools, trying to get BYU, SDSU and Boise to stay/come back, particularly because the Big East is losing power and the BCS looking at change.
This will play out over time, but the real question is, can't we realign things that actually matter?
In the NBA, the Northwest division boast a team from Minnesota and Oklahoma. The Thunder are closer to every other team except the Boston Celtics in the NBA, and that is only by 8 miles. Just move Portland into the Pacific, put Phoenix into the Southwest and move Memphis into the newly named Great Plains division and suddenly it actually makes sense, still not that easy for the Jazz.
The NFL isn't even that close, there are two teams in the Western Divisions that are farther East than two other teams, one is even in the NFC East: Dallas.
The AFC South has a team farther north than the North Division: the Colts and the Bengals. The farthest south team in the league, the Dolphins, is actually in the AFC East. And what is going to happen when Jacksonville, Minnesota or some other team moves to Los Angeles? Just get ready now by fixing this.
Remember when Real Salt Lake won the MLS Cup from the Eastern Conference? That was just a weird soccer rule fluke, but I just wanted to remember it.
Come on President Obama, this is change I can believe in.
Greatest of all time:
If you are a stat geek there is simply no question, the greatest high school runner of all time is now Derrick Henry.
Henry plays for Yulee High in Florida, and last weekend he broke a 59-year-old record. Actually, that might be an understatement, he shattered it.
The old mark was 11,232 yards by Ken Hall in Sugar Land, Texas. It was actually in an article about the most untouchable records of all time. The article says, "Consider that a high school running back would have to average 2,808 yards a season for four years to tie Hall."
Yep, 2,800 to tie Hall, so what has Henry done? Broken the record by nearly 400 yards, with a game left to play.
He entered last weekend's game with 11,028, or 104 yards behind Hall. He ended the night with 11,610 career yards by gaining 482 yards and six touchdowns.
The video is of highlights from this season. He looks like a man among boys while playing, and he might be. And yet, is only considered a four-star recruit. The 6-foot 3-inch, 243-pound running back is a little tall for most running backs, but he used his ability to rush into the record books.
Oh, and just to bug everyone a little more, he has committed to Alabama, so his name will probably be brought up a few more times before his career is over.
From rags to riches:
Everyone has their story to tell. Some are long and winding; they fill books of ingenuity and toil. Some are simple and follow a plan. Some get told, others don't.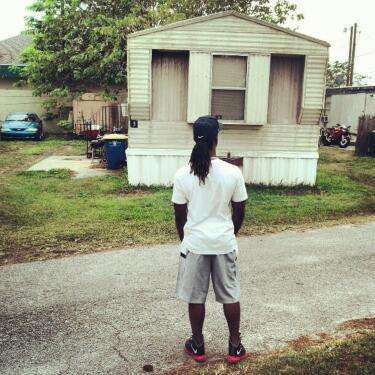 For Andrew McCutchen, a picture he tweeted out could sum up everything that he is.
McCutchen is now the face of the Pittsburgh Pirates, an MLB team that is starting to come around, in large part to his work and talent. The banners of his picture have his jersey, number 22, playing a game that has made him a millionaire.
The picture he tweeted from @theCUTCH22 shows him looking back at his childhood home. A little shack of a place where so many lives start and where many live and finish.
He certainly isn't alone in his journey, there are movies and books about these adventures into greatness, but it can humble anyone thinking that you can go from something so small to become something larger than life.
Another interesting high school ruling:
"Sorry son, your cleats were too long, you can't play in the playoffs." This actually happened; it's not something from "Footloose" or "1984." This really happened.
Trent Hardin was a starting linebacker for his team, Philomath High, in Oregon. He was playing in his first-round game with the team, when at halftime, his cleats were deemed to be too long for use in a game. He was kicked out of the last half of that game and their next game.
Hardin sat it out and his team lost 35-28.
His parents bought him some studs to screw into the cleats he was using and no one knew they were too long, or even that it was illegal to have long cleats. The Oregon Scholastic Activities Association was not forgiving and believed it deserved more than a half-game suspension.
Once I had to wait out a soccer game for wearing football cleats, but I knew I wasn't playing football.
This kid will play again, he is only a junior, but as the UHSAA showed, sometimes there are the rules and it makes sense, but a game for an extra half an inch just doesn't make sense.
×
Related stories