Estimated read time: 4-5 minutes
This archived news story is available only for your personal, non-commercial use. Information in the story may be outdated or superseded by additional information. Reading or replaying the story in its archived form does not constitute a republication of the story.
SALT LAKE CITY — With another week remaining in the regular season, no matter the outcome for each of them, the BYU and Utah football teams have endured disappointing campaigns.
Both programs can point to primarily the same reason: poor quarterback play.
To some degree, Utah has the better excuse. It's never a good thing when the intended starter finishes the season as the quarterbacks coach at another Division I school.
As in the case of Jordan Wynn, who will join Norm Chow's staff at Hawaii next month, BYU can also claim injuries as a factor for the inadequacy. But it runs deeper for the Cougars.
You know the definition of insanity, repeatedly doing the same thing and expecting different results. The concept explains BYU's lousy 6-5 record.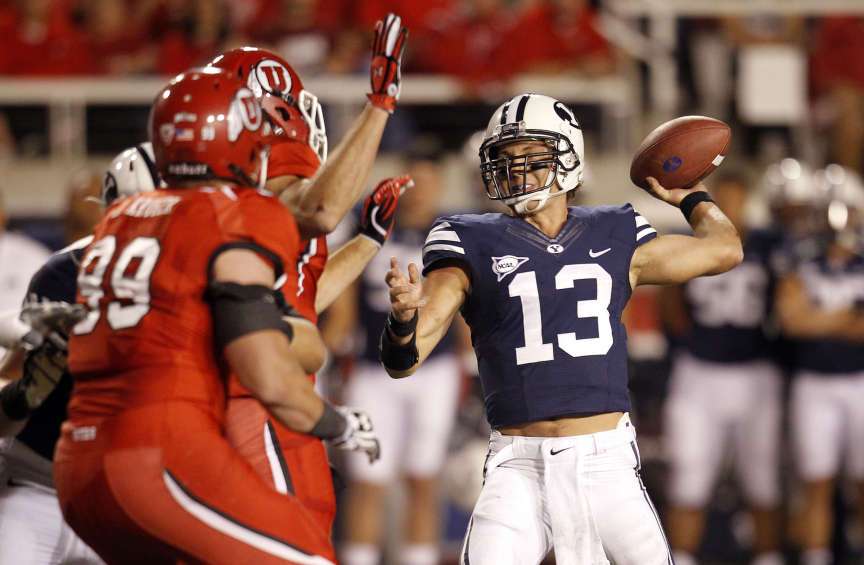 Even as Riley Nelson proved ineffective in several losses, BYU coach Bronco Mendenhall refuses to change quarterbacks. The latest egregious example occurred last Saturday, when a battered Nelson could not generate enough offense in a horrendous 20-14 loss to San Jose State.
An obviously hurt Nelson threw an interception into coverage deep in San Jose State's territory early in the fourth quarter. As he's prone to do, the senior also missed open receivers.
After throwing a touchdown pass to pull the Cougars within six points, Nelson coughed up the football when he got blindsided by a blitzing San Jose State defender. The turnover, which could hardly be attributed to the quarterback, sealed another bitter loss.
While Nelson continued to take punishing hits, backup James Lark awaited a call that never came. If only grit and leadership were substitutes for talent, BYU might be undefeated this season.
"He's hurt," Mendenhall said of his unquestioned starter after Monday's practice. "Hopefully he'll be back by the game (Saturday), but he got pounded in the (San Jose State) game; took a lot of shots."
Nelson's lingering injuries were bad enough to force him to miss practice Monday. But if he's breathing, he's still starting against New Mexico State.
Not that it matters this week. The hapless Aggies stand no chance of winning no matter who plays quarterback.
But, based on the response we receive on the DJ and PK radio show, legions of BYU fans remain perplexed at the coach's undying allegiance to Nelson.
Would a healthy quarterback have made a difference in the close losses to Utah, Boise State and Notre Dame? We'll never know.
Probably only divine intervention or doctor's orders would force the coach to pull what appears to be his favorite player.
"He does everything he possibly can to help our team," Mendenhall said.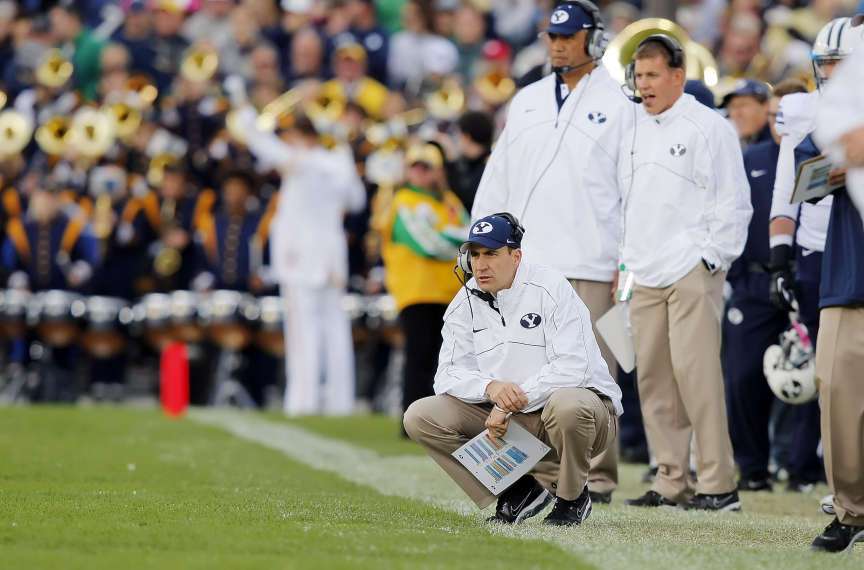 Unfortunately for BYU, either Nelson needed to do more or needed more help from his teammates to avoid this subpar season. Considering the Cougars have played a tougher schedule this season, maybe the disappointment shouldn't come as a surprise.
Since replacing the overhyped Jake Heaps five games into last season, Nelson has gone 10-6 as a starter, including 4-5 this season. The four wins have come against teams with a combined 11-33 record. The six wins last season came against teams with a combined 24-47 record.
But, as the argument goes, the coaches know best. They are with these players every practice.
Blah, blah, blah.
Since when are coaches infallible? They aren't.
The legend himself, LaVell Edwards, missed on a quarterback during the last of his 29 seasons as BYU's head coach. After two quarterbacks went down, BYU finally turned to current offensive coordinator Brandon Doman.
Rotting away on the bench for almost three full seasons, Doman promptly won his first 14 games as the starting quarterback. Doman might be part of the ex-athlete fraternity now selling medical equipment if he didn't get the chance after the coaches ran out of options.
At least BYU can no longer play the what-if game with this season. Once the Cougars lost to San Jose State, all those other close losses only mean BYU wasn't good enough to beat those teams.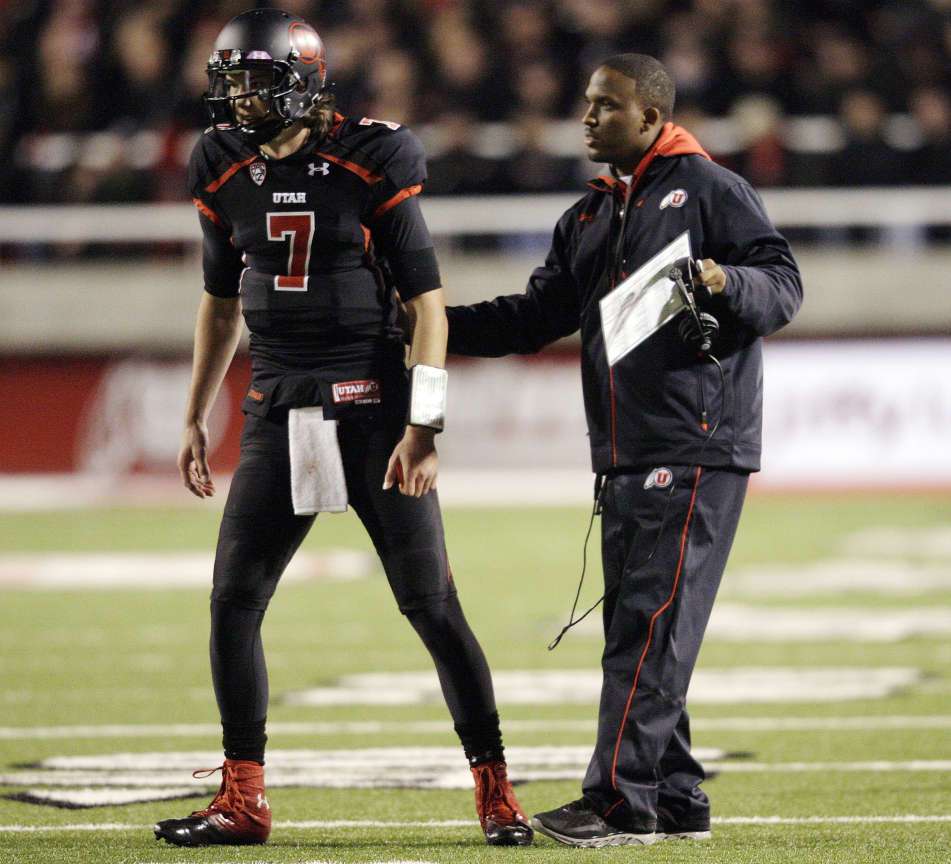 The Utes know the feeling, having squandered opportunities against Utah State, UCLA and Oregon State. Those close losses only prove they aren't good enough to beat decent Pac-12 teams.
Then again, starting three quarterbacks through the first six games usually doesn't lead to productivity. Kyle Whittingham should have known better than to expect a healthy Wynn to last through a season.
Wynn's multiple injuries over multiple seasons dictated that Utah needed to sign more quarterbacks in prior recruiting classes, preferably with junior college experience or a Division I transfer. The Utes need to have at least four scholarship quarterbacks with excellent credentials.
To their credit, the Utah coaches made the right decision to go with Travis Wilson over the second half of the season. There was no need to again play Jon Hays, who did a commendable job last season after getting the position primarily by default after another Wynn injury.
While a freshman quarterback and a freshman offensive coordinator — Brian Johnson is in his first season on the job — wasn't a good mix, the Utes are better served for the future by having gone through this difficult year.
As the Cougars and Utes painfully know, the quarterback often determines a team's success.
×
Related stories
Most recent Sports stories