Estimated read time: 6-7 minutes
This archived news story is available only for your personal, non-commercial use. Information in the story may be outdated or superseded by additional information. Reading or replaying the story in its archived form does not constitute a republication of the story.
SALT LAKE CITY — You know how the sports cliche goes: "Defense wins championships." In BYU and Utah's case it should read, "Defense wins championships only if they can play on the offensive side of the ball as well."
It's no secret that BYU football coach Bronco Mendenhall and Utah coach Kyle Whittingham worked their way into their current roles through their defensive expertise. As defensive coaches and coordinators over the years both made their names with aggressive and strategic philosophies that helped their various schools succeed. Mendenhall still holds the title of defensive coordinator along with head coach. This fall, he's been at the helm of a BYU defense that's ranked third in the country with one game to play.
Meanwhile, Whittingham gave up the defensive coordinator title for good when he became head coach nine years ago but is still heavily involved in its scheme and direction, which was the primary driver of past Utes BCS-busting success. Even this season facing dynamic and explosive Pac-12 offenses, the Utes have been respectable, ranking 35th in the country.
So the struggles both programs have experienced this season haven't been on the defensive side of the ball. It doesn't take a brainiac to realize that both programs this year have been disappointing due to their lackluster play offensively. And interestingly enough both have had the same three major issues: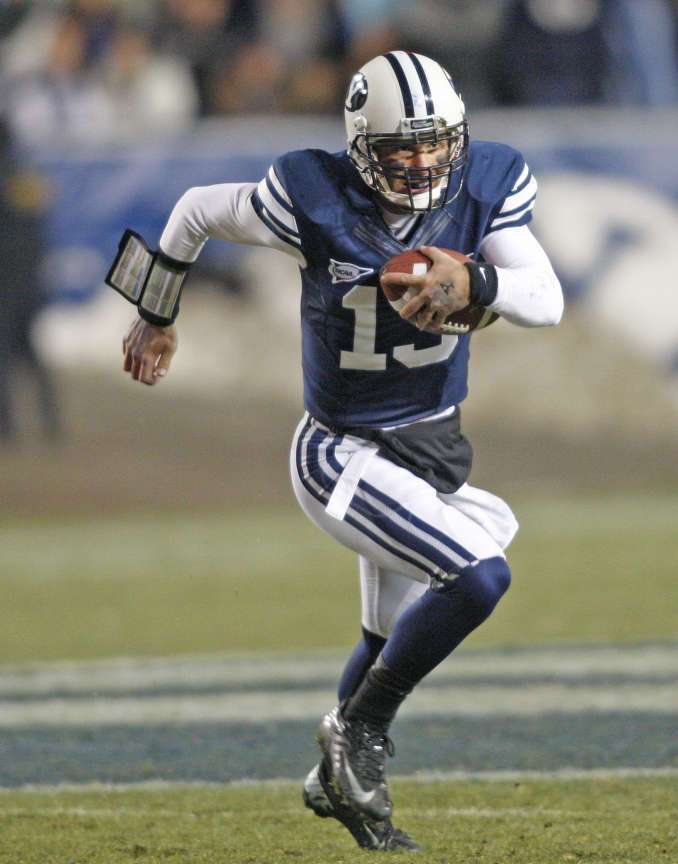 1. Quarterback play
Mendenhall fell in love with Riley Nelson. Even with an injured back — or rib issues, as was the case against San Jose State — the coach has stood by Nelson's side. That decision has been detrimental to the team. A healthy Nelson is a below-average quarterback. An injured Nelson is even worse. We can talk about the turnovers, the inability to read defenses, and the lack of any kind of accuracy, but really his career can be summed up with his win-loss record this season as a starter — 4-5. Remember Taysom Hill led the Cougars to wins over Hawaii and Utah State. And even if Nelson starts and gets the likely win over New Mexico State on Saturday, a 5-5 record by BYU standards is absolutely unacceptable.
As for Utah, the quarterback position has been managed poorly as well. The Utes went into the season with the hopes that Jordan Wynn could come back from another shoulder surgery, return to form from earlier in his career and stay healthy. It turns out he looked nothing like his old self and made it to just the second game before another shoulder injury against Utah State ended his playing career. That led the Utes to go to senior and former Division II quarterback Jon Hays before switching up to freshman Travis Wilson three games later against UCLA on the road.
What would have happened if Whittingham and his staff would have started Hays or even Wilson on Game 1? It's not like they didn't get a warning sign when Wynn had to sit out part of fall camp with a "tired arm" Maybe the Utes would have actually been bowl bound for the 10th straight year.
2. Offensive-line issues
Both BYU and Utah went through a myriad line problems this season — from injury issues to just overall poor play.
Related:
Coming into the season Mendenhall couldn't stop gloating about how his offensive line was slimmer — something he took out of visiting the Houston Texans' training camp. Unfortunately slimmer didn't mean better and one has to wonder if losing the weight led to many injuries. Over the years, beefy BYU offensive lines have been the norm and with that has come great success. Why try to fix something you can argue wasn't broke?
As for Utah, Whittingham lamented through spring ball, fall camp and into the season about the problems he had at both tackle positions. His team's line didn't start to come together until the middle of the season. One then has to ask that if he knew there were problems why didn't he recruit better knowing All Pac-12 tackles Tony Bergstrom and John Cullen were moving on after last season? Maybe it's because in the past he typically recruited defensive players first.
3. Offensive coordinator and lack of offensive identity issues
This is where clearly the lack of offensive experience and knowledge hurt both these head coaches this season.
Last year, Mendenhall handed over the offensive reigns to Brandon Doman. He had never called plays before. Doman started working with highly recruited quarterback Jake Heaps, running BYU's patented pass-first offense. After Heaps struggled, however, Doman turned to Nelson and the lovefest began. The Cougars changed the entire program's philosophy altogether. Suddenly Mendenhall and Doman decided run-first quarterbacks were the way to go.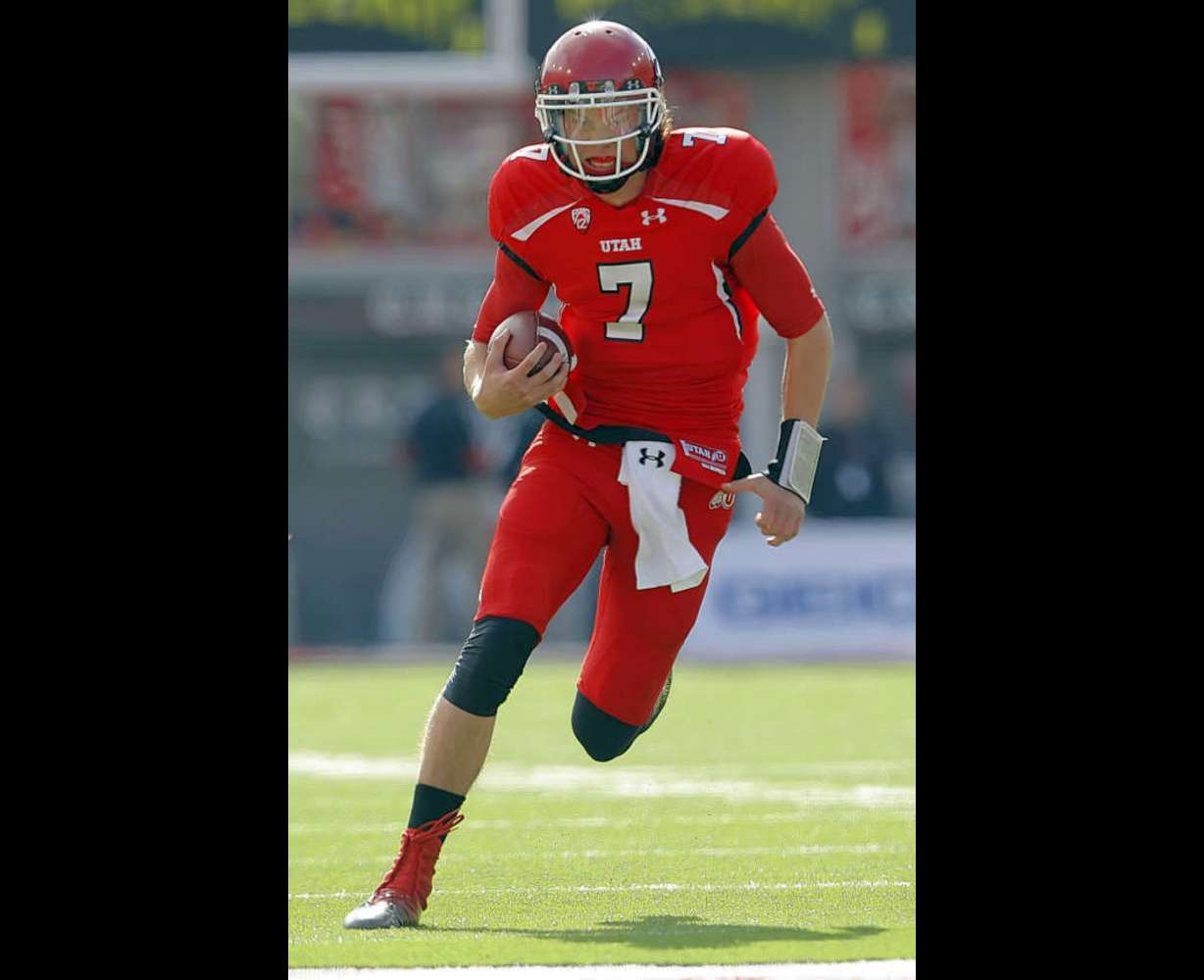 However, throughout the season Doman still chose to have Nelson throw. That's well and good if he actually could. And even when it was clear the best offensive player was freshman running back Jamaal Williams, Doman still chose to have Nelson command the offense. That was evident in the loss to San Jose State when he threw the ball 51 times and ran the ball on 14 occasions while Williams touched it just 18 times (15 rushes; 3 receptions). Doman recently joked about his job security after some critical comments were reported from athletic director Tom Holmoe. With the way the offense has performed this season he may not want to take that criticism lightly.
On the other hand, Whittingham's offensive track record with coordinators is bleak. That is telling in the fact he has had five different signal-callers in his nine years on the job. He definitely raised eyebrows hiring former Ute quarterback and 25-year-old Brian Johnson as the new OC after Norm Chow left for Hawaii. Johnson is a bright young man who one day will develop into a good coordinator and maybe even a head coach. But clearly he has been learning on the job and still 11 weeks into the season makes calls that have you scratching your head.
In the recent loss to Arizona he called not one, but two flea-flickers — the second being at his own 7-yard line. The red-zone offensive play choices have been the most confounding, calling quarterback runs as opposed to giving it to dependable back John White. And in the Arizona game when Johnson did run White it was a pitch on fourth-and-goal that failed.
In the Mountain West Conference maybe Whittingham could get away with hiring an inexperienced playcaller — but not in the Pac-12. Add in the fact that under Whittingham, Utah's offense has changed offensive philosophy — from the spread to the hybrid spread to the pro style and finally back to the spread midseason this past year — and it's clear to see why Utah's lack of offensive success has led the Utes to their worst season since he took over the program.
If both head coaches need an example to follow on how a defensive coach can be successful offensively, maybe they need to look north to Utah State's Gary Andersen. He recruited a great quarterback to fit his consistent system (the spread) and has hired offensive coordinators to effectively carry out that philosophy. In turn he has produced the only team in the state of Utah football this season that you can legitimately call successful.
×
Related stories
Most recent Sports stories