Estimated read time: 4-5 minutes
This archived news story is available only for your personal, non-commercial use. Information in the story may be outdated or superseded by additional information. Reading or replaying the story in its archived form does not constitute a republication of the story.
On Monday, college football's power brokers approved a six-bowl semifinal rotation in addition to a four-team playoff.
The big news was an automatic spot in one of the new bowls for the newly dubbed "Group of Five": the Big East, C-USA, MAC, MWC and Sun Belt. The WAC would have been included as well except it is dropping football in 2013.
See Also
Pundits were quick to say the news was a big win for the Big East, the lone AQ conference booted from the cool kids' table because of the recent conference reshuffling. After all, including Boise State as a Big East team means the Big East champion would have earned that coveted AQ spot in eight of the last 10 years.
Better still, there is no minimum ranking requirement for the Group of Five teams.
Since Monday's announcement, speculation has been heating up that this will "force" BYU to seek shelter in a conference, presumably the Big East. After all, as an independent, BYU has no automatic access to the new bowl system formerly known as the BCS.
As Lee Corso would say, "Not so fast, my friend!"
Access to the post-season might be harder if BYU were a Big East member, and it could permanently close the door on BYU's lofty goal of a repeat national championship.
This year, there are 124 FBS teams. As of now, in 2014 there would be 59 teams vying for that one automatic spot, with four independents — BYU, Army, Idaho and New Mexico State — left out (Notre Dame has its own access via the Orange Bowl).
That is the real reason why there's no minimum threshold for that Group of Five spot — with so many teams fighting for one vacancy, whichever league champion ends up with the best record is bound to be a quality team and likely ranked in the top 25.
As of Nov. 10, Jeff Sagarin says BYU's strength of schedule is the 25th best in the country. BYU's future SOS is likely to improve with scheduled bouts against traditional heavyweights like Texas, Wisconsin, Boise State, Michigan, Nebraska and Notre Dame.
Interestingly enough, the only Group of Five team with a better SOS right now is Utah State at 24th. The average SOS of the Big East's 2014 membership is 75.
Joining the Big East would be like the old MWC days with BYU needing only to hold serve against the lesser opponents it would face and beat out two other decent teams — Boise State and Louisville — to punch its ticket to a premier post-season.
However, if the Big East is having a down year, the top Big East teams cannibalize each other, or the Big East champion drops a non-conference game or two (all possible scenarios), who's to say the Big East champ would really have the edge over the other four leagues?
Look no further than BYU circa 2007 for the perfect example.
BYU notched victories over Arizona, TCU and Utah, dropped a game to a then-ranked UCLA on the road and lost a barn-burner at Tulsa. Yet No. 19 BYU, with a 10-2 record and playing in a superior league, was passed over by an undefeated Hawaii squad that feasted on cupcakes, upset Boise State, and was later humiliated in the Sugar Bowl.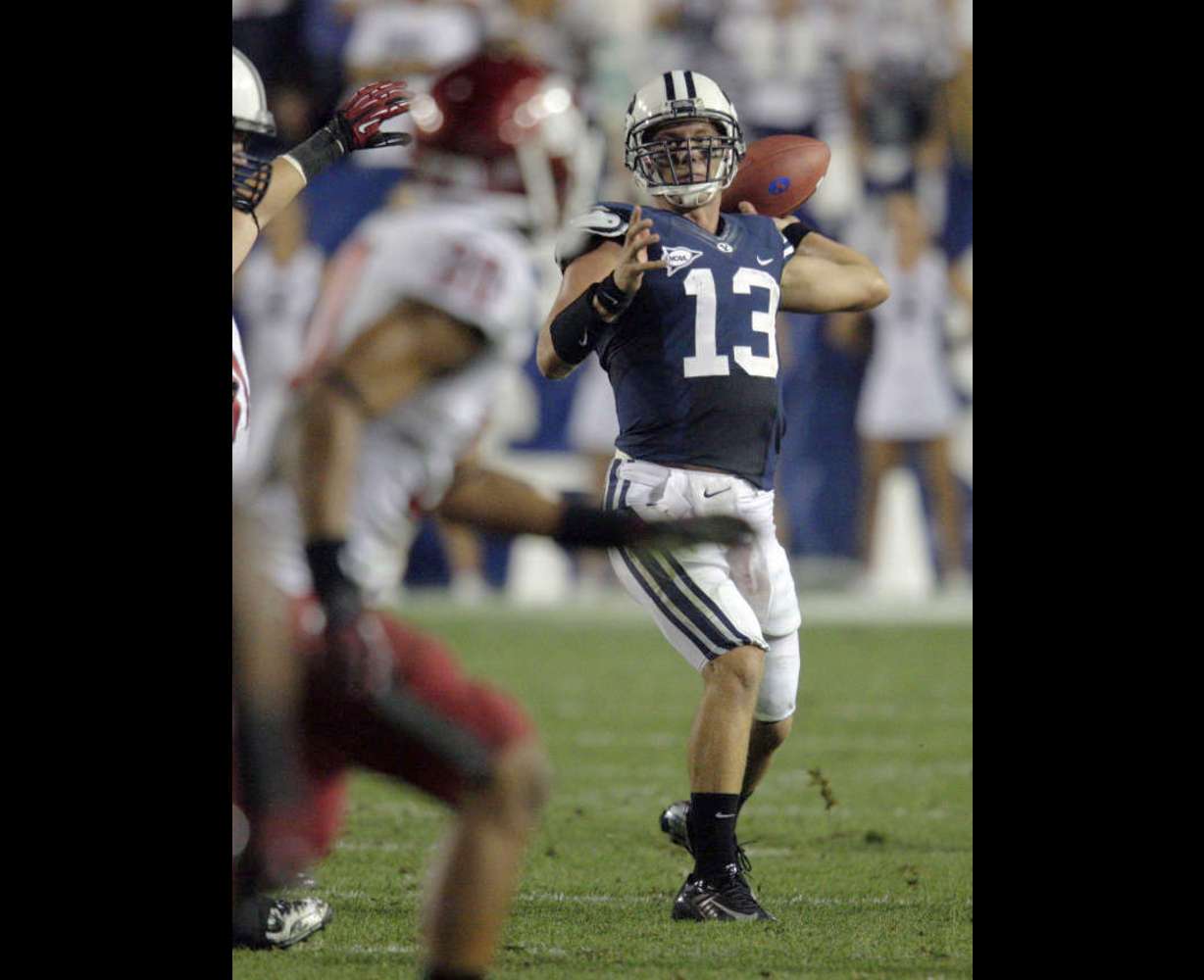 What's more, as good as Hawaii looked that year — and behind Colt Brennan, the Warriors looked very impressive until that game against Georgia — they were never in contention for a shot at the title. Why? Because Hawaii's strength of schedule wasn't good enough. Tucked away in the WAC, there was little that Hawaii could do beyond obliterating the steady stream of weak opponents it faced every week. Beating a ranked Boise State pushed the Warriors to No. 10 in the country, but that's as close as the Warriors would get to playing for a national title.
Even had the four-team playoff been in place, Hawaii would have been left out because of its downright pathetic SOS. Phil Steele pegged the Warriors' final SOS at 119. Sagarin listed them at 137.
As Greg Welch pointed out in a KSL article this summer, an independent BYU has much greater flexibility in putting together a schedule tough enough to earn a spot in the playoffs.
What's more, in addition to playing powerhouses, BYU's ability to play teams from all over the country like Georgia Tech, Virginia and even Central Florida and Middle Tennessee State helps keep the Cougars in the thoughts of members of the yet-to-be-determined selection committee.
Why shoot for automatic access when the end goal of any decent team should be a playoff berth?
Moreover, as Hawaii, Boise State, Utah and TCU all proved, it is still possible to crash the big party without an invitation.
For independent BYU, access to the premier post-season will be the same as it is for every other FBS team: Win and you're in.
David Gale is a BYU graduate and former television news producer. See more of his thoughts at planetbyu.com or follow him on twitter @planetbyu.
×
Related stories
Most recent Sports stories