Estimated read time: 5-6 minutes
This archived news story is available only for your personal, non-commercial use. Information in the story may be outdated or superseded by additional information. Reading or replaying the story in its archived form does not constitute a republication of the story.
LOGAN — In 2010, Chuck Jacobs (Richmond, Calif.) fell in love.
The love he found isn't your typical definition, though. He fell in love with the football coaching staff at Utah State University.
In the midst of the wide receiver's successful career at Laney College (Oakland, Calif.), former USU offensive coordinator Dave Baldwin paid Jacobs a visit.
"It's been a long, hard journey. Not knowing where you're going to end up, having to battle and find a good program for you is tough. Then to finally have a coach from Utah State come up to me and my school to watch me work out," Jacobs said. "I put on a nice workout for him, and he fell in love with it. It all just started taking place."
After talking to Baldwin and getting a feel for Utah State, the strong, positive feelings hit Jacobs, leading him to his decision.
"It was the coaching staff," Jacobs said. "I fell in love with the way they put players first. They listen to their players and take it to heart. They care about how their players feel."
The love Jacobs developed for the Utah State coaching staff carries over to the field and exudes when he plays the game.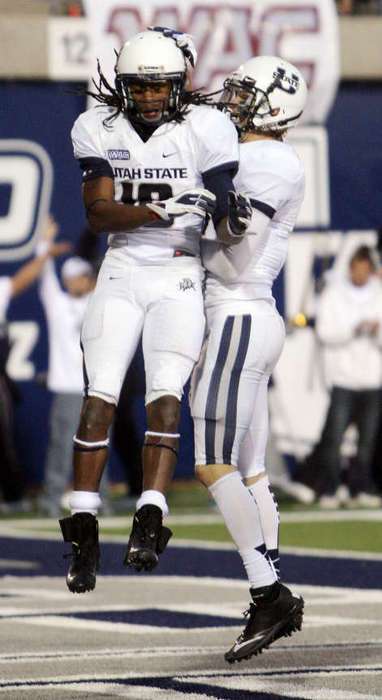 "Play with your heart. You can't overplay your heart; you can't overthink your heart," Jacobs said. "Play with your heart and just have fun. You'll always have a smile on your face."
Enjoying the game of football is something Jacobs credits his success to.
"I'm the guy that likes to put a little spark there when the team is down. I smile, give a little dance on the sideline, just whatever to help lift people's spirits when I can," Jacobs said. "If I can put a spark into the team on the field, in a play, keep them positive, we can get wins."
Jacobs' coaches couldn't agree more.
"He's very energetic. He always brings the excitement and has a smile on his face. He loves sports and loves the game of football," wide receivers coach Jovon Bouknight said. "You love that kind of guy in this environment and on the team."
In his first season at Utah State, Jacobs made an appearance in all 13 games, earning five starts. He caught 20 passes for 218 yards and two touchdowns. He finished the year third on the team in receiving yards and fourth in all-purpose yards (708).
Jacobs also makes an impact on special teams with his kick returns. Last season, he had 18 returns for an average of 24.5 yards, ranking him in third-place among WAC players and 46th in the nation.
"He brings a lot of juice and a lot of speed that we were missing over the past years," Bouknight said. "He's the playmaker. He can change the game at any time with his speed and play-making abilities. We really look for him there."
The change in the atmosphere of Aggie football is both visible and palpable to anyone around it. The growth and success the program has seen over the past couple of seasons has had a hugely positive impact on the way the team views their experiences. Everyone has become much more consistently positive and confident in the team's ability.
"Everyone has had to fine-tune to find the belief and have a strong belief. If any one person has negative thoughts, everyone else starts leeching on and attaching to that," Jacobs said. "It's a disease that affects the whole team."
The success the team is experiencing is going to have an long-term impact on the respect and acknowledgement the program receives. It has also set the bar higher, requiring diligent effort from everyone involved.
"It's a stepping stone. We've set a new standard," Jacobs said. "If you believe in yourself, you can play to that standard and even get above it."
Everyone knows that patience is a virtue, but for Jacobs, it is a necessary attribute that guides his career. It is the biggest lesson he has learned as an athlete and biggest thing he intends to carry over into his life after football.
"Be patient with the game. Every day is not going to be your day. You have to just bear with it and deal with it and keep a smile on your face, so you can get through," Jacobs said. "If you do that through your day-to-day life, then you'll be successful."
Jacobs is confident in seeing himself continuing his football career even after he graduates this May.
"I'm taking my talents to the NFL," Jacobs said.
That confidence is visible the second he takes the field each week.
"When I get the ball in my hands, I feel like no one should be able to tackle me. No one can bring me down. I go by that rule. I lead by example, through my actions. I want to leave a nice stepping stone for the younger classes to take it away," Jacobs said. "My goal is just to help the team progress and get myself better. As I come in and out of my routes, seeing the ball into my hands, making a guy miss and get in the end zone, it's constant progress."
Eventually, Jacobs would like to see himself working in sports psychology. He will graduate with a degree in psychology and sees that as the perfect balance.
"I can keep being involved in what I love, but keep the psychology part in there too," Jacobs said.
Jacobs is grateful for the time he has spent as an Aggie and the person it has helped him become.
"It changes you. Being in this program shows me a lot. It shows me a brotherhood. The people that are on this team will always have a strong bond," Jacobs said. "The memory is still going."
Doug Hoffman is the assistant athletic director for Utah State University Athletic Media Relations.
×
Most recent Sports stories