Estimated read time: 3-4 minutes
This archived news story is available only for your personal, non-commercial use. Information in the story may be outdated or superseded by additional information. Reading or replaying the story in its archived form does not constitute a republication of the story.
SALT LAKE CITY — Pearlly Wa took the stand Thursday and spoke of her only daughter, killed when the girl was only 7 years old.
She remembered how she and her husband were "craving" a girl after three boys and told of her child's birth in a refugee camp in Thailand.
"I took care of her," Wa said of Hser Ner Moo. "I did my best. Everybody in the house loved her the most because she's the only girl. She was fast and she was clever and she loved Sunday School. She was outstanding. This broke my family's heart."
The girl apparently walked away from her South Salt Lake apartment on March 31, 2008. Her body was found the next day in the bathroom of a basement apartment where Esar Met, 25, was living. Authorities believe the child was raped, strangled and beaten to death the afternoon she disappeared.
Met has been charged with aggravated murder and child kidnapping, both first-degree felonies, in connection with the girl's death, charges that could lead to the death penalty.
Thursday was the second day in a hearing before 3rd District Judge William Barrett to determine if Met should stand trial in the death of the child.
Parents' testimony
The mother described returning from a dentist's appointment on March 31, 2008 to find her daughter missing. She said Hser had been left in the care of an aunt and uncle and never left the apartment complex without her parents.
Wa said she searched the area before she called the family's caseworker and asked her to call police. Though most of the testimony came through interpreters, Wa's reaction upon learning about what happened to her daughter was clear in any language.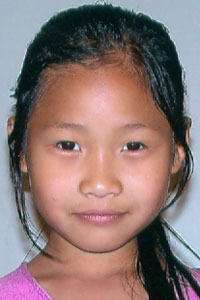 "(The police) said they found her, but she was," Wa said, halting as she brought her hands to her face. "(They) found her dead."
Cartoon Wah, the girl's father, said his daughter was a healthy and happy girl who cared about education and felt her future was bright in the United States. He said Hser studied hard, was quickly learning English and loved going to church, pushing her family to arrive early on Sundays.
"There are many special things about my daughter," Wah said.
She was a pretty child who loved makeup, putting on lipstick, playing with friends and helping her parents. The morning of March 31, 2008, she was happy and healthy.
But he said when he returned home from work that day, his wife told him Hser was missing and he began searching for her. The girl's parents testified that neither of them could sleep nor eat during the night and took up the search the next day.
"I was still searching and I still believed my daughter would come home," Wah said. "(Hser) can't be lost."
Neither of the parents said they knew Met, though they knew the four men who lived in the upstairs of the apartment, who all speak Karen. The men were friends with one of their sons and they said their son sometimes took the young girl to that apartment.
Met speaks Burmese. A refugee from Myanmar, Met has struggled to understand the court proceedings and there have been difficulties finding interpreters for the man, leading to delays in the leadup to this week's hearing There is now a Karen interpreter for the witnesses and Hser's family and a Burmese interpreter for Met.
"This affected my family a lot, especially her mother," Wah testified. "Her mother now has to take depression pills, anxiety pills. I, myself, am always thinking about our little girl. … When I see girls (that) age on the street, getting on the school bus, it really hurts my heart."
×
Photos
Related stories
Most recent Utah stories