Estimated read time: 10-11 minutes
This archived news story is available only for your personal, non-commercial use. Information in the story may be outdated or superseded by additional information. Reading or replaying the story in its archived form does not constitute a republication of the story.
The University of Utah basketball team stunk last year. There's no kind or generous way to put it.
Not only were the Utes bad, they were historically awful. The 2011-12 Runnin' Utes' 6-25 record goes down as the worst in program history. In its final regular-season game, the team suffered a 94-48 loss at Oregon, amounting to the largest margin of defeat in school history.
#poll
How did it get so bad?
Generally speaking, when you try to throw together a project or event at the last minute, it rarely goes successfully.
But that's all then-first-year head coach Larry Krystkowiak could attempt to do last season. After his April 3, 2011 hire, he scrounged together what players he could and assembled a team. The band of misfits hardly resembled an NCAA Division I squad, let alone a Pac-12 basketball program. In fact, to further illustrate this point, last year's Ute team lost its preseason exhibition matchup to Adams State — a Division II school.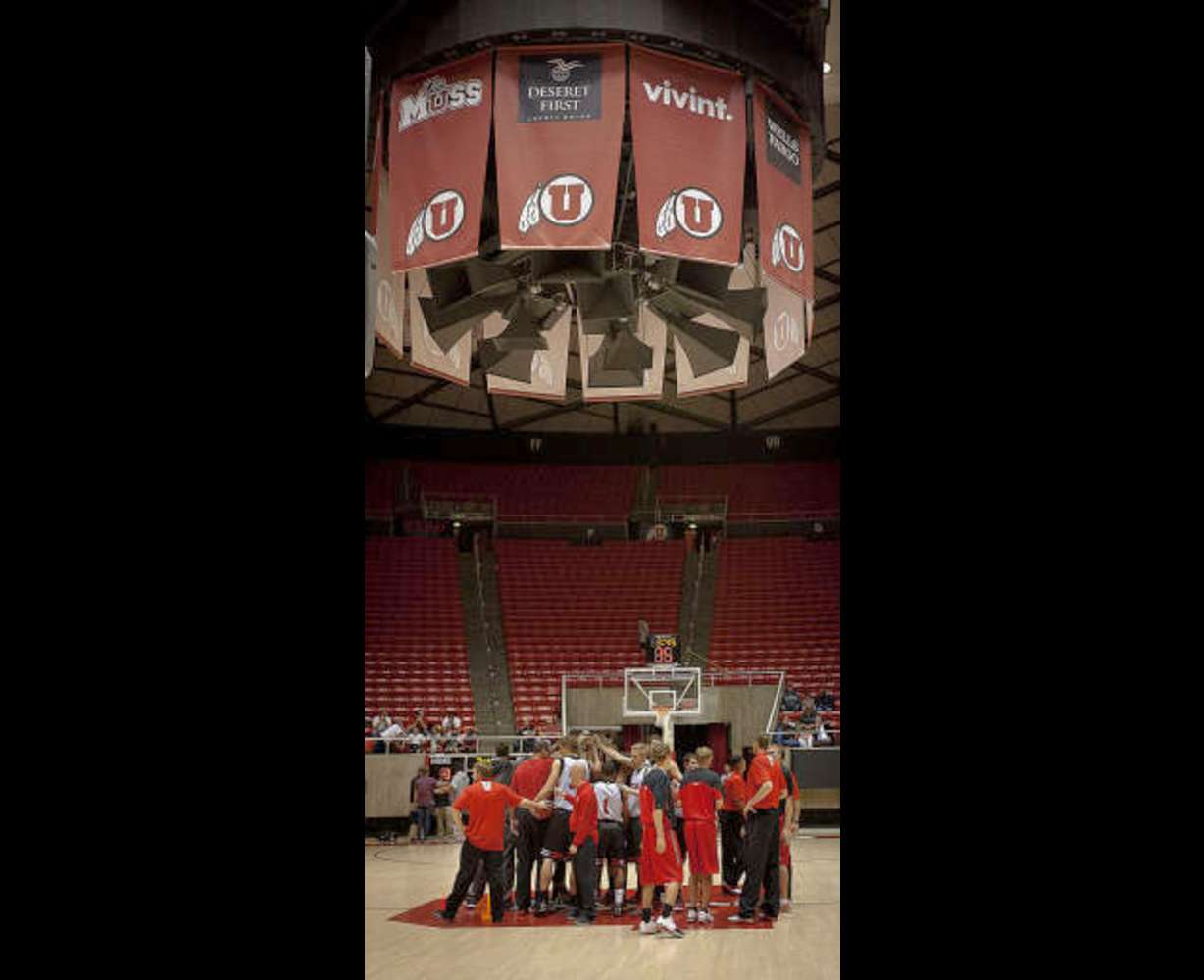 "We had a new roster last year, but we weren't really familiar with the players," Krystkowiak said. "We got a lot of the guys so late that we didn't really recruit them actively throughout the year to know what they could bring to the table. So we took a few months just to get to know our guys. It all started in October, and it was like, 'Hey, we have to figure out what he can do or he can do.'"
Utah began the regular season 3-9, getting utterly embarrassed in blowout losses to low-profile programs such as Fresno State, UNC-Asheville and Cal State Fullerton. Many believed the Utes wouldn't win a single Pac-12 conference game, picking them to finish dead last in the conference. These predictions looked pretty good after Utah opened its conference schedule with a 73-33 spanking at the hands of Colorado.
But Krystkowiak kept his team together, instilling it with his hard-nosed defensive philosophy. Over the latter half of the season, Utah became a reasonably solid — albeit highly inconsistent — defensive team. The Utes went on to claim three victories in the Pac-12 — three more than most predicted — and miraculously finished second-to-last in the Pac-12 standings, just ahead of USC.
How do you recover from a season like that, when many would argue that Utah was fortunate to finish with even its paltry six wins?
It should be quite fascinating to find out.
Krystkowiak is just getting settled into the head-coaching job. He's had a year to learn on the job what it will take to compete in this conference, and he's finally gotten a chance to do some recruiting, bringing in a handful of talented, athletic players.
"If you're on the job for a year, you're going through a lot of things for the first time — a lot of little things," Kyrstkowiak said. "Then once you get settled into a niche and find out your style of play and start getting familiar with your guys, you're able to move on to some culture-changing and team-building, things that you may not have had time to do the first year."
To make way for the new faces, the majority of last year's thrown-together squad was not invited back for 2012-13: Kareem Storey transferred to Southern Idaho, Javon Dawson to Jacksonville, Dijon Farr to Arkansas-Fort Worth, Chris Hines to Drake, George Matthews to UT-San Antonio and Anthony Odunsi to Tyler JC.
As you can tell from the programs where all those players ended up, they were not the caliber of players needed to be successful — or even consistently competitive — in the Pac-12 conference.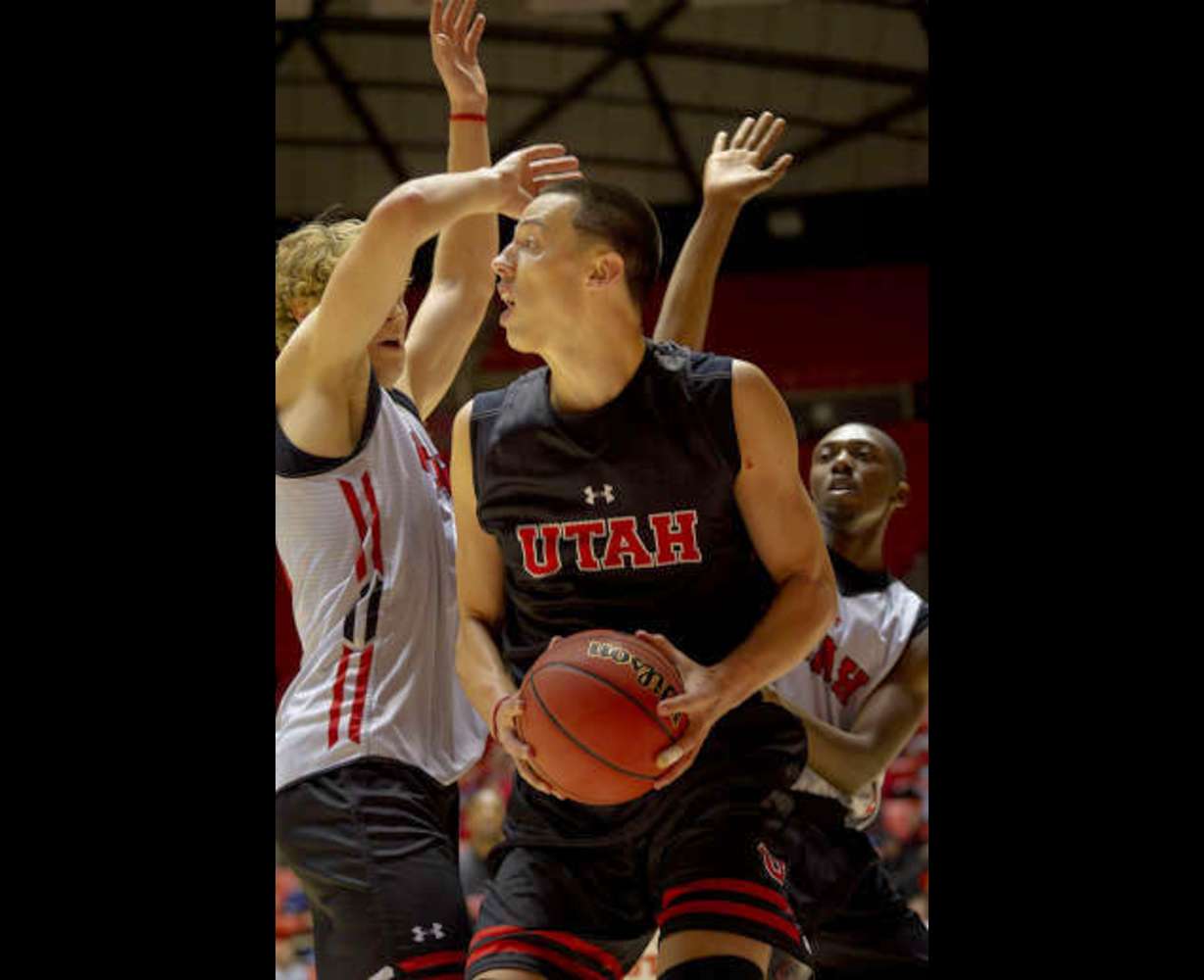 One of the few players that did return is senior Jason Washburn. The 6-foot-10 center led the team last season in scoring, rebounding and shot-blocking last season, averaging 11.4 points, 6.2 boards, and 1.4 blocks per contest. The Pac-12 Network's Kevin Danna calls Washburn one of his 12 men to watch in 2012-13.
As a fifth-year senior and the longest-tenured Ute, Washburn looks forward to shouldering the bulk of the leadership on a young team with many new faces.
"He's a productive player from a year ago, our leading scorer coming back," Krystkowiak said of Washburn. "He finished the season really strong, and he's been around here longer than anybody. So we need some guys to step up and direct traffic and put guys in the right spots."
Senior wing Cedric Martin is the only other returning Ute that got significant playing time last year.
He will look to expand his game in '12-'13.
"Last year, all I did was shoot 3s," Martin said. "This year, I'm trying to get to the basket as much as I can. I'm trying to become a defensive leader."
David Foster, Utah's all-time leader in blocks, was poised to return after being granted a medical redshirt last season. However, the 7-foot-3 center re-injured his foot in another season-ending injury and has decided to move on and retire from Utah basketball.
Glen Dean transferred from Eastern Washington before redshirting last season and projects as the team's starting point guard in '12-'13. The junior's speed and leadership will be a welcome addition to a young team poised on improving.
Junior guard Aaron Dotson, another projected starter that redshirted last season after transferring from LSU, suffered a setback after injuring his foot during fall training camp. Dotson underwent surgery and is expected to miss the first four weeks of the season.
But unlike last year, there is a solid list of talented players ready to fill in for Dotson.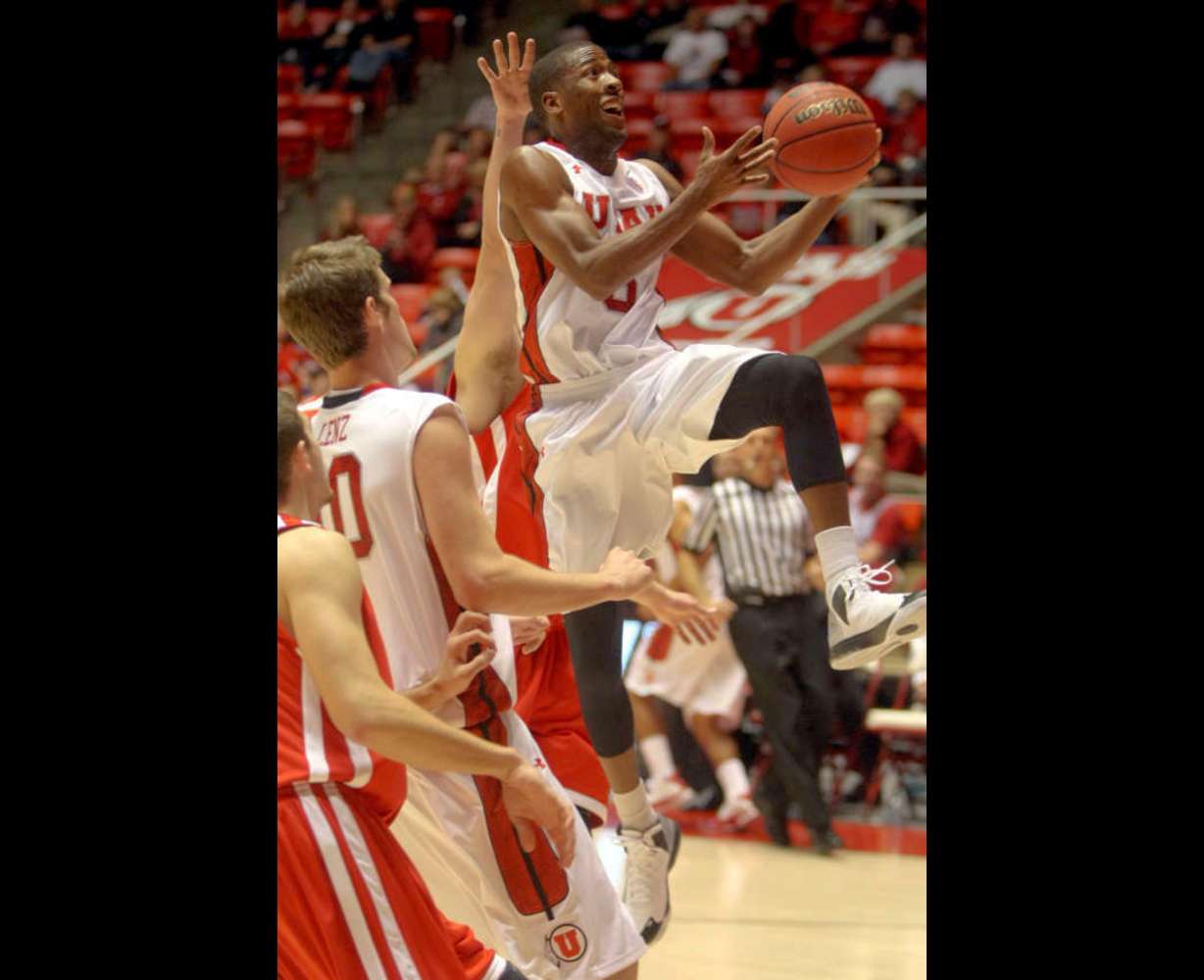 At the top of that list stands Jarred DuBois. The senior transferred from Loyola Marymount but will not have to redshirt a season, having already completed his college degree. DuBois will bring leadership, speed and athleticism to the Utes' starting backcourt.
Three talented true freshmen are also ready to step in and contribute at the guard position. Justin Seymour, a Georgia native, as well as Californians Dakarai Tucker and Brandon Taylor, each look to make an impact this season.
West Jordan High star Jordan Loveridge, a fourth true freshman, projects as the Utes' starting small forward. He has shown the capability of hitting from the outside, getting inside, or setting up from mid-range, and has worked hard this preseason to get his defense on par with his offense.
"Coach has been telling me that if I want to play a lot, then I need to play defense," Loveridge said. "It's going to help me get better on offense. Shots start to fall when you're getting stops."
Now, on to the frontcourt.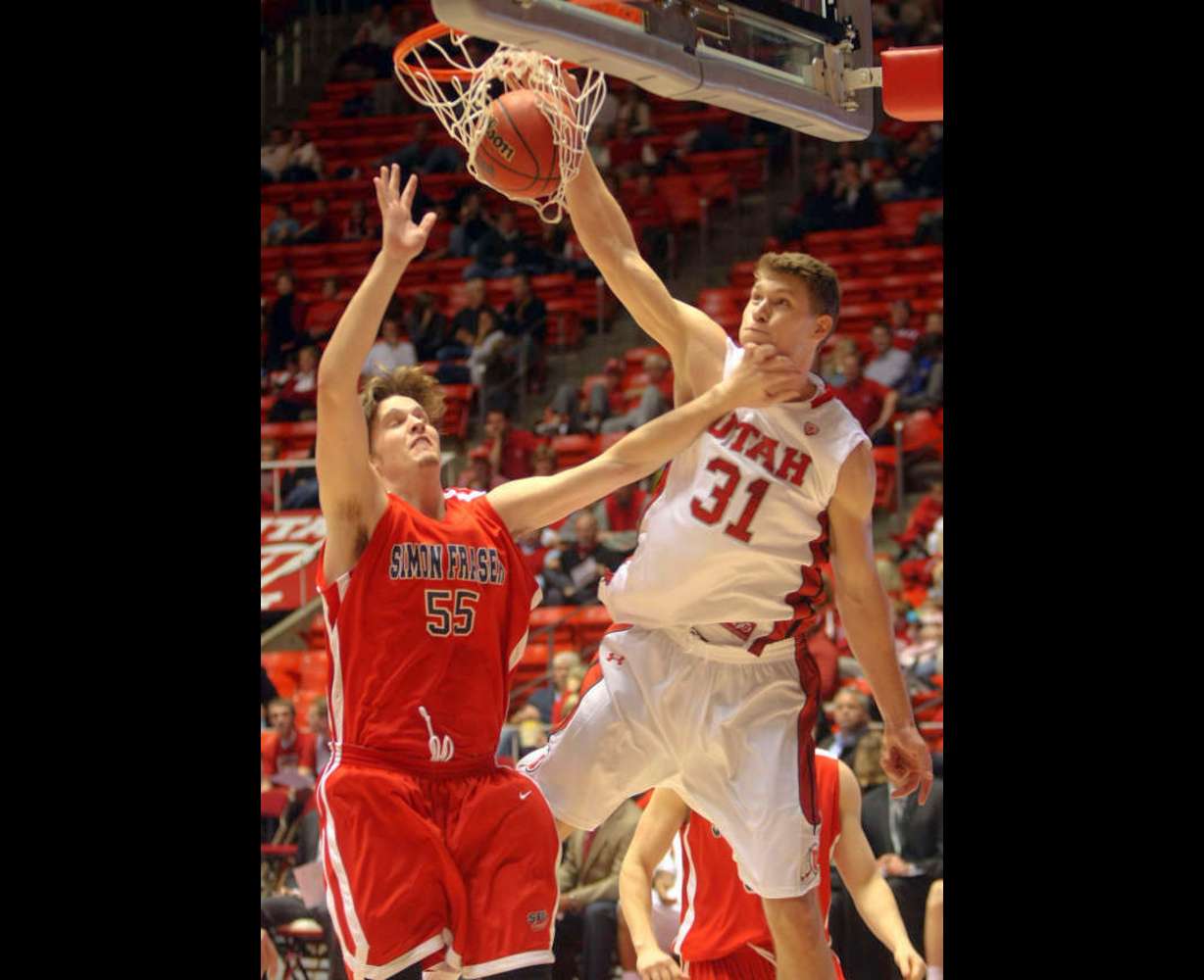 In 2011-12, Washburn was the only Ute over 6-foot-6. This season, Utah has added four others: Dallin Bachynski (6-11), Renan Lenz (6-9 from Brazil), Jeremy Olsen (6-10 redshirt freshman) and Xan Ricketts (6-7).
"I was the only guy over 6-6," Washburn said. "So when I came out of a game, the team had a hard time functioning. But now, whether I'm in or Renan's in or Dallin's in — he is just freaky out there on the rim — we can still run our offense and still perform.
"Last year, I tried to conserve a lot of energy because if I came off the court, our offense became real stagnant. This year is a lot of power basketball. We got a lot of bigs. There's no need to conserve anything."
Despite all these improvements, Utah was once again chosen to finish dead last in the Pac-12 this season — and by a large margin. But the Utes aren't playing the disrespect card, knowing they must work for any respect they're going to get.
"You have to earn your respect," DuBois said. "Respect is never given to anybody. We've got to play with a chip on our shoulder, whether we were picked first, last, whatever. We still got to come out and earn our respect and I think we're going to do that until the season is over."
"If anything, I like (the criticism)," Loveridge said. "It pushes us every day. People doubt us, and it will motivate us to play harder — to play better."
Utah's schedule has also been widely criticized, as none of its non-conference opponents hail from any of the so-called "power conferences."
The criticism appears pretty valid.
Utah opens with home dates against Willamette (Division III) and Sacramento State (Big Sky), before hosting Idaho State (Big Sky), Central Michigan (Mid-American), and Wright State (Horizon) for a Thanksgiving tournament at the Jon M. Huntsman Center.
The Utes will then head to Texas for the only out-of-state road trip of their non-conference slate, visiting Southern Methodist (Conference USA) and Texas State (WAC).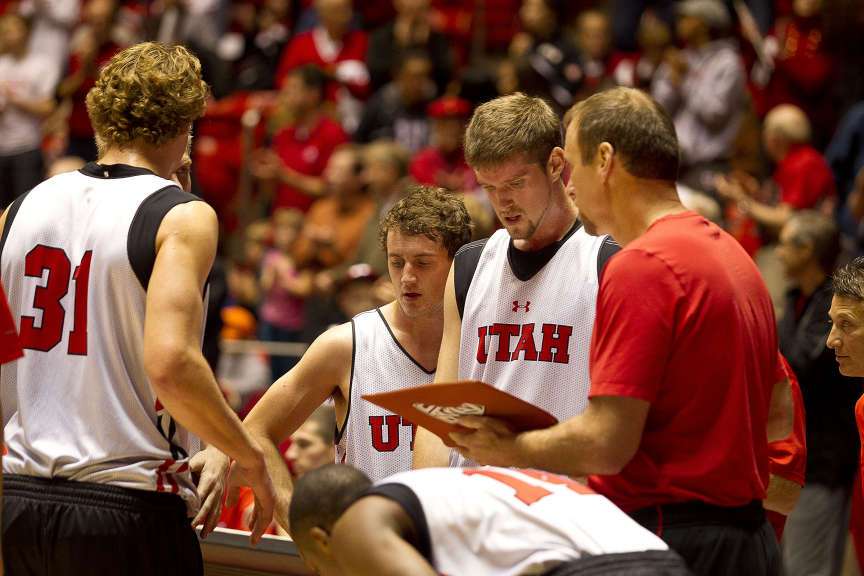 In December, Utah hosts Boise State (Mountain West) before heading to Provo to take on Brigham Young (WCC) in what Yahoo Sports calls Utah's most intriguing non-conference matchup. Then it's back to the Huntsman Center to face SMU (again), Cal State Northridge (Big West), and College of Idaho (NAIA).
Conference play for the improving Pac-12 begins in January, and Utah will open at Arizona State — one of the three teams it beat in '11-'12 — on Jan. 2.
With that kind of non-conference schedule, many critics claim that the Utes would be hard pressed to do worse than 11-1 or 10-2.
But while Krystkowiak aspires for his rebuilt team to be a surprise in the Pac-12, he doesn't think it will be that simple.
"I'm not going to buy into this whole, 'It's such an easy preseason schedule, you should be 10-2,'" Krystkowiak said. "There are no easy games for the University of Utah. We're not going to be favored in a lot of our games. We're going to have to scratch and claw to put it all together."
"I don't care what level of basketball it is — Division II, Division III — they're trying to beat a Pac-12 school," Martin said. "They're going to come in with fire. So we can't just relax and say, 'Oh, I've never heard of this school. We're going to blow them out.' We're not doing that at all."
Regardless of the schedule, it will be interesting to see how the 2012-13 season unfolds, as Utah takes its next step toward trying to rebuild a once-great program.
"I expect us to be better in almost every way," Washburn said. "Coach K had our team last year believing that we could always win, despite the fact that we maybe weren't as talented as the team across from us. We never went into any game expecting to lose. We were fighters — we always went hard. That's one thing you could definitely say about us.
"I figure if this team can get to that point — on top of the talent we have this year at every position, which I think is a step or two higher — where we're always fighting, whether we're down or up, we're going to be really tough."
Tyson Maddy has covered University of Utah athletics as a contributing writer for KSL.com Sports since 2011.
×
Related links
Related stories
Most recent Sports stories