PROVO — While most FBS teams entered November preparing for rivalry games and fighting for top rankings, BYU began its steady jog to the finish line.
The remaining games against Idaho, San Jose State and New Mexico State include a couple of cupcake games (against the Vandals and Aggies)--projected easy wins. Now that the Cougars have stumbled through the meat of their season, losing to three of their toughest opponents by a combined total of 7 points, the biggest concern the team has is saying goodbye to its seniors this Saturday on senior night.
But even with the remaining schedule, head coach Bronco Mendenhall is still giving his team a full run-down in preparation for the Idaho Vandals, who will be BYU's last opponent at home.
"We have a lot to improve on as a football program and as a team," Mendenhall said. "Our focus again is on how much better we can get. We haven't looked ahead much. We had a full day on Idaho (Monday) and we will worry about our next opponent after that. We have a lot to improve on, so that is where my focus has been with our team."
At the very least, Mendenhall said the team began this week's practice with as much tenacity as ever, coming off the bye-week with an anxiety to finish the season strong.
That tenacity and anxiety from BYU players isn't a good sign for Idaho because this game is BYU's baby, and if the team performs as well as it did against Georgia Tech, it'll be lights out for the Vandals.
"Idaho is a team that has struggled with consistency on both offense and defense," Mendenhall said. "In stretches they show capability and then they have had issues turning over the football and maintaining a high level of execution from the beginning of a game to the end of the game. I think that has been their biggest challenge."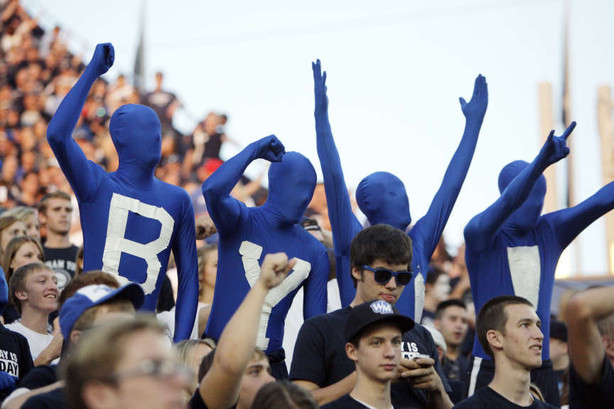 The conversation concerning BYU's last home game runs on mostly sympathy for Idaho and boredom for the Cougars.
As Bleacher Report's Sam Benson put it, the largest concern for fans this Saturday will be the frigid weather.
"The game will be played at 8:15 at night with a predicted temperature of 23 degrees," Benson wrote. "It should be a great event for the whole family, along with several layers of coats."
BYU's players are still in a happy, post-win mood after Georgia Tech and the bye-week, and that confidence has bumped the rushing defense to an NCAA ranking of seven, and a ninth-rated passing defense.
The top-10 defensive ratings — as well as the royalty of being the favorite against Idaho — have resulted in the team itself remaining polite and reserved concerning this weekend's 1-8 opponent.
"You have to treat it like every other opponent," said senior Preston Hadley. "Obviously we have an advantage, but we still have some work we can do to improve to finish out the season and it starts this week. We are just trying to go out and have fun. This is our last game at LaVell Edwards Stadium. It doesn't matter who you are playing against, you just have to go out and play hard."
As the season nears its close, many Cougar fans think of what could've been. When it comes down to it, though, the recipe for success fell through — the successful defense was halted by the quarterback controversy. The excellent punting field position was balanced out by missed field goal attempts.
"There are times you stop and reflect on the season about how it has gone and things you've done well and things you wish you could change," Hadley said. "That's just life. You can't change those things. Obviously we wish some of the games could have turned out differently just being one or two plays away. We are just going to keep looking forward. You can't change the past; all you can do is dictate what the future is."


×
Related Stories