Estimated read time: 5-6 minutes
This archived news story is available only for your personal, non-commercial use. Information in the story may be outdated or superseded by additional information. Reading or replaying the story in its archived form does not constitute a republication of the story.
PROVO — I literally laughed out loud when I read what Brandon Ogletree recently said about his senior blanket: "I've never, ever thought about it. I really couldn't care less. I don't care if they mail it to me in 10 years." For those who don't know about the tradition of BYU football and senior blankets, join the club — and I even received one. Or, at least I have a photograph, which apparently confirms I received one.
And while I'm on the subject of football-related activities that never floated my boat, here's another one: the conference championship. As an independent, BYU no longer competes for a conference championship. As a player, I didn't compete for one either. Oh sure, we were in the Mountain West Conference when I played, and my senior year we actually won the school's first conference championship in five years. Big whoop.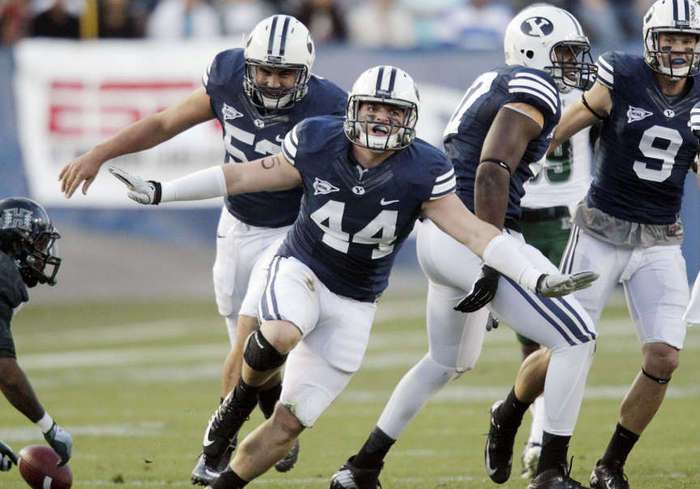 This is the point in the article when many of you roll your eyes, call me a "homer," and say I have no credibility — that I'm once again just toeing the independence-is-heaven party line. Heck, I bet if someone has film of our victory over New Mexico in 2006 when we clinched our first conference championship in five years, you would even find me celebrating. But I promise it was half-hearted.
Even going back to my high school days, I never quite understood the emphasis placed on conference championships. Sure, I hoped we ended up winning the conference as a result of our performance. But the conference title was never an end in itself. Never. At least not for me. What did I care if we had the best record out of an arbitrary group of eight teams? I wanted the best record of all the teams in the country, not just those schools designated to me by some administrative body.
That is why I was initially surprised to hear so many people claim that BYU would lose recruits by not being in a conference. "Kids want to play for conference championships," the critics argued.
Baloney. Kids want to play to be seen. It's egotistical, narcissistic and true. At least it was for me. And nothing gets you seen (or trending on Twitter) more than playing on ESPN.
Which leads me to another point.
When will BYU receive the real payout from its current ESPN contract? If Boise State is any guide, I predict the real payday will come in three-to-six years. The logic is straightforward: for the first time in nearly a decade, middle- and high-schoolers across the country are watching BYU play on a regular basis. Nothing creates a sports bond better than familiarity — witness myself as a childhood fan of the Atlanta Braves, a team that was always on TBS. That bond will only become stronger if BYU wins on a regular basis.
From 1995-2002, BSU played on ESPN approximately once every other year. During that same period, BSU's NFL-draft-hit rate was about the same — one player drafted every other year. The key season for BSU was 2003 when ESPN picked up four BSU games; the following season ESPN broadcast seven BSU games. And just as expected, the NFL draft picks remained constant at BSU until 2007, several years after the big exposure year of 2003. In 2007, BSU had four players drafted, the most in school history. Over the course of the next six seasons, BSU averaged nearly three NFL draft picks per year, a 433-percent increase. Last year alone BSU had six players drafted, which didn't even include Heisman finalist Kellen Moore, who went undrafted. All the while, ESPN continued to show approximately six BSU games per year.
The simple analysis above would surely make any university professor cringe. Correlation is not the same as causation. However, the logic behind the analysis is intuitive, even if the analysis itself isn't rigorous. If I am a prized high school recruit, and BSU recruits me, I will be much more likely to attend BSU if I have seen BSU play throughout my childhood. Additionally, my parents will be much more likely to encourage me to attend BSU if they know they will be able to see me play.
Cougar Tracks:
BYU's television contract with The mtn. network (and its partner, formally known as CSTV) damaged the BYU football program in more ways than one, and BYU is still feeling the effects of that contract. From 2004-2010, prized recruits (and future prized recruits) never watched BYU play. And neither did their parents. Heck, people in Provo, Utah who had Dish Network couldn't even watch the games. So much for creating a bond with the target market. McDonalds spends more than $2 billion a year on advertising. Eyeballs matter.
Independence isn't perfect, especially this season as two of BYU's remaining three opponents have a combined record of 2-16. Yours truly will be working the sidelines this weekend in freezing temperatures (it's 80 degrees today at my apartment in Palo Alto, Calif.). Our broadcast will be on air until at least 2 a.m. After a postgame trip to IHOP, I plan on getting to sleep around 4:30 a.m., only to catch my flight back to California early Sunday morning. As a fan, this week's game is anything but ideal. But, given the previous alternative, I'll take it all day long. And as a player, I would have played at midnight in February if it meant more eyeballs on our game.
Which I suppose brings me full circle. Maybe Ogletree will appreciate his senior blanket after all — especially if he gets it before the game.
×
Related stories
Most recent Sports stories