Estimated read time: 3-4 minutes
This archived news story is available only for your personal, non-commercial use. Information in the story may be outdated or superseded by additional information. Reading or replaying the story in its archived form does not constitute a republication of the story.
SALT LAKE CITY —Controversy swirling around competing poll numbers over the weekend brought rebuke from local candidates Monday and led one newspaper to back away from its previous coverage only a day before the election.
The Salt Lake Tribune announced that mistakes in data interpretation by its pollster, Mason-Dixon Polling & Research of Florida, generated skewed results in the race for the 4th Congressional District and in the battle for Salt Lake County mayor.
"In a nutshell, the poll was flawed," Nancy Conway, the Tribune's editor said Monday. "It appears that the pollster underweighted Democrats and over-counted Republicans, so it skewed the poll number."
That brought misleading results to the front pages of the Tribune on Friday and Saturday, results that stood in contrast to other newly released polls.
Salt Lake County Mayor
Monday the Tribune posted new figures online showing Republican Mark Crockett with 44 percent of the vote and Democrat Ben McAdams with 43 percent. The 4 percent margin of error makes the race a virtual tie, as opposed to the 10-point lead the Tribune poll had assigned to Crockett on Friday.
Poll Results
| Poll | Crockett | McAdams |
| --- | --- | --- |
| Tribune | 44% | 43% |
| KSL/Deseret News | 41% | 44% |
A Dan Jones & Associates poll conducted for the Deseret News and KSL and released Friday showed McAdams leading by 3 points, still within the 4-point margin of error.
McAdams called the Tribune's announcement of amended poll numbers refreshing and said that correcting the error was the responsible thing to do.
The Democrat said his campaign had decided after the initial poll's release to stay positive and press forward. He said he had taken his concerns about the numbers to some of the paper's reporters.
"When we saw the polls last week, it was so wildly inconsistent with our own internal polling and other things we had seen that we knew that something was wrong," McAdams said. "As we looked more closely at the poll, we had a pretty good sense that the methodology was flawed."
Crockett said neither the Tribune nor the Deseret News/KSL poll accounts for the surge of Republican voting he expects to see Tuesday as Utahns take to the polls to support Mitt Romney.
"Now both polls have intentionally excluded any expectation of greater Republican turnout, even though both polls know there will be greater Republican turnout," Crockett said.
The Republican maintains that his internal polling shows him leading by 3 or 4 points in a race that is too close to call, and he is confident a high number of Utahns will turn out to vote on Election Day.
4th Congressional District
The Tribune's revised numbers also revealed a smaller gap between Republican mayor Mia Love and Democratic congressman Jim Matheson, reporting Love's lead to 7 points, down from the 12-point lead that was reported Friday.
The Deseret News/KSL poll by Dan Jones and Associates found that 42 percent of registered voters in the Fourth District said they would definitely vote for Love, while 38 percent said they would definitely vote for Matheson.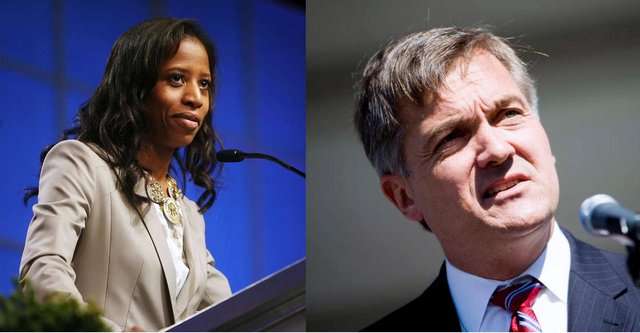 When those leaning toward one candidate or the other were factored in, Love led Matheson 48 percent to 43 percent. Only 6 percent were undecided.
Alyson Heyrend, a spokeswoman from the Matheson campaign, said the Tribune's new poll numbers are "compounding bad information."
"If what they put out was wrong, what makes this any better?" Heyrend said. "We all pretty much knew last week that the poll was wrong, and time proved us right."
Heyrend said the campaign agrees with internal polling and other data that shows a close race between Matheson and Love.
The Love campaign said it hasn't changed its plans based on any polls.
"Mia has been ahead in every poll since September," said Ivan DuBois, campaign spokesman. But on Election Day "it's not what the polls say, it's what voters say and Mia's message has resonated with many voters."
Contributing: Lisa Riley Roche, Dennis Romboy, Shara Park
×
Related links
Related stories
Most recent Utah stories