Estimated read time: 15-16 minutes
This archived news story is available only for your personal, non-commercial use. Information in the story may be outdated or superseded by additional information. Reading or replaying the story in its archived form does not constitute a republication of the story.
SALT LAKE CITY — "Four more years."
That is how Pres. Obama announced his second term on social media — those words and a picture of him and first lady Michelle Obama hugging with a gray sky as a backdrop.
The tweet became the most shared tweet in history within a few minutes of being posted. It was retweeted more than 298,000 times within a half hour, beating out the previous first-place tweet, which was a message from Justin Bieber.
---
12:28 a.m.: What happened to the Obama daughters? Sasha and Malia are all grown up.
Malia, 14, and Sasha, 11, have managed to grow up largely out of the spotlight — at least as far as children of public figures go. The Obama daughters rarely make public appearances and were not very active in their father's presidential campaign.
Pres. Obama and first lady Michelle Obama have also been careful over the past four years about what stories they tell about the girls, leaving much of their private life shrouded in mystery.
The effect of the privacy surrounding the girls, which is meant to allow them to grow up in as normal a way as possible, being the daughters of a president, is that people don't watch them grow up on a day to day basis. When the two made appearances at the Democratic National Convention in October, the Internet exploded with cries that the two had grown up without anyone noticing.
It was noticeable again today during Pres. Obama's victory speech: Sasha and Malia have grown up. Take a look at them in 2008, and again in 2012:
---
11:53 p.m.: 'The Happy Warrior' Vice President Joe Biden has a new nickname: America's Happy Warrior.
During Pres. Obama's victory speech Tuesday night, he referred to Biden as "America's happy warrior, the best vice president anyone could ever hope for."
The vice president has become known over the past four years for both his demeanor and his tendency to speak off the cuff, which has led to numerous gaffes.
As of just before midnight, no parody account had been created for the "Happy Warrior" meme on social networks, a departure from tradition this election cycle. - - - - - -
11:32 p.m.: 2 years before it all starts again — Regardless of whether your candidate won or lost, you can take comfort in knowing you have two full years before the election cycle starts again.
That's right — you have two full years to enjoy political ad-free television — at least on a national level — before you get to spend two full years pulling your own hair out. If you think about it, that's really only half your adult life that you'll spend listening to political infighting.
In two years, this starts all over again. No incumbent, next time. Oh, it's on.

— Tom Cox (@tomintheburgh) November 7, 2012
It didn't used to be this way, of course. But the election cycle has started earlier and earlier every election, with no indications of slowing down. A few years from now, we may find ourselves watching ads for the 2024 race before the 2020 race even begins.
---
10:57 p.m.: Gay marriage, marijuana legalized in 2 states each — The ballot measures that were getting the most attention Tuesday involved legalizing marijuana and same-sex marriage.
Three states voted on whether or not to legalize marijuana for recreational use: Colorado, Washington and Oregon. Colorado and Washington became the first states to legalize the drug. Oregon voted against the measure.
Maine and Maryland voted to legalize gay marriage. The measure leads my a slim margin in Washington, but has not been called. The two — potentially three — states join six others and the District of Columbia in legalizing gay marriage.
The death penalty was on the table in one state: California. Residents there voted to keep the penalty.
---
10:19 p.m.: Trump calls for a revolution — Donald Trump is not happy.
He started out the day with a more moderate stance: "Whoever wins today, remember that tomorrow we still have a country struggling. Our work is not done until America is strong again," he tweeted at 2:30 p.m. Tuesday.
Here is what happened beginning at about 9:30 p.m.: "He lost the popular vote by a lot and won the election. We should have a revolution in this country!" he tweeted. And five minutes later: "The phoney electoral college made a laughing stock out of our nation. The loser one!"
And nine more tweets:
The electoral college is a disaster for a democracy.

— Donald J. Trump (@realDonaldTrump) November 7, 2012
"Lets fight like hell and stop this great and disgusting injustice! The world is laughing at us."
"More votes equals a loss...revolution!"
"This election is a total sham and a travesty. We are not a democracy! "
"Our country is now in serious and unprecedented trouble...like never before."
"Our nation is a once great nation divided!"
"The electoral college is a disaster for a democracy."
"Hopefully the House of Representatives can hold our country together for four more years...stay strong and never give up!"
"House of Representatives shouldn't give anything to Obama unless he terminates Obamacare."
"Our country is now in serious and unprecedented trouble... like never before."
---
9:22 p.m.: Could Romney overturn the Obama call? — Could Mitt Romney still become president?
The short answer is no.
The longer answer is this: it is impossible to do the electoral math based on what states have been projected for each candidate. Romney would have to win Florida, Virginia, Colorado and Nevada, which is possible, but improbable. But he would also have to win Wisconsin, which has been declared for Obama, although the state has given the president a two-point lead with 44 percent of precincts reporting. Is it possible? Maybe, but barely.
---
8:47 p.m.: Is this thing over yet? — It's been a long day, and we're hours away from the finish line, at the very least.
It's been a long day for me. I've been here since 9 a.m., and won't be going home for hours. (Don't worry; they're feeding us.)
It's probably been a long day for any of you who had to wait in line to vote or who have been watching election coverage, or maybe you had to take your kids to the dentist or make them clean their rooms.
It's been a long election season, for everyone. I wrote my first article of the election season on Sept. 8, 2011 — more than a year ago — and that was already months into the season. We've all been dealing with ads and promises and every other annoying thing for at least a year and a half.
If you're counting down the hours until it's over, you're not alone:
---
8:11 p.m.: These local kids will make you proud — A fourth-grade class at Spectrum Academy in North Salt Lake researched candidates for a remix of Taio Cruz' "Dynamite," and it's pretty awesome, regardless of your political leanings.
"I came to vote … I hit the booth cuz it's my choice … Just wanna clarify the facts … Give me some info for both sides," goes the chorus (kind of).
"The ads go on and on and on, and they go on and on and on … I hold my ballot in the air this time, sayin' I don't know who to vote for."
---
7:47 p.m.: More magical than Hogwarts or Lucky Charms — There are a few things in this world that are magical. Hogwarts. Lucky Charms. This video. (Hey, at least I didn't send you here.)
Fun Fact: CNN's magic election wall will depict each candidate animorphing into his or her spirit animal, but only if you *truly* believe.

— Alex Alvarez (@soalexgoes) November 7, 2012
But CNN's Magic Wall is the most magical of them all. The Multi-Touch Collaboration Wall, as it is called by almost no one, has been used on CNN during every election since the 2008 primaries.
It has also been made fun of incessantly on social media during every election since then, with CNN's antics — whether you like them or hate them — the focus of much of the talk about the network.
The map has been parodied in several incidences on other TV shows, including the Nov. 18, 2008 episode of The Daily Show and the Oct. 23, 2008, episode of Saturday Night Live Weekend Update.
---
7:17 p.m.: 193 votes separate Obama, Romney in Florida — The difference between Pres. Obama and Mitt Romney in Florida right now is 193 votes. "Too close to call." Yep.
---
7:01 p.m.: Let's talk about our feelings — Let's take a look at Twitter sentiment.
It's not a perfect indication of how the race is going, since the people who send political tweets tend to fall closer to either side of the political spectrum, but it will be interesting to see at the end of the night how accurate a predictor Twitter sentiment actually was.
Right now, Pres. Obama and Mitt Romney have both seen a slight increase in their sentiment score — meaning more people are tweeting positively about them now than at this point yesterday.
Positive sentiment for Romney saw a large spike at 5 p.m. MST — right as swing states Florida and Virginia closed their polls. He saw a smaller spike in negative sentiment at the same time. Both dropped back to normal levels within the hour.
Positive sentiment for Pres. Obama spiked at the same time and at about the same rate as for Romney. Negative sentiment for Pres. Obama spiked at a higher rate than it did for Romney. There continues to be a bigger gap between positive and negative sentiment for Pres. Obama than for Romney, indicating that Twitter users as a whole slightly favor the current president, although not by a large margin.
Twitter users as a whole view Pres. Obama in a more positive light than Romney, with only the 8 a.m. to 9 a.m. hour showing Romney in a more favorable light.
Like I said before, it is important not to put too much stock into Twitter sentiment. But come the end of the night, as Twitter users remain active, it will be interesting to see how their sentiment reflects the sentiment of Americans in general.
---
6:22 p.m.: Kids will be kids, even on Election Day — Did you take your kid to your polling place today?
If so, you're not alone. And unless your kids are angels (or just have bigger attention spans than I have), you probably had a difficult time keeping them occupied during your hour-long wait in line. Unless you live in Sandy, which my co-worker reports was lineless as of 9 a.m.
Maybe your kid is a great American and was disappointed he couldn't vote:
Maybe you have the worst polling place in the world and it didn't give out stickers, so you had to enter an "I voted" contest with a picture of your kid, instead:
Maybe your kid thought "there are a lot of old people here." Or maybe you were trying to vote and gave your kid a flashlight to play with, which he apparently used to try to blind himself.
Do you have stories? Share them on the comment boards.
---
5:36 p.m.: Ohio is the swingiest of all the swing states — Kentucky, West Virginia and Indiana went to Romney; Vermont, to Pres. Obama.
There have been 27 electoral votes awarded total, but already, people are calling the contest. (Individuals — not the media … so far.) On social networks, things are "looking bad" for both Obama and Romney. (At my desk, things are "looking bad" for my Diet Coke supply.)
Now, Ohio polls have closed. Ohio is a big deal. Ohio is the Facebook to your Google+. Why does Ohio matter? It is the swingiest of all swing states — with its diverse population, it usually is fairly evenly split between Republicans and Democrats.
On top of that, no Republican candidate in recent history who lost Ohio has won the presidency — and Mitt Romney doesn't want to be taking any chances. Results from Ohio haven't started pouring in yet, but with Romney up by 18 points in Virginia, according to CNN, and down by 3 percent in Florida, early results from Ohio are likely to leave poll watchers salivating.
---
5:03 p.m.: Polls close in swing states; panic ensues — Florida and Virginia are kind of a big deal for Mitt Romney this time around.
Florida's 29 electoral votes and Virginia's 13 will likely decide whether Pres. Obama's Republican challenger will take his seat in the White House come January.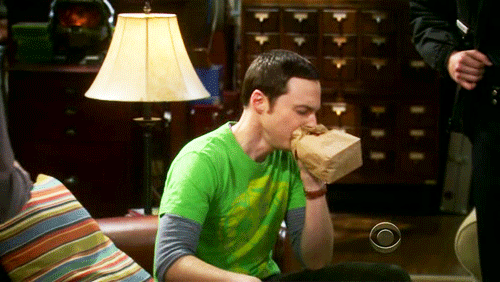 Winning both states does not win Romney the election, but losing them means the former Massachusetts governor will have a very difficult time finding his way to the presidency.
Nate Silver with FiveThirtyEight has statistical analysis showing Pres. Obama and Romney at a tie. Silver shows Pres. Obama with a 2-point lead in Virginia.
---
4:25 p.m.: Man appears to die, wakes up: 'Did I vote?' — A Michigan man is getting attention online after appearing to die before reviving and showing concern only for his ballot.
Ty Houston, a home care registered nurse, noticed an elderly couple filling out their ballots nearby.
"His wife, who was helping him fill out the ballot, asked him a couple of questions but he didn't respond," he told The Detroit News. "She screamed for help and I went over to see what I could do."
Houston said the victim had no heartbeat and was not breathing. Houston performed CPR, and the man was revived.
"The first question he asked was 'Did I vote?'" Houston said.
The man's wife reportedly told him she was more concerned with his life than his vote, but he would not be dissuaded. The man said there were two things that were important to him: "That I love you and that I finished what I came here to do … vote."
---
4:08 p.m.: If you commit to moving to Canada, you better follow through — In case you're wondering, it's still a thing — on both sides of the aisle — to threaten to move to Canada if your preferred candidate does not win the election. Poor Canadians.
About 9,000 tweets per hour have mentioned Canada since this morning, compared to about 6,000 per hour on Monday. Not every tweet is a threat to expatriate oneself to Canada, of course, but judging the increase in tweets mentioning the term over the past week, a large portion of them are based on the U.S. election.
if Obama wins I'm moving to Canada..

— Nicole Resetar (@nicole_res) November 6, 2012
One popular saying over the past week has gone something like "If Obama wins, I'm moving to Canada. If Romney wins, I'm moving to Canada. This isn't political; I just want to travel. - - - - - -
3:21 p.m.: Did you dress up as Big Bird to vote today? This guy did — Big Bird has played a role in the 2012 election ever since GOP candidate Mitt Romney told Jim Lehrer he would cut funding to PBS if he won the presidency.
It didn't go away.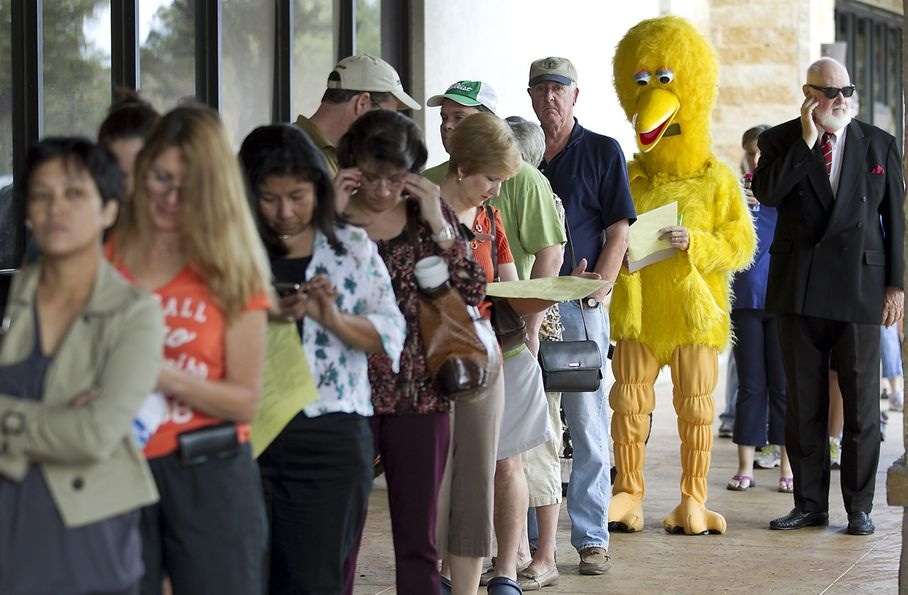 John Kelso, a reporter for the Austin-based website Statesman.com, decided to see what would happen if he went to vote dressed as the feathery yellow creature.
Kelso said he was asked by multiple people to take pictures with them, although many people tried to pretend they didn't notice. Democrats called out their support; Republicans asked whether taxpayers had paid for his appearance at the polls. Best of all, he got some really awesome pictures:
---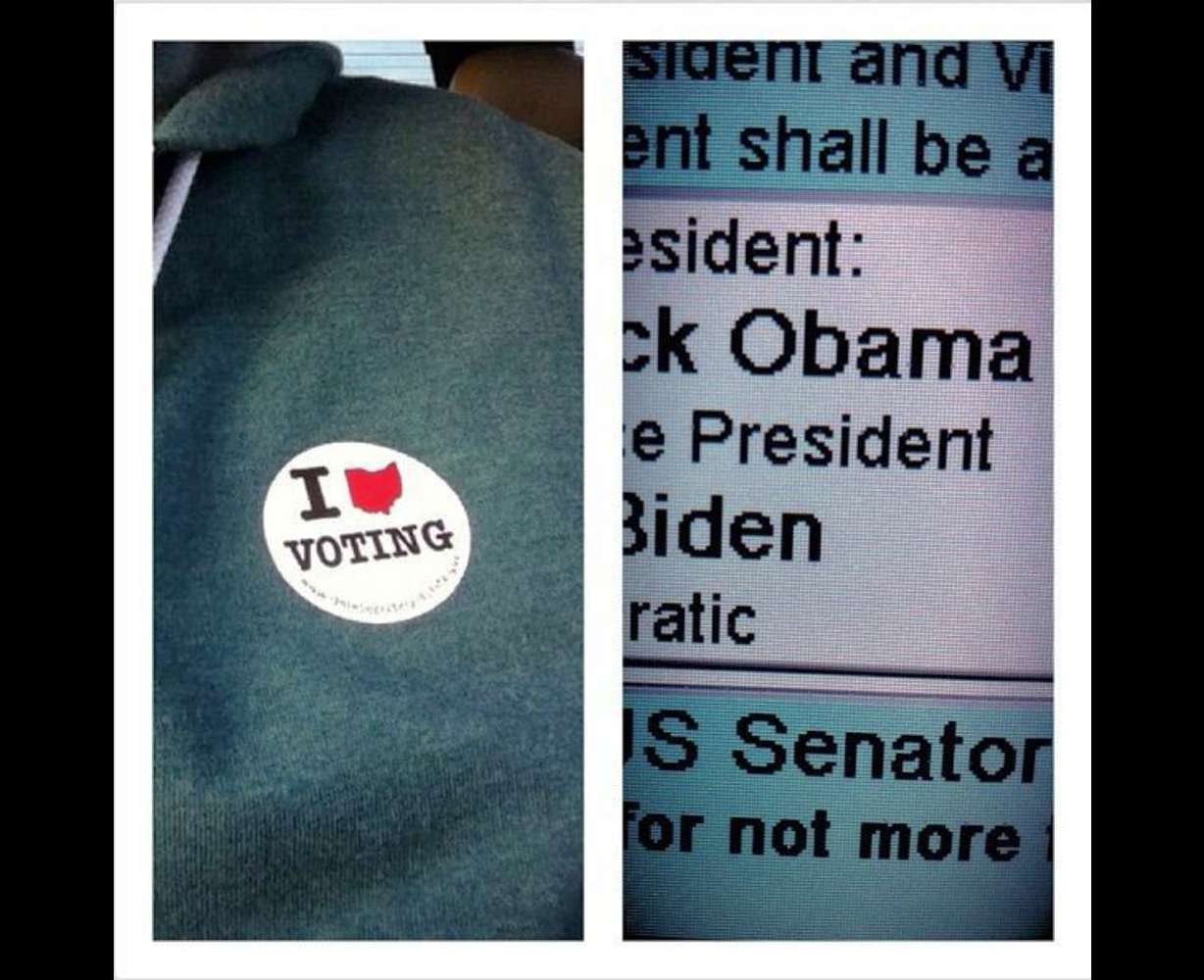 2:37 p.m.: You may have broken the law when you voted today — Have you taken a picture of your ballot today and shared it online anywhere? If so, depending on where you voted, it might be illegal. According to KSL's legal department, Utah prohibits your ballot to be seen by any other person "with an intent to reveal how he is about to vote." That's according to U.C.A. 20A-3-504, 1a et seq.
Essentially, if you are standing in the booth ready to vote, and you allow someone in the booth to see your vote, you're in violation of the law. So posting a photo while you're still standing in the booth is a problem and you could be charged with a class C misdemeanor.
However, if you take a picture of your ballot while in the booth and then cast it, but subsequently post the photo after casting the ballot, you're perfectly alright.
Many states' laws are unclear when it comes to the sharing of a ballot, but a few clearly prohibit or allow photography in a voting booth.
Sharing images of ballots on Instagram, Twitter and Facebook has been a bigger trend this year than in 2008, when Facebook was the only major player in the election cycle. Most voters do not seem to be aware that snapping a pic and spreading it around online could actually be a misdemeanor offense — so be careful.
---
1:57 p.m.: At least you're not in Ohio — Election Day is about halfway over (hopefully), and the theme thus far has been impatience: long lines and machines behaving weirdly have all reportedly slowed down the vote nationwide.
I'll be updating this blog all day with what's happening and what's being talked about. Whether it's Clint Eastwood talking to a chair or people's reactions to which way a battleground state goes, we'll have it here. There's a whole election story that never gets told about how Americans experience elections, beyond the basic red and blue divisions on a map.
×
Related links
Most recent Politics stories