Estimated read time: 4-5 minutes
This archived news story is available only for your personal, non-commercial use. Information in the story may be outdated or superseded by additional information. Reading or replaying the story in its archived form does not constitute a republication of the story.
SALT LAKE CITY — Throughout the presidential race Mitt Romney has not talked much about being a member of The Church of Jesus Christ of Latter-day Saints. Only at the Republican National Convention was his religion highlighted.
While Romney's faith has not been a major focus of the campaign, Americans are curious about a religion many know little about. The LDS Church is one of the fastest growing religions in the United States, but a majority of Americans do not know or understand the doctrines of the church.
Members of the national media and Americans alike have attempted to define LDS Church doctrines and Romney's role in his religion. A video posted on YouTube on Oct. 31 shows Romney talking candidly about his religion.
The video is a radio interview with conservative talk show host Jan Mickelson as part of an "ask anything" tour during Romney's first bid for the White House. Speaking about abortion, Mickelson challenged Romney, saying he violated his religious beliefs because he was not pro-life from the beginning.
Romney tells Mickelson that he was never "pro-choice," but promised as governor to uphold the law of the land, which gives a woman the right to choose.
---
The great thing about this country is that individuals who run for secular office are not implementing the policies of their church — they're doing what they think is right for the nation.
–Mitt Romney
---
"The great thing about this country is that individuals who run for secular office are not implementing the policies of their church — they're doing what they think is right for the nation," Romney said.
During the commercial break, Romney and Mickelson continue their conversation, with Romney telling Mickelson, "You don't understand my faith like I do."
Romney continues, saying, "You're not giving me the opportunity to explain to you that my faith has very strong beliefs that if I commit abortion or I encourage abortion — I was beaten up in Boston time and time again that I encouraged girls not to get abortion, but I told them to have adoptions. I have never done anything that violates the principles of the church in that regard.
"But the church does not say that a member of our church has to be opposed to allowing choice in society. It does not say that," Romney continues. "And therefore, there are Mormon Democrats. There's a Democratic Party in Utah filled with Mormons and the Church doesn't say they're wrong, they're being excommunicated. No, it says we are vehemently opposed to abortions ourselves, but we allows others to make their own choice."
Fighting back, Romney ends his interview telling Mickelson, "I'm not running as a Mormon, and I get a little tired of coming on a show like yours and having it all about Mormons."
The Church of Jesus Christ of Latter-day Saints remains neutral in political affairs, asking members of the church to be knowledgeable and responsible citizens of the community and to engage and participate in civic affairs. The Church does not "endorse, promote or oppose political parties, candidates or platforms."
"Elected officials who are Latter-day Saints make their own decisions and may not necessarily be in agreement with one another or even with a publicly stated Church position," the Church said in a prepared statement. "While the Church may communicate its views to them, as it may to any other elected official, it recognizes that these officials still must make their own choices based on their judgment and with consideration of the constituencies whom they were elected to represent."
Related political news: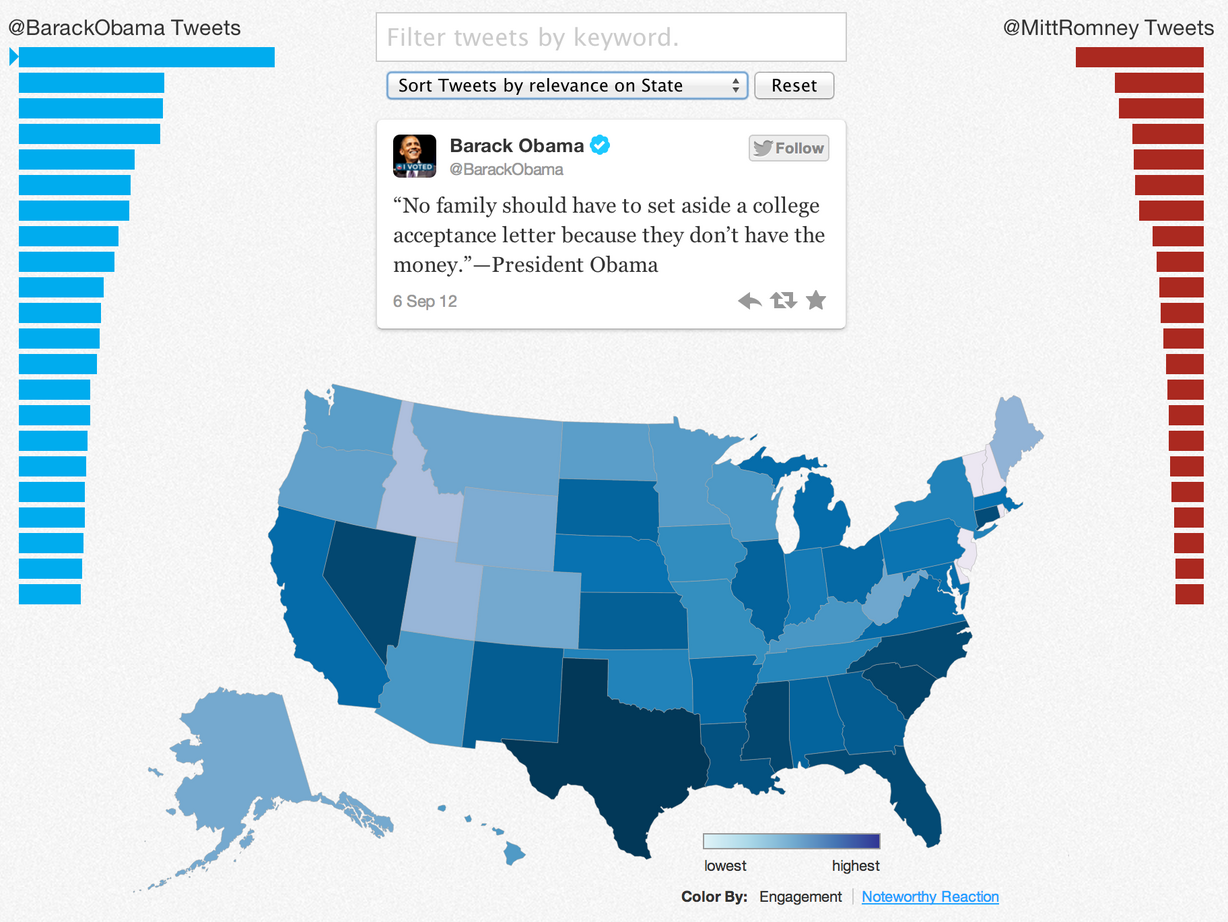 It was bound to happen. The Simpsons have weighed in on the presidential race. In a promotional video by Fox, The Simpsons character Mr. Burns endorses Mitt Romney for president. The choice was posed to Romney's dog Seamus, who was strapped in a crate to the roof of Romney's car on a family vacation in 1983, but Seamus couldn't choose. "Who do you want to take care of you for the next four year?" Mr. Burns asks. It's a simple choice: "Broccoli" Obama or Mitt Romney?
Twitter has unveiled a new interactive map that measures the effectiveness of President Barack Obama's and Mitt Romney's tweets. The interactive map measures the candidates' tweets on a state-by-state basis, showing how each state reacts. Check out the map and see how each state reacts.
The presidential race has fallen on Nov. 6 only six times, with Republican candidates winning each time. Is this a trend that will continue? Who knows, but here's a message from John F. Kennedy, who asked Americans to vote on Nov. 6.
×
Related links