Estimated read time: 7-8 minutes
This archived news story is available only for your personal, non-commercial use. Information in the story may be outdated or superseded by additional information. Reading or replaying the story in its archived form does not constitute a republication of the story.
SALT LAKE CITY — The only big surprise in the first round of the 4A playoffs was the final score in the Timpview Logan game.
Both teams were ranked in the top five and it was one of the most anticipated first round match ups. It was even after one quarter but it quickly turned into a rout with Timpview winning 49-14. It was an impressive performance on the road by Timpview who sent a message to the rest of 4A, including East, that they will be tough to beat.
Sky View, a 4 seed almost knocked off No. 1 seed Orem on the Tigers home field but fell short. Box Elder also had an impressive road win at Maple Mountain and Highland needed 17 4th quarter points to rally past Olympus. East overcame a slow start to defeat Herriman on the road.
The quarterfinals should provide even more drama this Friday. Here is a look at all four match ups.
Top performances from 1st round of the 4A playoffs
Jakob Hunt RB Bountiful
Hunt may have had the most impressive individual performance in the first round of the playoffs regardless of classification. He carried the ball 35 times for 291 yards and 4 touchdowns in the Braves 35-6 win over Skyline.
Sean Barton RB S Woods Cross
Barton got it done on both sides of the ball for the Wildcats. He rushed for 115 yards, caught 3 passes for 69 yards and had a sack on defense leading his team to a 35-0 win over Westlake.
Daniel Lemon TE Sky View
Lemon had a big day for the Bobcats who almost pulled off the upset over top seed Orem. He caught 10 passes for 139 yards and two touchdowns in the loss.
Jake Lloyd and Dax Raymond Timpview
This quarterback/receiver combo had a big day in a shocking blowout of Logan on the road. Lloyd was 21-29 for 292 yards and 4 touchdowns. Raymond caught 9 passes for 165 yards and all 4 of Lloyd's touchdown passes. Lloyd added a rushing touchdown in the 49-14 win.
Highland (7-4) at Orem (8-3), 4 p.m.
The Orem football program has enjoyed a revival under head coach Tyler Anderson. The Tigers have won 8 of their last 9 games and have one of the most explosive offenses in the state. Quarterback Taylor Camp has passed for 3,138 yards, 35 touchdowns and 9 interceptions. His top target is receiver Nolan Gray who leads the state in receiving yards with 1,330 yards and his 16 touchdowns are 2nd best among the state's receivers.
That offense will be tested by Highland and their physical, smash-mouth style of play. The Rams don't have the star power they've enjoyed in the past two seasons with guys like Nate Fakahafua, Sione Houma and Anthony Smithson but they still find themeselves one win away from reaching the turf of Rice-Eccles Stadium. It's no secret what they will do on offense. They threw the ball just 12 times against Olympus while running backs Viliami Sekona, Adam Webber and quarterback Austin Peterson combined for 49 carries and 296 yards. Defensively they have proven tough all year. They have three shutouts this season including one against 5th ranked Woods Cross.
This is a very interesting matchup between two teams that couldn't be any more different. We will find out which style of play wins out on Friday.
KSL Prediction: Orem 21 Highland 20
Bountiful (9-2) at No. 2 Mtn. Crest (9-2), 4 p.m.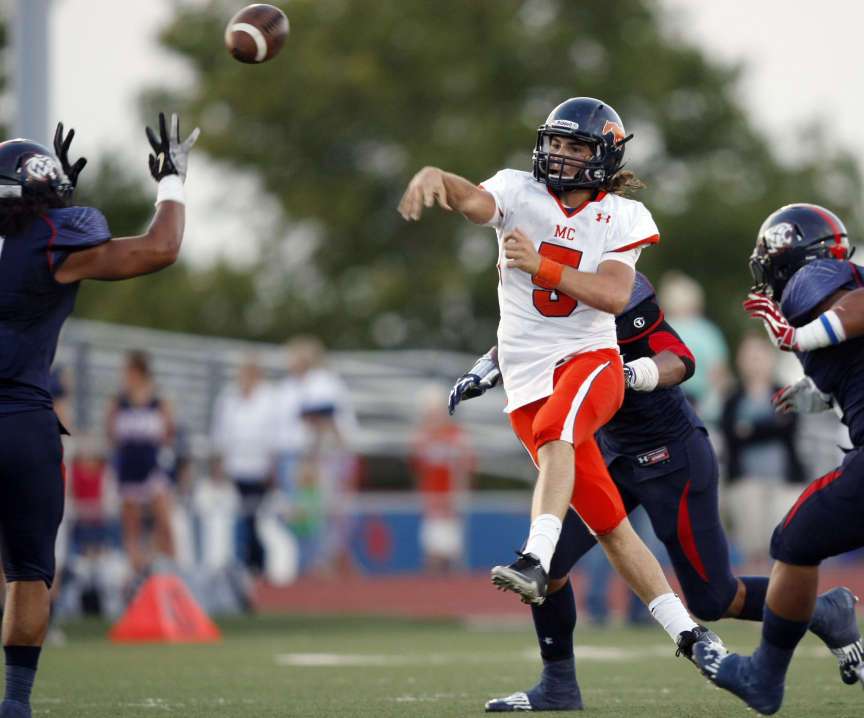 Mountain Crest challenged themselves in non-region play and it seemed to pay off later in the season. The Mustangs suffered two heartbreaking losses to Lone Peak and Woods Cross and the lessons learned in those games have fueled their 8-game win streak. They beat rival Logan to claim an outright Region 5 title. The Mustangs have talented players at skill positions on offense. BYU commit Faimafili Laulu-Pututau has caught 41 passes for 689 yards and 8 touchdowns despite opposing defenses scheming to stop him. Eddy Hall moved from quarterback to running back this season and the move has paid off big for the Mustangs. He has rushed for 1,380 yards and 16 touchdowns for an offense that averages 33 points per game.
Bountiful has an impressive running back of their own. Jakob Hunt has been a workhorse for the Braves. He has carried the ball 224 times for 1,477 yards and 22 touchdowns. Last week in a first round playoff win over Skyline he rushed for 291 yards and 4 touchdowns. Hunt will surely be called on again to carry the load on offense for Bountiful. The Braves also boast a very good pass rush on defense. Rylee Gautavai has 4.5 sacks to go along with 106 tackles this season. Junior Hamilton also has 4.5 sacks. Putting pressure on Mountain Crest quarterback Jamison Webb and bottling up the run game will be key for the Braves.
These are two programs that are very familiar with the turf at Rice-Eccles Stadium. They expect to advance that far in the playoffs every year. This has the potential to be a classic that comes down to the last play.
KSL Prediction: Mountain Crest 31 Bountiful 28
No. 4 Timpview (6-5) at No. 5 Woods Cross (9-2), 3 p.m.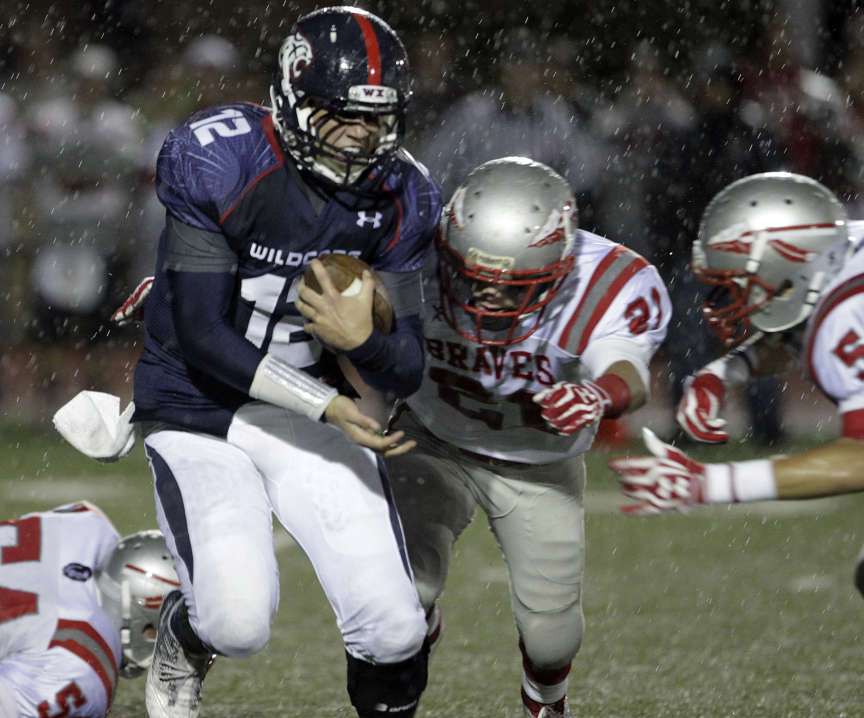 Sanctions Timpview received for using an ineligible player this season cost the team a Region championship and No. 1 seed. The situation has been hard on the players who have used it as motivation. Their motto this season is "any place, anywhere, any time." That was certainly the case last week when they had to open the playoffs on the road against No. 1 ranked and defending champion Logan. The Thunderbirds crushed the Grizzlies 49-14 to advance to the quarterfinals. Quarterback Jake Lloyd is one of the top quarterbacks in the state and leads an offensive attack that has averaged 41 points per game. He's passed for 3,015 yards, 42 touchdowns and just 6 games. It helps when you have a big target like Dax Raymond who has caught 60 passes for 1,172 yards and a state high 17 touchdowns. Defensively they have been just as good. Pita Taumoepenu leads the state with 19.5 sacks.
Woods Cross has some impressive talent of their own. Stanford commit is one of the best players in the state on both sides of the ball. He plays almost every down of the game. Barton has rushed for 933 yards and 7 touchdowns, caught 12 passes for 352 yards and 3 touchdowns and has 42 tackles and 2 sacks on defense. That defense has been one of the best in 4A this season. Utah commit Filipo Mokofisi and Deion Saamulu have combined for 12 sacks. They have shutout four of their last five opponents including Bountiful.
The Wildcats are enjoying their best season in 23 years. Like that team in 1989 they hope to advance to a state championship game. Getting past Timpview may be too much to ask but they have the defense and star power to pull off the upset.
KSL Prediction: Timpview 28 Woods Cross 14
East (4-7) at Box Elder (7-4), 4 p.m.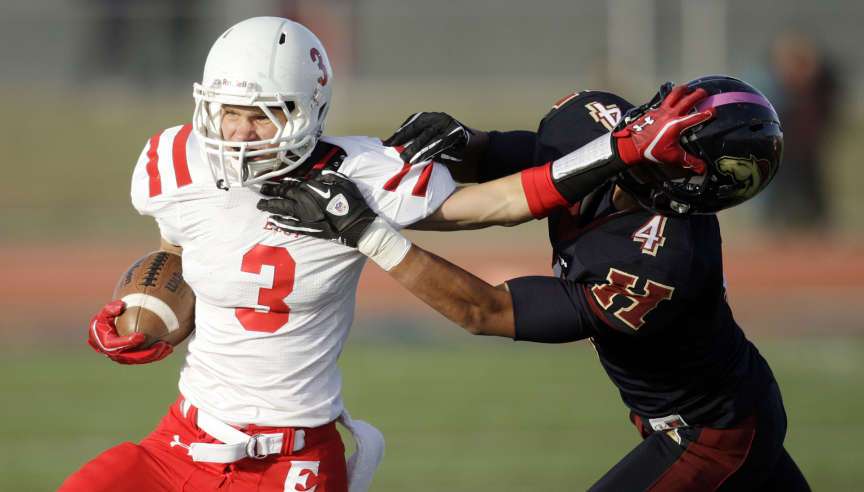 The controversy surrounding East's participation in the postseason won't go away as long as they stay alive in the playoffs. The players are trying to block out all the distractions and focus on winning football games. They did just that last week winning two road games in five days including a battle with No. 3 Herriman. The Leopards are considered by some to be the best team in the state regardless of classification. They are loaded with talent especially up front where BYU commit Meti Taliauli anchors a big and physical offensive line. They open holes for junior running back Ula Tolutau who is sure to be a top target of local colleges in the offseason. He has rushed for 1,012 yards and 10 touchdowns but he isn't the only player on offense that puts up big numbers. Quarterback Issac Valles, Preston Curtis and Jewka Patatefa are also threats on the ground while Zach Swenson and John Fakahafua are deep threats in the pass game. Defensively East has been even better led by BYU commit and middle linebacker Patrick Palau. Defensive end Korey Rush has been haunting quarterbacks all season and has 9.5 sacks.
Defense has been the key to a successful season for the Box Elder Bees. They have shutout four opponents this season including their first round victory on the road against Maple Mountain. Breckin Gunter has 111 tackles, 1 sack and 3 interceptions this season to lead the Bees defense. Rasten Yeates is also active with 96 tackles, a sack and a pick. Offensively the Bees will run the football. Kyler Allen has scored 10 touchdowns on the ground. The Bees have faced some difficult competition this season. Games against Syracuse, Mountain Crest, Highland and Logan will prepare them for what they will see on Friday.
The Box Elder defense may be good enough to give East some problems but they will have to do it for four quarters to get a win. That will be difficult to do with the talent East has. Box Elder will need to get more from their offense if they have any chance to shock the Leopards.
KSL Prediction: East 28 Box Elder 10
×
Related links
Related stories