Estimated read time: 2-3 minutes
This archived news story is available only for your personal, non-commercial use. Information in the story may be outdated or superseded by additional information. Reading or replaying the story in its archived form does not constitute a republication of the story.
SALT LAKE CITY — BYU announced Thursday morning a home-and-home agreement with the University of Cincinnati for the 2015 and 2016 seasons. The series will will begin in Provo in 2015, with a return being played at Nippert Stadium in Cincinnati, Ohio in 2016.
"I like this series with Cincinnati. This will be the first time out football program has ever played in Ohio." BYU Athletic Director Tom Holmoe said. "It meets our objective of playing in different regions of the country and brings another quality football opponent to LaVell Edwards Stadium."
BYU has already secured games with Nebraska, Boise State, Utah State, Southern Miss and Hawaii for the 2015 season.
Damian Lillard's rookie start
Former Weber State University point guard Damian Lillard is fitting in well in the NBA. The Portland Trail Blazers opened up their NBA season taking on the Los Angeles Lakers at home. And all eyes were on the rookie Lillard, who helped lead the Trail Blazers to a 116-106 victory over the Lakers.
Lillard put on a show, getting a double-double in his first NBA start, scoring 23 points and dishing out 11 assists. Lillard also had three rebounds and one steal. Lillard will likely still have the regular rookie growing pains as the season progress, but if Wednesday night's performance is any indication of his season, Portland will be very happy with their draft pick.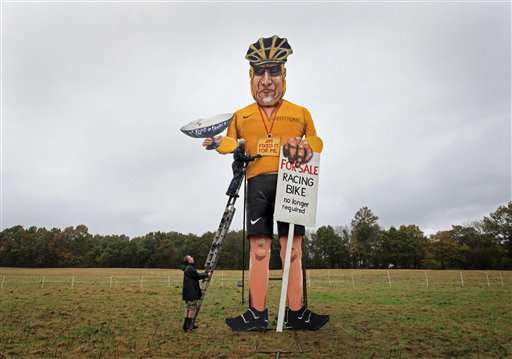 Lance Armstrong effigy to burn
American cyclist Lance Armstrong has received the unfortunate honor of being part of Edenbridge's famous Bonfire Night celebration. Armstrong will not actually be honored, but a mocking effigy of Armstrong will be burned as part of the night's celebration.
The 30-foot-tall effigy shows Armstrong wearing his yellow Tour leader's jersey and holding a sign that reads, "For sale, racing bike, no longer required."
The celebration is a British tradition to set off fireworks and light bonfires on Nov. 5, which is the date of Guy Fawkes' failed attempt to blow up Parliament in 1605.
×
Most recent Sports stories