Estimated read time: 6-7 minutes
This archived news story is available only for your personal, non-commercial use. Information in the story may be outdated or superseded by additional information. Reading or replaying the story in its archived form does not constitute a republication of the story.
SALT LAKE CITY — The first round of the 5A playoffs featured some impressive individual performances and an impressive showing for Region 1. All four teams in Region 1 advanced to the quarterfinals eliminating every Region 2 team in the postseason.
Three of the four games were not big surprises but Fremont's upset over Hunter did come as a surprise. The Silverwolves dealt with injuries and inexperience for much of the season and had to win in the final week just to make the postseason. Another great job by head coach Kory Bosgieter to get his team to this point after back-to-back appearances in the state championship game. More on an even bigger challenge for them later on.
Here is a breakdown of the matchups in the 5A Quarterfinals.
Top performances from 1st round of the 5A playoffs
Davy Adams RB Northridge
Adams carried the ball 31 times for 169 yards and three touchdowns helping the Knights defeat Granger 42-25.
Clay Moss RB Jordan
Moss carried the ball 18 times for 155 yards and 5 touchdowns. Even more impressive is the fact he did that by halftime in the Diggers 56-7 win over Pleasant Grove.
Chipper Lucero QB Alta
Lucero was 18 of 24 for 291 yards and tossed three touchdowns to three different receivers in the Hawks 27-14 win over Riverton.
Gage Cook QB Davis
Cook threw five touchdown passes leading the Darts to a dominant first round win on the road against Kearns.
Brock Anderson QB Syracuse
Anderson continues to be the most accurate quarterback in the state. He completed 13 of his 15 pass attempts for 243 yards and 4 touchdowns in the Titans 54-0 first round victory over Viewmont.
No. 3 Alta (9-2) at No. 2 Syracuse (10-0), 5 p.m.
Syracuse was the biggest surprise of last year's 5A playoffs. They upset Alta in the first round and were just inches short of advancing to the championship game. They won't sneak up on anyone this year. The Titans haven't lost since that 21-14 overtime loss to Fremont in the 2011 semifinals. They entered the playoffs with the No. 2 ranking in the state and expectations they've never had before. Quarterback Brock Anderson has completed 68 percent of his passes for 24 touchdowns and just 1 interception. Their defense has been dominant holding opponents to just 7 points per game. No team has scored more than 14 points against the Titans defense.
The Syracuse defense faces their toughest test so far this season against Alta. The Hawks have averaged 35 points a game. Quarterback Chipper Lucero has passed for 2,815 yards and 34 touchdowns. He has, arguably, the best group of receivers in the state to throw the ball to. Harrison Handley, Ammon Barker and Mack Richards have combined for 30 touchdowns. Handley is committed to Utah while Barker has offers from Utah and Hawaii. Alta has also been solid defensively led by Brock Davies and his 5.5 sacks.
The key matchup in this game will be Alta's star-studded offense against the stout defense of Syracuse. This looks to be the best game of the week regardless of classification and should have a "championship game" feel.
KSL Prediction: Syracuse 21 Alta 17
Fremont (4-6) at No. 4 Bingham (9-2), 4 p.m.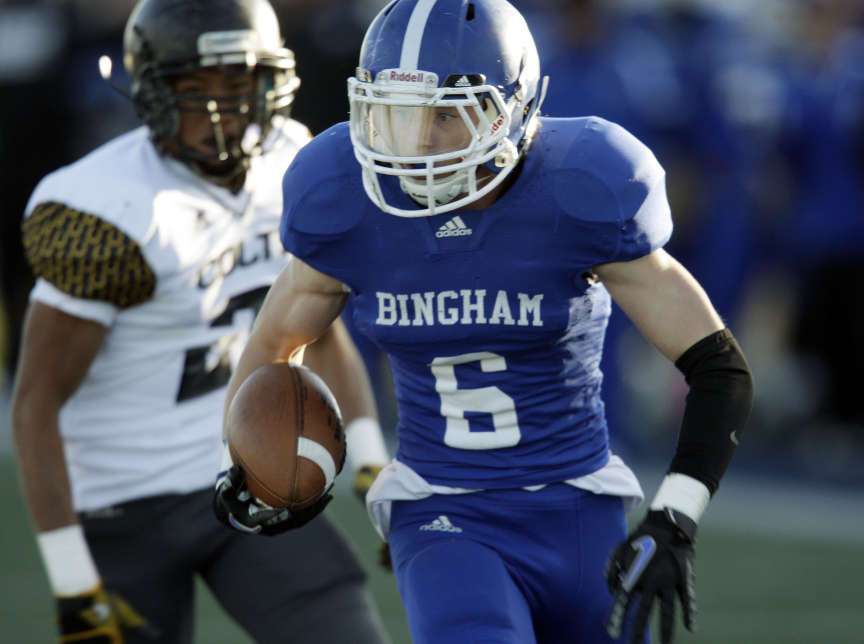 Fremont made back-to-back appearances in the 5A state championship game but this season has been a different story. Injuries and inexperience took its toll on the Silverwolves this season. They didn't win their first game until week 7. But head coach Kory Bosgieter did a great job keeping this team positive. They turned things around in time to make the postseason. They defeated Layton in the final game of regular season to earn a playoff spot. Then they went on the road and pulled off the upset of the first round taking down Region 2 champion Hunter. Jordan Preator was an important part of their run last season and he came up big with two touchdowns against Hunter. He will need to have a big game to give Fremont a chance to win this game.
Bingham may be peaking at the right time. After suffering a heartbreaking defeat at Lone Peak which cost them a No. 1 seed in the playoffs, the Miners have dominated their competition. They have averaged 46 points per game while giving up an average of just seven. Quarterback Jantzen Bowles has been named the starter, Scott Nichols has emerged at running back and BYU commit Hayden Weichers is making big plays in the pass game.The defense is loaded with talented players who will get a chance to play college football. Lowell Lotulelei leads a stout defensive front that hasn't allowed a player to rush for 100 yards in the last six games.
The Miners were the favorite to win the 5A title at the beginning of the season and with the talent they have are capable of making a run. Fremont will have to play a perfect game on Friday and even that may not be enough.
KSL Prediction: Bingham 49 Fremont 7
Davis (7-4) at Lone Peak (9-2), 4 p.m.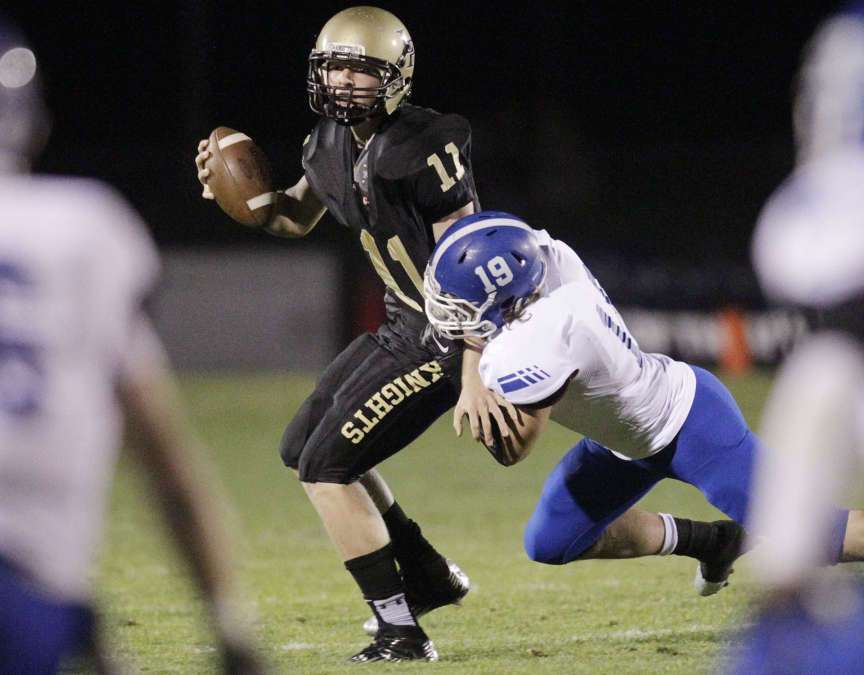 The Davis Darts did not have the regular season they hoped for but that doesn't matter now. They defeated Layton in a play-in game to earn a playoff spot and then went on the road and crushed Kearns to advance to the quarterfinals. Quarterback Gage Cook tossed seven touchdown passes last week. He has also been the Darts leading rusher. Like most Davis teams of the past this one prides itself on defense and that has been the key to victory in their last two games. They enter this game against Lone Peak with confidence it may not have had a few weeks ago.
Lone Peak narrowly avoided an upset in the first round on their home field against Brighton. The Knights saw a 17 point lead disappear in the 4th quarter. They needed a late touchdown and a defensive stand to hold off the Bengals. That game may serve as a wake-up call for the defending champions. They don't have the talent of last year's team but they have enough to contend for a title. Their win over Bingham is proof of that. Baron Gajkowski is a dual threat quarterback with 28 combined touchdowns through the air and on the ground. BYU commit Talon Shumway is their top playmaker. He has caught 53 passes for 762 yards and 13 touchdowns.
Davis looks like a different team the last three weeks. Their 38-0 shutout of Kearns on the road is very impressive. This is a tough game to predict and looks to be very competitive but you have to give the Knights the edge at home.
KSL Prediction: Lone Peak 28 Davis 17
No. 5 Northridge (9-2) at No. 1 Jordan (9-1), 4 p.m.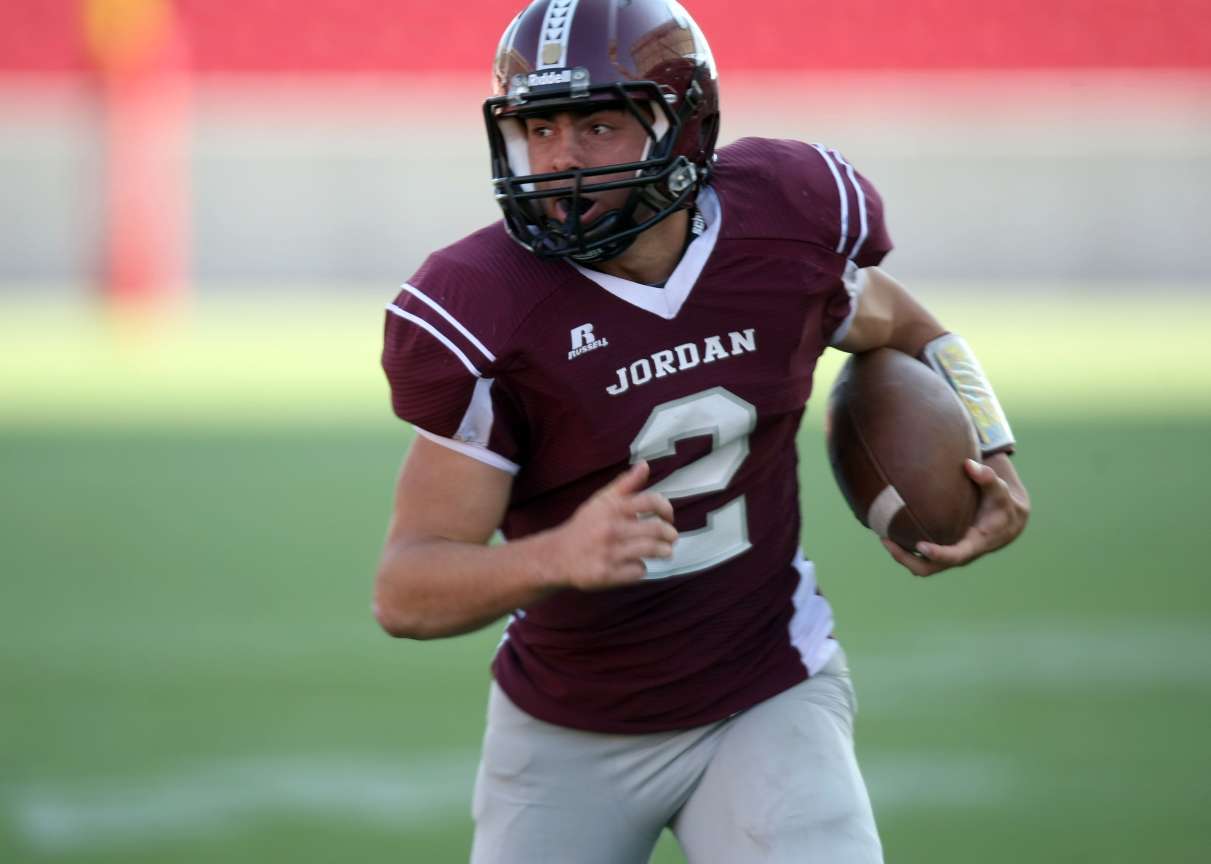 The Northridge Knights have had a terrific season. They came up a yard short of tying Syracuse in a game that determined the Region 1 title. They averaged 30 points per game this season with an undersized offensive line. David Adams has been their workhorse rushing for 960 yards and 15 touchdowns while also catching 42 passes for 549 yards and 4 scores. The defense has also been outstanding holding opponents to just 17 points per game. Eliyah Mayberry has led the way with 13 sacks.
The Knights now face their most daunting challenge of the season on the road against the No. 1 team in the state. Jordan has looked unbeatable at times this season and are the favorite to win the 5A championship. Quarterback Austin Kafentzis is a rare talent. Just a sophomore he has put up video game type numbers. The duel threat QB has passed for 2319 yards and 27 touchdowns and rushed for 1335 yards and 17 more scores. He has several playmakers to throw the ball to and is protected by one of the most talented offensive lines in the state. They average 47 points per game and the defense has been solid.
Jordan is a heavy favorite but don't be surprised to see Northridge make things interesting, especially early. Jordan has had a history of slow starts this year. If the Knights can take care of the football and eat up clock with Adams and their run game they will keep this game close. Otherwise this could turn into another dominant performance by the Diggers.
KSL Prediction: Jordan 35 Northridge 24
×
Related links
Related stories
Most recent Sports stories