Estimated read time: 3-4 minutes
This archived news story is available only for your personal, non-commercial use. Information in the story may be outdated or superseded by additional information. Reading or replaying the story in its archived form does not constitute a republication of the story.
SALT LAKE CITY — Now that Superstorm Sandy has passed, we're starting to hear from those who rode out the fierce storm.
Utah natives Candice and Jascha Clark were told to evacuate their lower Manhattan apartment late Sunday morning, as then-Hurricane Sandy headed toward New York City.
A walk into devastation
When we talked to the couple Monday night, they weren't too concerned. But after venturing from their hotel room Tuesday, they told us they were completely shocked at what they saw.
"It's a different world. It's a lot more devastating than we were expecting to see," Jascha Clark said.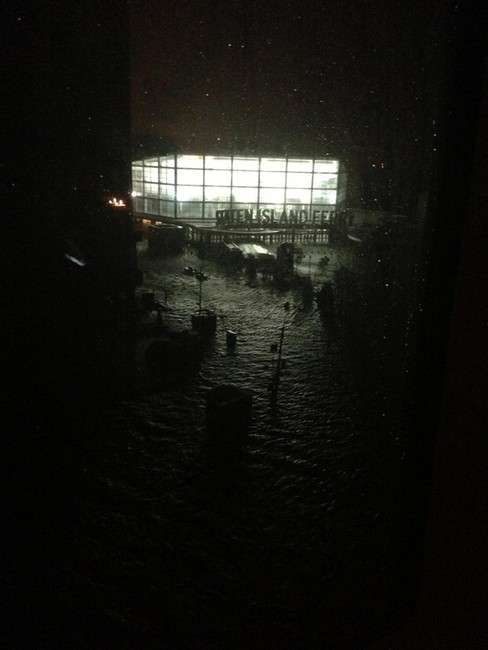 During their outing, the couple and their two children made the trek from the hotel on 28th Street to their apartment in New York City's financial district.
"It was just bizarre," Jascha said. "You're walking through one of the most populated cities in the world, and you don't see anybody else."
"The Brooklyn Battery Tunnel, off of Manhattan, is actually full of water," Jascha added. "There's a truck fully submerged near the entrance of the tunnel."
When they finally arrived at their apartment building, they were met with 4 feet of water in the lobby. They spoke to a security guard who stayed behind.
"He was watching the water rush down the stairs from a building across the street towards their lobby," Jascha said. "They were wading through 3 feet of water before they finally decided to give up and head to higher ground."
Tuesday night, the couple planned to stay in their apartment with their children and pet dog. Luckily, there is a grocery store open nearby and they were able to get some food, water and more diapers Tuesday.
New Jersey survivors
In New Jersey, Sandy's rage began Monday evening, shattering windows, crumbling buildings and tearing away boardwalks along the coast. The flood waters were so intense, cars — and lives — were in an instant turned upside down.
"This is the storm of our lifetime," said Nick Russo, mayor of Longport, N.J.
Related:
A roller coaster left twisted and tossed in the water was a telling symbol of Sandy's destructive power.
"I thought the house was going to come off the foundation and we were going to die," one woman said.
Now people don't know how they will ever get by.
"This is pretty sad, just sad," said Frank Bosak, who lives in New Jersey. "I mean, it's not life-threatening — because I still have my wife, we still have our health, and we have our kids. However, we know people are worse off, but to start over from scratch again, to redo the entire house, it's a big deal."
Traveling students brave the storm
In New York City, massive damage was left behind by the high winds and a record storm surge.
Frightening moments for everyone, including tiny patients evacuated from a hospital after the backup generator failed: 20 new infants were carried down the stairs, and battery-powered respirators had to be used while they were transported through the storm to another Newborn ICU.
Related:
Parents of older children also have cause for concern. Can you imagine having a high school student at a competition in New York, now stranded in this mess?
A group of Texas high school students went to New York City for a mock trial competition, and now they are stuck. But a little cellphone video is helping ease the worry of their parents back home.
"She sent me a video of them walking around Time Square and saying 'everything is fine,' and kind of showing me all the people walking around," said Eve Holder, a mother of one the students. "She'll text me periodically throughout the day."
Travelers stranded in an airport know they aren't going anywhere anytime soon. Thousands of flights canceled; and it's not just those who want to leave New York who are affected, but also those in Europe trying to get home.
Even getting around the New York City is difficult. Seven subway tunnels under the East River are flooded, and many lines don't have power. Sandy's wrath is said to have caused the worst damage in the 108-year history of the subway system.
×
Photos
Related stories
Most recent Utah stories