Estimated read time: 5-6 minutes
This archived news story is available only for your personal, non-commercial use. Information in the story may be outdated or superseded by additional information. Reading or replaying the story in its archived form does not constitute a republication of the story.
BLUFFDALE — One of the biggest and most mysterious construction projects in Utah history is roughly halfway completed near the Point of the Mountain. It's a vast computer center for one of the nation's most secretive agencies, the National Security Agency.
Critics joke that NSA really stands for "Never Say Anything." The secrecy surrounding the project has led to speculation it will become a vast storehouse of personal communications of average Americans.
The facility is 1 million square feet of space, with a price tag well above $1 billion; and it will have an appetite for electricity that would embarrass Godzilla. Computers and cooling systems at the NSA's Utah Data Center will reportedly consume $40 million worth of power each year. The power company won't say if that widely reported estimate is valid.
"The information about customer use is private and so even if I knew, I wouldn't be able to tell you," said Dave Eskelsen, spokesman for Rocky Mountain Power.
Officials in Washington won't say what the data center is for, but the NSA did issue a vague statement saying it will "strengthen and protect the nation's cyber-security." That's a critical mission, according to NSA director General Keith Alexander.
Related:
"Whether it's a nation-state or a hacker, somebody who finds a vulnerability in our infrastructure could cause tremendous problems," Alexander said.
But a Washington whistleblower says that's just a cover story for a serious threat to civil liberties. William Binney worked for the NSA for 32 years. He still lives by the highly secure headquarters near Baltimore.
Binney led a team in the 1990s that developed software designed to sort through mountains of electronic data. It could slice and dice billions of emails, phone calls and Internet records, looking for clues to terrorist plots. But Binney's team built into the software sophisticated protections so that communications by U.S. citizens would be protected from NSA snooping.
When the NSA passed over his system, Binney retired in anger, right after the attack on the World Trade Center.
"It didn't take but probably a week or so after 9/11 that they decided to start spying on the U.S. domestically, on all U.S. citizens they could get," Binney said.
---
It didn't take but probably a week or so after 9/11 that they decided to start spying on the U.S. domestically, on all U.S. citizens they could get.
–William Binney, former NSA employee
---
He now suspects the facility in Bluffdale will be used to store incredible amounts of communication data so the NSA can sift through it, whether it's from foreign terrorists or law-abiding U.S. citizens. Emails, cellphone calls, Google searches; Binney calculated how much data such a huge facility could hold.
"That means at Bluffdale, if you divide it out, you could get 5 zetabytes," he said.
That's an incredible number that most of us can't really understand, but Binney gave an idea of what it means.
"(It) pretty much means all the communications in the world, for roughly a hundred years," he said.
Last summer, Gen. Alexander denied the thrust of Binney's accusations, calling the idea that they store data on U.S. citizens "baloney." But in Senate testimony, FBI chief Robert Mueller recently revealed a new capability, searching "past emails," implying mass storage somewhere. Binney says his contacts inside NSA told him about surveillance of U.S. citizens.
Alexander did preserve the NSA's traditional cone of silence. "Now, I'm not going to come out and say here's what we're doing at Utah," he said. "That would be ridiculous, too, because it'll give our adversaries a tremendous advantage."
NSA's past controversial surveillance activity
No matter whom you believe about the Utah facility, the NSA's secretive activities have stirred up serious controversy in recent years, particularly electronic surveillance without warrants.
A highly classified operation of the NSA jumped into the headlines during the Bush administration and remains controversial today.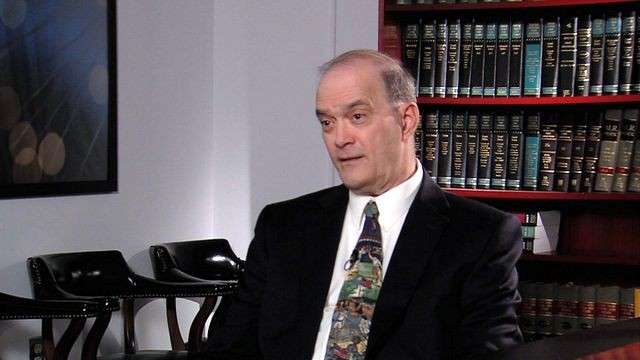 The veil of secrecy was pierced in 2005 when the New York Times revealed that NSA had been conducting wire-tapping, without warrants, on a widespread scale. That revelation touched off a fierce debate in Washington, D.C., over the rights of citizens — what the law is and what the law should be.
In 2008, Congress amended the law, authorizing much of what the Bush administration was already doing: surveillance of communications by suspected terrorists, without warrants.
Under the law, Americans cannot be targeted, but if they're on the other end of a conversation with a foreign suspect, the NSA can listen in without a warrant. That revised law is strongly opposed by civil libertarians.
"We don't want the government to be able to have access without any basis for suspicion, to read all our emails, to listen in on our phone calls," said Sharon Bradford Franklin, with the Constitution Project. "That's not the kind of place that this country is. That's not what our Constitution is about."
But warrantless surveillance has bipartisan support in Congress, which is considering extending the law up to five more years. Senate Majority Leader Harry Reid, D-Nevada, told KSL News that it works well at "ferreting out terrorists."
Republican Sen. John McCain, R-Arizona, agreed. "Every one of our intelligence leaders, both in this and previous administrations, view it as a vital element," McCain said. "We still have an enemy out there that's plotting to attack America.
"When people start to think, 'If my entire life were being watched, and being watched by government agents who might then collect a file on me,' many more people would start to feel uncomfortable with that," Bradford Franklin said.
But is that what will really go on at Bluffdale's huge new complex, once the computers and data servers start humming? Frankly, we don't know because it's all a big secret.
×
Photos
Related stories
Most recent Utah stories