Estimated read time: 1-2 minutes
This archived news story is available only for your personal, non-commercial use. Information in the story may be outdated or superseded by additional information. Reading or replaying the story in its archived form does not constitute a republication of the story.
SALT LAKE CITY — Utah Jazz guard Mo Williams said, "We just want to go out with a bang!" when asked what he wanted to accomplish in tonight's final preseason game at home against Portland.
A win and the Jazz would finish the preseason 5-3.
To go out of the preseason with a bang, they must play better defense against the Blazers than they did Monday when Portland shot nearly 58 percent. That's what they will work on tonight.
"We have to guard long shooters like Dirk Nowitzki from Dallas and also San Antonio so we have to do a better job on guarding those guys and we will work on defense tonight," Gordon Hayward explained.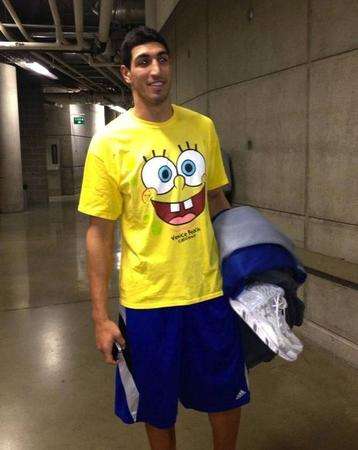 We will also see former Weber State Wildcat Damian Lillard in his first trip back to Utah since being drafted number 6 overall in June's NBA draft. Damian is still getting used to his new found fame while playing against the stars he grew up watching.
"The first time I played against Steve Nash he knew my name. he said hey 'Dame'. That was crazy they knew who I was," Lillard told us Wednesday night at Weber State's Purple and White game.
But the major topic of discussion at Thursday's shoot around was Jazz center Enis Kanter wearing a SpongeBob t-shirt.
"I like SpongeBob SquarePants," Kanter said with a smile.
Al Jefferson then announced, "I need sun glasses just to look at him."
Mo Williams got in on the t-shirt discussion. "We have a new nickname for him, 'HT' Hollywood Turkey."
'HT' and the Jazz tip off with the Blazers at 7pm in Energy Solutions.
×
Related links
Most recent Sports stories