Estimated read time: 4-5 minutes
This archived news story is available only for your personal, non-commercial use. Information in the story may be outdated or superseded by additional information. Reading or replaying the story in its archived form does not constitute a republication of the story.
SALT LAKE CITY — Right in the middle of the football season tips off basketball season.
Many don't start paying attention until after the Super Bowl, but ladies and gentlemen basketball is here- college and pro.
The BYU Cougars showed off last night in the annual "Cougar Tipoff" inside the Marriott Center. It was a tough loss for the Cougars, but a great win for the Cougars.
Greg Wrubell reports the Blue outlasting the White by a score of 84-70.
"Tyler Haws paced the Blues and led all scorers with 26 points on 9-for-17 shooting, while Brandon Davies led the Whites with 20 points," Wrubell writes.
But it seems the play everyone as talking about was Josh Sharp's one-handed dunk.
Cougar fans are hoping it is a sign of things to come.
Blake Griffin at it again
Well, it looks like the Clippers Blake Griffin is picking up where he left off.
While BYU's Sharp went right-handed, Griffin took the Chris Paul pass, flew by Pao Gasol and dunked over Robert Sacre... left-handed.
Whether you are a Griffin fan or not, there is no denying just how pretty that dunk was.
Favors featured
While most of the off-season attention seemed be focused on the new and improved Enes Kanter, apparently the second-year center wasn't the only Jazzman using the break to get bigger, stronger, faster.
Derrick Favors is featured in a new online video produced by The NOC, one of YouTube's original sports network.
Favors is training "with the sports science experts at P3," a high-tech performance lab in Santa Barbara, Calif.
According to the Deseret News' Jody Genessy, 12 Jazz players spent time at P3 this offseason.
As good as Favors was last year, and how good Jazz fans expect him to be this year and beyond, watching him work this hard with weights has Jazz fans salivating.
Home is where the heart is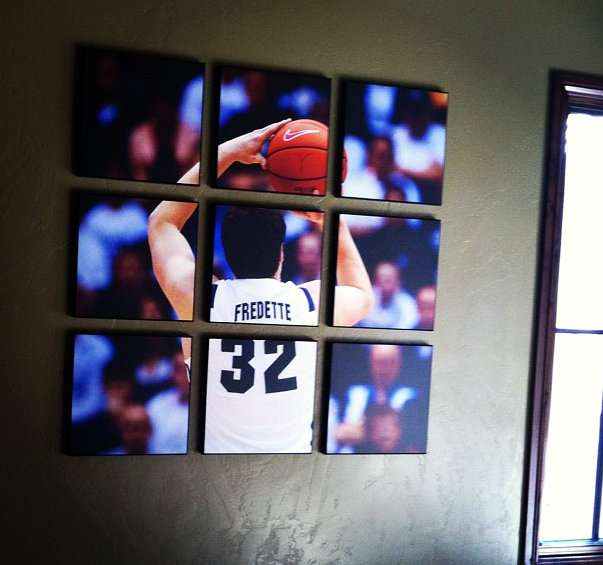 Current Sacramento King and former BYU Cougar Jimmer Fredette is obviously happy to be playing in the NBA, but need more proof he loved his time in Provo?
His lovely wife, Whitney tweeted Wednesday the final piece was put into place in Jimmer's home office.
"The final addition to @jimmerfredette7 office!! UNREAL"
An awesome nine-piece arrangement showing Jimmer shooting a jumper in his #32 BYU uniform.
It is pretty awesome and probably something every BYU fan would love to have in their home office... or living room.
Jimmer's reply, "Looks great! Thanks whit!"
That's a good husband.
Best throwbacks ever?
It looks like the Pittsburgh Steelers are going rugby-style for their Sunday matchup against the Washington Redskins.
The black-and-white, horizontally-striped unis are quite the shock at first sight, but admittedly are growing on me.
I could try to be really creative in mocking or praising these throwbacks, but I couldn't outdo Yahoo Sports MJD who wrote, "they are ridiculous. They're disturbingly ugly, and (Charlie) Batch looks like the Hamburglar, if the Hamburglar had been homeless for 15 years."
LOL
Optimus Prime vs. Megatron
Leave it up to a defensive back to come up with a way to talk trash without actually having to say a single word.
Seattle Seahawks cornerback Richard Sherman changed his Twitter handle to Optimus Prime.
What's the big deal you ask?
Well, across the line of scrimmage will be Detroit Lions wide receiver Calvin Johnson, who is nicknamed "Megatron."
If you don't get the Transformers reference, Megatron and Optimus Prime are arch enemies.
I'll give it Sherman, that's pretty creative.
It ain't over till...
Talk about drama. What an ending!
Down by two points and only two seconds left in a hotly-contested 5th grade football game, the team in red throws a desperation Hail Mary that's picked off by the green team.
But instead of kneeling down, or falling down or running out of bounds, the defensive player spikes the ball, which means that's a live ball and the game isn't over despite what the green team thinks.
One of the players from the red team scoops up the ball and runs into the endzone for the game-winning score.
Talk about heartache! Watch the poor defender plead his case to his coach.
Ouch!
×