Estimated read time: 2-3 minutes
This archived news story is available only for your personal, non-commercial use. Information in the story may be outdated or superseded by additional information. Reading or replaying the story in its archived form does not constitute a republication of the story.
CLINTON — A 7-year-old girl is recovering with stitches in her face after being attacked by her neighbor's dog.
Makayla Craig said she was trying to fetch a sock full of rice that functions like an ice pack Sunday, and hopped the fence into her neighbor's yard. When she did, the neighbor's malamute attacked her.
"It jumped on me and I tried to hide my face as much as I could," Makayla said. "He was just scratching on my head trying to get my face and my neck."
She was home from school Wednesday recovering from her injuries that included multiple scrapes, cuts and bites. The dog tore at her lip, and she required stitches there.
"We've known the dog ever since he was a puppy," Makayla said. "It just doesn't make any sense that he would attack me."
Makayla's older brothers, 12-year-old Chandler and 8-year-old Christopher, came to her rescue. Chandler scared the dog away and kept her separated from the dog while Christopher ran to alert his mom.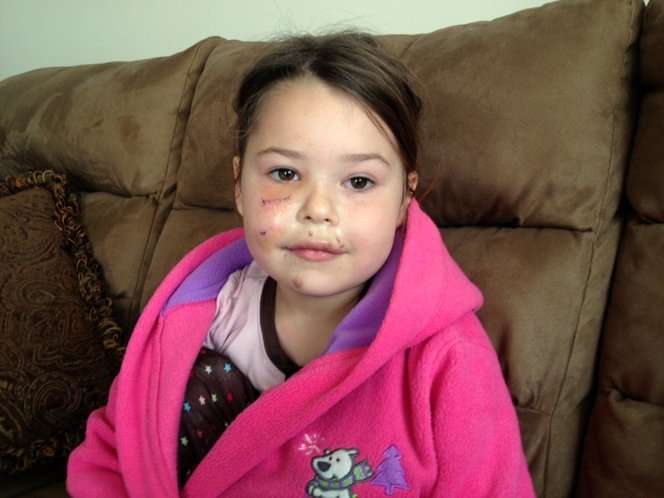 "I'm still quite in shock over the whole situation, just because we've known the dog ever since she was a puppy and my kids frequently go over there and play with her," said Andrea Craig, Makayla's mom. "She was fine for a second but then she recognized Makayla and took her squeaky toy like she was going to play with her, and then she just switched and attacked."
Craig said she didn't hold hard feelings against the dog or the neighbors, and she had no intentions to try to pursue the case further or press charges.
The dog has been placed on a 10-day quarantine. Makayla's grandmother, Aileen Kirkland, suggested what took place should be a cautionary tale for all children and their parents about dogs, even the ones they know well.
"Little children don't understand just because you know an animal, sometimes you really don't know what can happen," Kirkland said. "Moms and dads protect and if they're with a babysitter, whoever their guardian is, they need to be watching them."
×
Related stories
Most recent Utah stories