Estimated read time: 4-5 minutes
This archived news story is available only for your personal, non-commercial use. Information in the story may be outdated or superseded by additional information. Reading or replaying the story in its archived form does not constitute a republication of the story.
SOUTH BEND, Ind. — The BYU Cougars traveled to South Bend last week and took No. 5 Notre Dame down to the wire. The Cougars walked away with a 17-14 loss, but one BYU fan made sure that a little piece of BYU stayed in South Bend.
Here is the post from the fan on Cougar Board:
"In 2009 I went back to Utah to visit my family and go to the BYU - Utah game. George caught the winning TD pass and the students rushed the field. I ran out on the field with my brothers and celebrated. I remember slapping Pitta on the back and the next thing I noticed were all the chunks of new turf laying around.
"I was certain that the field crew needed some help cleaning that stuff up, so I stuck a big chunk in my pocket. I took it home to Denver and kept it alive in my garden...
"I realized that I needed to do something even better with this awesome LES turf, so I took a chunk with me to Southbend. I figured that somewhere coordinated between "Touchdown Jesus" and the stadium would be perfect.
"We found a spot that wasn't all trampled and muddy where it will be sure to thrive. Being a major landmark for visitors, the area was a bit crowded, so I had to be creative while doing my lawn care procedure. The patch job was flawless and with the help of a blanket, flashlight and a good knife nobody even noticed. We took pics and gps coordinates.
"Now cougar football is no longer something you just find in Provo. We have an embassy in South Bend!"
I have no idea whether that is actual fact or not, it's on Cougar Board so you never know, but it's a good story none the less.
Bounce Pass Goes for Six
High school football can be a blast to watch. It's fun to see the future superstars while their young and high schools have the guts to pull some crazy trick plays, like this one from Florida.
The high school football team from Fort Lauderdale Westminster Academy pulled off this bounce pass on the first play from scrimmage.
The team's running back lined up under center and the quarterback lined up a receiver. The running back took the snap and then bounce passed the ball to the quarterback who then bombed it down field to a wide-open receiver who walked in for six.
I'm not sure how often you can pull off that play, but when you do it looks awesome.
Mani Love Takes on T.O.
A few weeks ago we introduced you to Mani Love. He's not quite four-and-a-half feet tall, but the guy can ball like nobody's business.
In this video he runs into Terrell Owens at the gym and then challenges him to a one-on-one game. TO is known for being a baller and was hesitant to play a four-foot-five guy and embarrass him. TO obviously didn't know whom Mani Love was.
The two start out and it seems TO doesn't want to take advantage of the height difference, TO is six-feet-three-inches tall. It doesn't take long before TO realizes Love is for real.
What ensues is a solid battle that Love ends up taking with one last shot.
Raptors Hit Two Ridiculous Shots
The Toronto Raptors were playing the Milwaukee Bucks in a preseason game when the Raptors hit not one, but two ridiculous shots.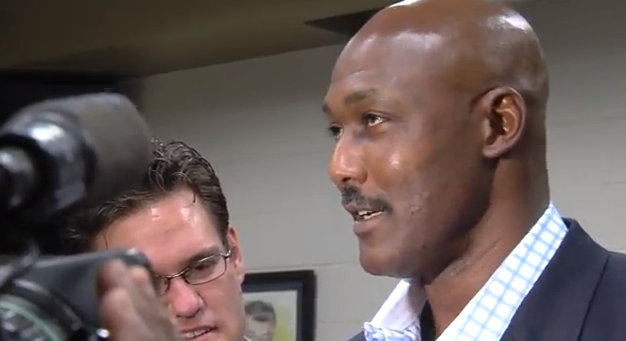 The first one came at the end of the first quarter when John Lucas III heaved a triple-pump three at the buzzer and sunk it. Then later on Kyle Lowry launched a ball straight up in the air, likely brushing the jumbo-tron, then dropped right through the net. The second shot didn't count, but it was awesome to see.
While the Raptors aren't a great team this year, supposedly at least, if these shots keep dropping they may have a chance.
Malone and Stockton to the Utah Sports Hall of Fame
Jazz legends John Stockton and Karl Malone were inducted into the Utah Sports hall of Fame Wednesday we have a full story and interviews here. Check out what the greats have to say about the honor and being able to go in together.
×
Related stories
Most recent Sports stories