Estimated read time: 4-5 minutes
This archived news story is available only for your personal, non-commercial use. Information in the story may be outdated or superseded by additional information. Reading or replaying the story in its archived form does not constitute a republication of the story.
SALT LAKE CITY — From a lost treasure to one of the most notorious train robbers in the Old West, Utah is home to unsolved mysteries that have been eluding answer for decades.
The lost Rhoades Gold Mine
Thomas Rhoades was one of the wealthiest members of the early Church of Jesus Christ of Latter-day Saints to make the Salt Lake Valley his home. Rhoades was a member of an 1846 expedition west of the Rocky Mountains that landed him in California, where he worked for John Sutter, whose mine sparked the California Gold Rush in 1848.
Rhoades migrated to the Salt Lake Valley in Aug. 1849, heeding the call of Brigham Young to "return to Zion."
Church records show Rhoades donated a sizable fortune to the early LDS church, and in 1852, Brigham Young commissioned Rhoades to mine hidden gold known to the Ute indian tribe. the chief at the time had been baptized into the LDS church and agreed to allow the mining on the condition that the gold be used only for the benefit of the church.
Rhoades, and later his son, Caleb Rhoades, made multiple trips into the mines, each time coming back with as much gold as a single person could carry, per their agreement with the Native Americans. Eventually, a new chief disallowed the mining, but Caleb continued mining for some time, according to Rhoades family records.
Rhoades petitioned the U.S. Congress for a land lease for the area in exchange for paying the national debt, but was denied. When the U.S. government sent prospectors to the site, they found nothing but Spanish artifacts and signs of ancient mining.
Rhoades said the geologists had been looking in the wrong place. The famed Rhoades Gold Mine has never been found, although searches continue to this day.
The Antelope Springs footprint
Fossils are a common find in Utah, but one continues to stump experts: the Antelope Springs "footprint."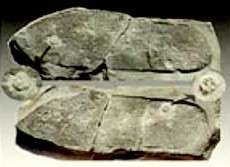 A fossil of what looked suspiciously like a footprint was discovered near Delta on June 1, 1968, by William J. Meister Sr., an amateur fossil hunter. Meister and his family had gone to Antelope Springs, 43 miles northwest of Delta, for a family vacation.
It was while searching for trilobite fossils that Meister found a fossil with the impression of what looked like the sole of a shoe, with the heel imprint deeper than that of the rest of the foot. Below the shoe imprint were two trilobites, leading Meister to believe the wearer of the shoes had stepped on them.
Researchers found that the fossil had been formed in Middle Cambrian Wheeler Shale between 505 million and 590 million years ago. Upon examination of the area, they found slabs of mudstone that had once formed a land surface that could have been walked upon.
The problem with the fossil is that it was found in the same area as trilobites, which were marine creatures. There was also no evidence of pressure being exerted on the trilobites when they were supposedly stepped on. The mystery of the fossil's origin remains unsolved.
Butch Cassidy's greatest getaway
Butch Cassidy, or Robert LeRoy Parker, was an Old West train robber and bank robber, and the leader of the Wild Bunch Gang.
Parker was born in Beaver in 1866 and raised in Circleville, a small town about 50 miles east of Beaver. After a career of crime lasting several years, the pressure of pursuit by authorities led him to flee in 1901 to South America.
#poll
Parker and his accomplice, Harry Alonzo Longabaugh — commonly known as the Sundance Kid — continued their life of crime in Argentina, pulling their biggest heist in 1905.
The facts surrounding what followed the robbery are uncertain. It is said that both Parker and Longabaugh wanted to settle down as respectable citizens, but evidence points to their committing at least one more robbery before their deaths.
The two men are believed to be the masked American bandits who robbed a courier of 15,000 Bolivian pesos in 1908. They were tracked to a boarding house by Bolivian soldiers and were allegedly killed in a gunfight there, although their bodies were never positively identified.
It was generally assumed Parker had met his death in 1908 until Parker's sister, Lula Parker Betenson, in 1969 told reporters Cassidy had visited her in 1925 and had spent his final years as a trapper and prospector, dying of cancer in Spokane, Wash. in 1937.
Some convincing evidence for the latter argument exists, including a manuscript that appears to have been authored by Parker in his later years, but whether Butch Cassidy died in 1908 or 1937 has not been conclusively proven.
×
Photos
Related links
Related stories
Most recent Utah stories