Estimated read time: 2-3 minutes
This archived news story is available only for your personal, non-commercial use. Information in the story may be outdated or superseded by additional information. Reading or replaying the story in its archived form does not constitute a republication of the story.
PROVO — 11-year old Tate Christiansen has been collecting license plates with his father for some time he even takes his collection on the road to national meets. But recently he had an idea for another license plate he'd like to see in his collection.
A Utah plate with the national motto "In God We Trust." With the help of 500 Utahns and the Provo Freedom Festival, he may soon see that plate yet.
Tate took his idea to his uncle, Mike Mower, deputy chief of staff for Governor Gary Herbert.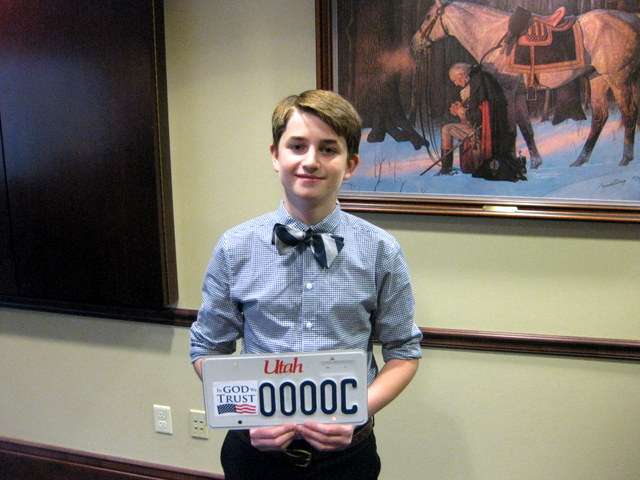 "After Tate showed me an Indiana plate with 'In God We Trust' and an Alabama plate with 'God Bless America', I knew he was on to something," Mower said in a press release. "In Indiana, it's one of the state's most popular license plates."
Mower contacted Paul Warner, Executive Director of America's Freedom Festival at Provo, and the idea took on immediate interest for him. Now there's a design available, some sample pressings, and Sen.Todd Weiler and Rep. Val Peterson are sponsoring the project.
All that's needed now is interest from Utahns. State law requires 500 people to pre-order a new license plate design in order to put it into production. To do so, those interested need to download and fill out a form, pay $25 for the plates plus $18 in fees. Then mail the money and the form to the Freedm Festival offices.
Once the minimum is met, the design will become available to the public.
"Utah should be a leader in supporting our faith and our country," Rep. Peterson said in the release. "The passage of this bill will allow people to make a statement about the principles upon which this country was founded. I am excited to lend my support to this proposal."
×
Related links
Related stories
Most recent Utah stories