Estimated read time: 3-4 minutes
This archived news story is available only for your personal, non-commercial use. Information in the story may be outdated or superseded by additional information. Reading or replaying the story in its archived form does not constitute a republication of the story.
SALT LAKE CITY — The housing markets in Utah's most populous counties have endured four rather challenging years, according to a new report.
Based on five key metrics related to the nation's housing market — average home price, unemployment rate, foreclosure inventory, foreclosure starts and share of distressed sales — the U.S. housing market comes out slightly worse off than it was four years ago, with a few Utah counties hit especially hard.
The 2012 Election Housing Report showed that the average price of a residential property nationwide has decreased 20 percent over the past four years — leaving more than 12 million homeowners owing more than their property is worth, according to Irvine, Calif.-based market research firm RealtyTrac.
In Utah, Salt Lake County experienced a 36 percent decrease in the average sales price of a home sold in 2008 to this year, while Utah County sales prices fell 51 percent during the same four-year period.
Decrease in home sales price
| County | 2008 | 2012 | Percent |
| --- | --- | --- | --- |
| Salt Lake | $288,766 | $185,648 | -36% |
| Utah | $284,443 | $140,075 | -51% |
| Weber | $163,683 | $117,821 | -28% |
| Washington | $255,484 | $225,053 | -12% |
| Wasatch | $319,028 | $115,000 | -64% |
In Weber County, prices dropped 28 percent; Washington County saw a 12 percent drop; and Wasatch County experienced a 64 percent decrease.
All six Beehive State counties in the report saw their jobless rates nearly or more than double from at least 3 percent in '08 to 6 percent or greater in 2012, while four counties saw the volume of foreclosure starts jump more than double during the period.
Five Utah counties had their share of homes sold in some phase of foreclosure jump at least 100 percent since 2008. Also, four of the six Utah counties in the report — Salt Lake, Utah, Wasatch and Weber — recorded "total housing health scores" of -5, the lowest score possible, meaning all five metrics were worse off from four years ago. Washington County registered a score of -3, while Davis recorded a neutral score of zero.
The scores ranged anywhere from -5 to +5, which indicated that all five metrics were better off than four years ago.
Despite the seemingly dismal numbers, the state's housing market has steadily improved over the past year, and Utah has one of the lowest overall unemployment rates in the country — more than 25 percent below the national rate of 7.8 percent.
"There are signs that the housing market is getting better," said Daren Blomquist, vice president of marketing for RealtyTrac. "(But) if you take 2008 as a benchmark, we have a way to go to a full recovery."
Blomquist added that the foreclosure market is improving nationwide, which bodes well for Utah and most other states as well.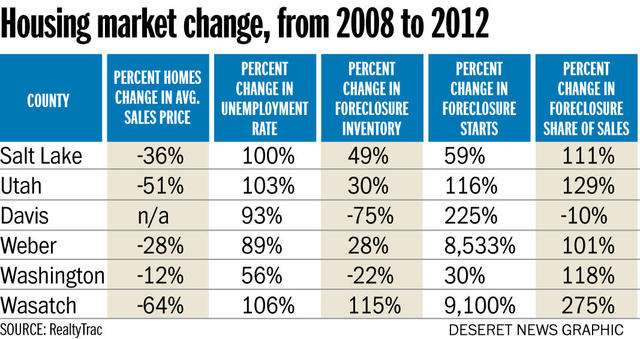 "At least we're getting past most of the foreclosure problems, which is good news for many markets," he said. "What's continuing to be a drag and why a majority of markets are worse off is the decreases in average sale prices and increases in unemployment rates."
However, the positives of lower foreclosure inventory and fewer foreclosure starts are outweighed by the negatives of lower home prices, higher unemployment and a higher share of distressed sales, the report stated.
In the 919 counties with data available for all five metrics, 580 (65 percent) showed at least three out of the five key metrics worse off than four years ago, while in 315 counties (35 percent) at least three of the five key metrics were better off than four years ago.
Several counties in the Chicago area rank among the worst off, thanks to a recent surge in foreclosure activity that has raised foreclosure inventory levels, foreclosure starts and the distressed share of sales in that state.
---
The foreclosure market is improving nationwide, which bodes well for Utah and most other states as well. - Darin Blomquist
---
While the report is based on the four years since the last presidential election, Blomquist said the findings were not intended to lay blame on anyone.
"We are certainly not trying to indict anybody in elected office for causing this," he said. "Our main goal is to allow people to take a more long-term look at where we've been over the past four years in their local housing market."
Email:jlee@ksl.com
×
Photos
Related stories
Most recent Utah stories