Estimated read time: 1-2 minutes
This archived news story is available only for your personal, non-commercial use. Information in the story may be outdated or superseded by additional information. Reading or replaying the story in its archived form does not constitute a republication of the story.
NEW YORK — A New York boy who was thought to be playing tricks on doctors and schoolmates has been vindicated: after a month of squeaking, he was discovered to have swallowed a toy whistle while at a swimming pool.
The boy's parents said Hector Flores Jr. was playing at a swimming pool a month ago when he swallowed part of a plastic toy duck. Two weeks later, his mother noticed a strange sound when he laughed during a shopping trip, according to WBAL.
"I said, 'Did you whistle?' 'Yes mommy I whistled.' A man at the bodega said the boy whistled," his mother, who was not identified, told WABC.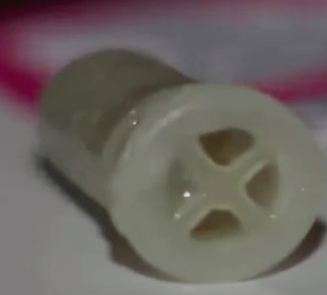 Doctors at Bronx Lebanon Hospital it was all in the 7-year-old's head, and gave him pills for a digestive problem.
"They said he didn't have anything. That it was probably a psychological issue with the child. They concluded the child had a lot of fecal matter," his father said.
The boy's father, who was also not identified, said he recorded the sound and showed the video to doctors at Montefiore Hospital, who used a camera to find the whistle near Flores' lungs.
A 45-minute surgery with an endoscopy removed the whistle. A spokeswoman for the Bronx hospital said the issue is under investigation.
×
Related links
Related stories
Most recent Features stories