Estimated read time: 4-5 minutes
This archived news story is available only for your personal, non-commercial use. Information in the story may be outdated or superseded by additional information. Reading or replaying the story in its archived form does not constitute a republication of the story.
To say the least, this has been an interesting college football season for fans of BYU, Utah and Utah State. Other words that can be used to describe the year thus far include disappointment, anger, surprise and just plain wonderment. From the quarterback changes and controversies, to fans rushing onto the field before games are over, to crazy instate rivalry battles — it has already been a year to remember.
With a 4-3 record and three cream puffs on the schedule to end the season, Cougar fans already know their team will be heading to the Poinsettia Bowl. With the 2-4 Utes turning to a freshman quarterback, their fans are just hoping for a bowl appearance. Meanwhile at 5-2, Aggie fans are hoping they'll be playing in December for a second consecutive year.
So what should the local fanbases look forward to for the rest of the season? Fortunately for you, I am here to help with my 10 suggestions to keep you enthralled and entertained, even if in the end your team completely lets you down:
1. To see if BYU can win a big game. That would be this Saturday at No. 5 Notre Dame. Bronco Mendenhall coached teams are just 4-12 against ranked opponents. A win over the Irish would be his biggest since the 2009 upset victory against Oklahoma.
2. Ute fans can watch the development of their future. The upside of inserting a freshman quarterback into the lineup is that he will get the needed experience and reps to grow into what fans hope will be a legitimate Pac-12 quarterback. Travis Wilson can be that player where Jordan Wynn and Jon Hays clearly were not.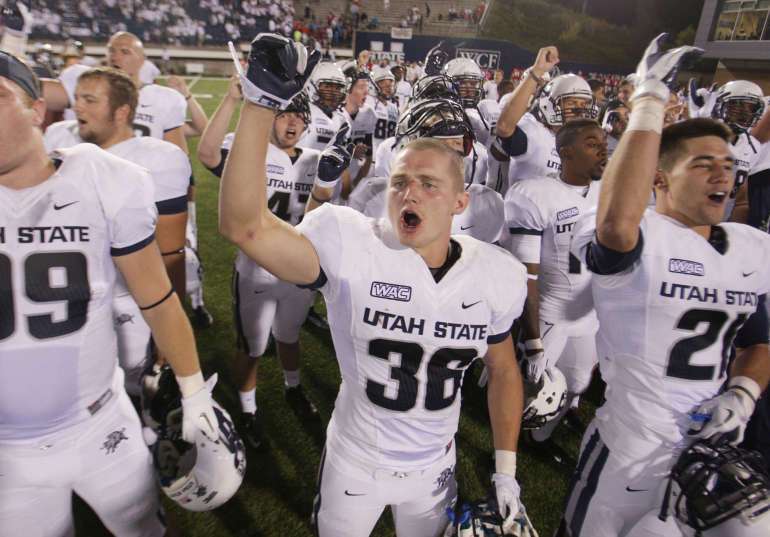 3. Competing for a conference title. Since entering the WAC in 2005, Utah State has never won a league championship. If they pull it off this year, it would be a fitting way to say goodbye as the Aggies move to the Mountain West Conference next season.4. Defensive football. The words "defense" and "BYU" are usually not uttered in the same sentence, but this year is different. Despite giving up 42 points to Oregon State, BYU's defense still ranks fifth in the country. Depending on how the season ends up, fans could be seeing the best defense ever played at BYU.
5. When you wish upon a "Star." It's not often a sure-fire Top 10 NFL pick rolls into Salt Lake City, so when one does, you better appreciate him. As a defensive tackle, Star Lotulelei may not play the most glamorous position, but Ute fans need to do themselves a favor and watch him take on multiple defenders every play and still be able to completely disrupt a game.
6. November 17th. I'm guessing Aggie fans already have this date circled on their calendars — Utah State plays at Louisiana Tech. The Bulldogs just fell out of the Top 25 with a two-point loss to a ranked Texas A&M program. This game will be highly entertaining and will decide the WAC title. In fact, all football fans in the state should watch this one.
7. Watching the Riley Nelson era come to an end. Perhaps one of the most controversial quarterbacks to ever play at BYU, fans can see the gritty, full of heart, turnover machine play his final games. And you can then celebrate hoping next season BYU will return to a quarterback that can actually throw.
8. Going bowling? In his eight years as head coach, Kyle Whittingham has never had a team not make a bowl game. Obviously for pride and recruiting sake, this is a streak neither he nor the school's fans want to see end. The way the season has gone, getting to 6-6 and an invite to the not-so-glamorous New Mexico Bowl would be an accomplishment.9. Win a bowl game. It's been 19 years since Utah State has won a bowl game. In fact, that happens to be their only bowl win. As long as they're invited — WAC only has one bowl tie-in this year — fans can hope their bowl winless streak finally comes to an end.
10. The unexpected. Perhaps Utah fans will run onto the field again too early. Or a fan in goofy suspenders will try to taunt another coach. Maybe since Mendenhall clearly admires Nelson, the coach will carry the senior off on his shoulders after his final game. Whatever the case, there is still enough intrigue to keep you glued to your team the rest of the year. If not, at least the Utah Jazz season starts on Halloween. How's that for a scare?
×
Related links
Related stories
Most recent Sports stories