Estimated read time: 4-5 minutes
This archived news story is available only for your personal, non-commercial use. Information in the story may be outdated or superseded by additional information. Reading or replaying the story in its archived form does not constitute a republication of the story.
SALT LAKE CITY - The Utah Jazz were full of optimism after defeating the Western Conference Champion Oklahoma City Thunder 97-81, even if it was just a game that didn't matter.
The Jazz were led by returning newcomer Mo Williams who had 15 points with the starting lineup and missed only one shot. He and Marvin Williams were welcomed early by fans and they both delivered.
"He's a great leader man," Marvin said of Mo. "And anytime you have a great leader the troops are going to follow."
Marvin played well on both sides of the court. He defended scoring champion Kevin Durant, who ended the night with only nine points in 19 minutes of play, and Marvin scored 10 points in 23 minutes of play.
"He's a true pro," said head coach Tyrone Corbin about Marvin. "The guys love playing with him and I can see why, cause he's a great teammate."
The star of the night was Enes Kanter who continues his meteoric rise to stardom. He had a double-double with 12 points and 12 rebounds. He has had a very well documented summer when he lost 50 lbs and he showed off his agility with a spin around Cole Aldrich that led to a reverse dunk that got the crowd off their feet.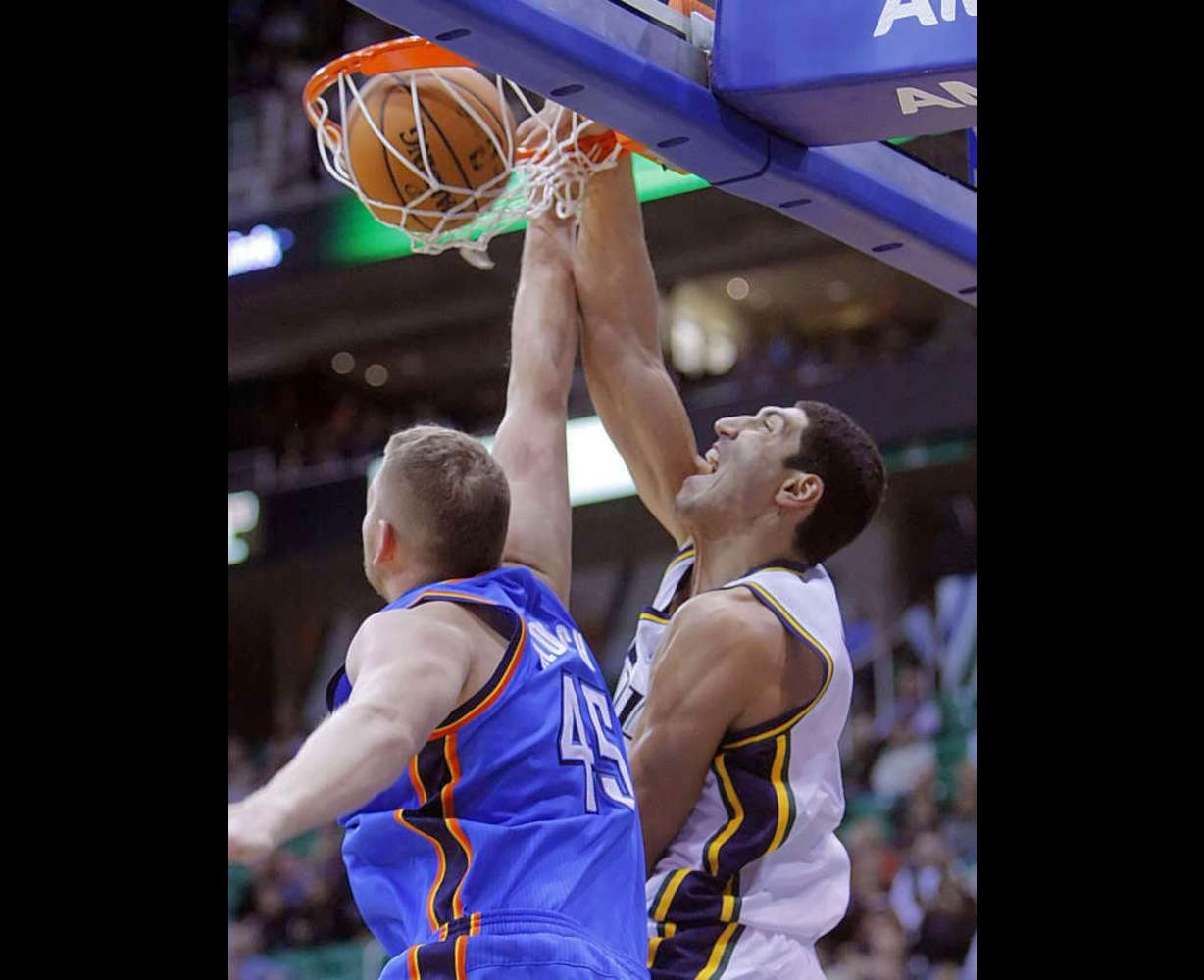 "He does such a great job out there on the court," said Jefferson. "One thing I love about him: He listens. When you teach him something, talk to him about something he corrects it. The sky's the limit for him."
The Jazz got their first win of the preseason in their home opener despite missing Paul Millsap who was missing with a family issue. He was replaced in the starting lineup by Derrick Favors who had an off night on the offense, but came up big on the defensive end.
Favors finished with only one point in 18 minutes, but he is known for his defense where he had three blocks and altered many more shots.
The other starters were Gordon Hayward and Al Jefferson who both had good nights, which is what fans at this point should expect.
Hayward carried the team from the free throw line. He ended up with 13 points, 7 of which were from the line. He also had 7 rebounds. Jefferson also grabbed 7 rebounds and added 12 points. He played within the offense and led the team in assists with three.
The Thunder were without all-stars Russell Westbrook and James Harden on the night, and the Jazz controlled every aspect of the game. They had more rebounds, steals and blocks than the Thunder and the same amount of assists.
A big point of this offseason was pushing the tempo for the offense. The first team got into their sets early and got off shots quick. They ended the game with 81 shots, which is just about average for last season, but with the amount of time that new players played that number should go up. They also added 29 fast break points.
Another player that was missing was Jamaal Tinsley, and that allowed Alec Burks and Randy Foye to play the point guard with the second team. This is something that Corbin expects to do throughout the season.
"At times we will be able to go big and those guys can handle the ball and make plays for themselves and get to the secondary stuff on the weak side," Corbin said.
Foye ended the night with five points, all from the free throw line, but was solid in getting the second-team offense into position and taking the ball down the court. Burks played 18 minutes and added 11 points with the second unit. He had a highlight alley-oop from training camp invitee Chris Quinn.
---
Any time you step on the court you want to win.
–Al Jefferson
---
Burks is looking to take a big step in his second year and will be ready to play the point, start or come off the bench at the other guard, but is ready to play in whatever capacity is needed of him.
"Whatever I need to do to," Burks said. "If that's start I'll start. If that's come off the bench, I'll come off the bench."
It might not seem like there is a lot to take from this game, with the preseason and Thunder missing guys, but the Jazz starters performed well and the whole Jazz team has a reason to celebrate their first win of this season in the preseason home-opener.
"Any time you step on the court you want to win," Jefferson said.
×
Related stories
Most recent Sports stories