Estimated read time: 4-5 minutes
This archived news story is available only for your personal, non-commercial use. Information in the story may be outdated or superseded by additional information. Reading or replaying the story in its archived form does not constitute a republication of the story.
SALT LAKE CITY - You know it, I know it, the Ute coaches know it, and the Ute players know it. Travis Wilson will be the starting quarterback for this football team. The question that everyone is asking, is when? That is the great debate that is going on within the Ute fan base right now, and possibly the coaching staff.
Utah (2-3) vs. UCLA (4-2)
Game Notes
Utah (2-3, 0-2 Pac-12) vs. UCLA (4-2, 1-2 Pac-12)
Date: Saturday, Oct. 13
Time: Noon PDT
Site: Rose Bowl (91,500/Grass) Pasadena, Calif.
TV: FOX
Radio: ESPN700, SIRIUS/XM (139/201)
Series Record: UCLA leads 8-2
Last Meeting: 2011 (Utah 31-6)
Kickoff Weather: Sunny, temps near 70
The U Fan Cast: UCLA preview with @rojackKSL
Download
Not as venomous as the Presidential campaign that is going on right now, but you essentially have two parties among the fans - Team Hays and Team Wilson. One side arguing that Hays gives the team the best chance to win and that Utah needs to bring along the youngster, Wilson, slowly. The other side argues that the future is now and that Wilson needs to get reps. The fact of the matter is that both sides are probably right to a certain degree. The real problem is, nobody really knows if Wilson is ready. Not until Wilson takes the field as a starter.
The one thing that everyone does know, is when it does happen, it will be a turning point for the Utes going forward. Whenever a new quarterback takes the helm of a team, the direction of a team can change. So, I decided to go back and look at some of the first starts for Utah quarterbacks and see how they performed. While looking, I may have stumbled across something interesting. A common denominator for each quarterback in their first start.
The first quarterback I looked up was Alex Smith, in 2003 his first start was against Cal after taking over for an injured Brett Elliot. He was 18/27 for 136 yards with no passing touchdowns and no interceptions. Smith did run for 71 yards and one touchdown however, in a win. The main key stat in this game was Brandon Warfield rushed for 113 yards on 30 carries and three touchdowns. Utah also got the win.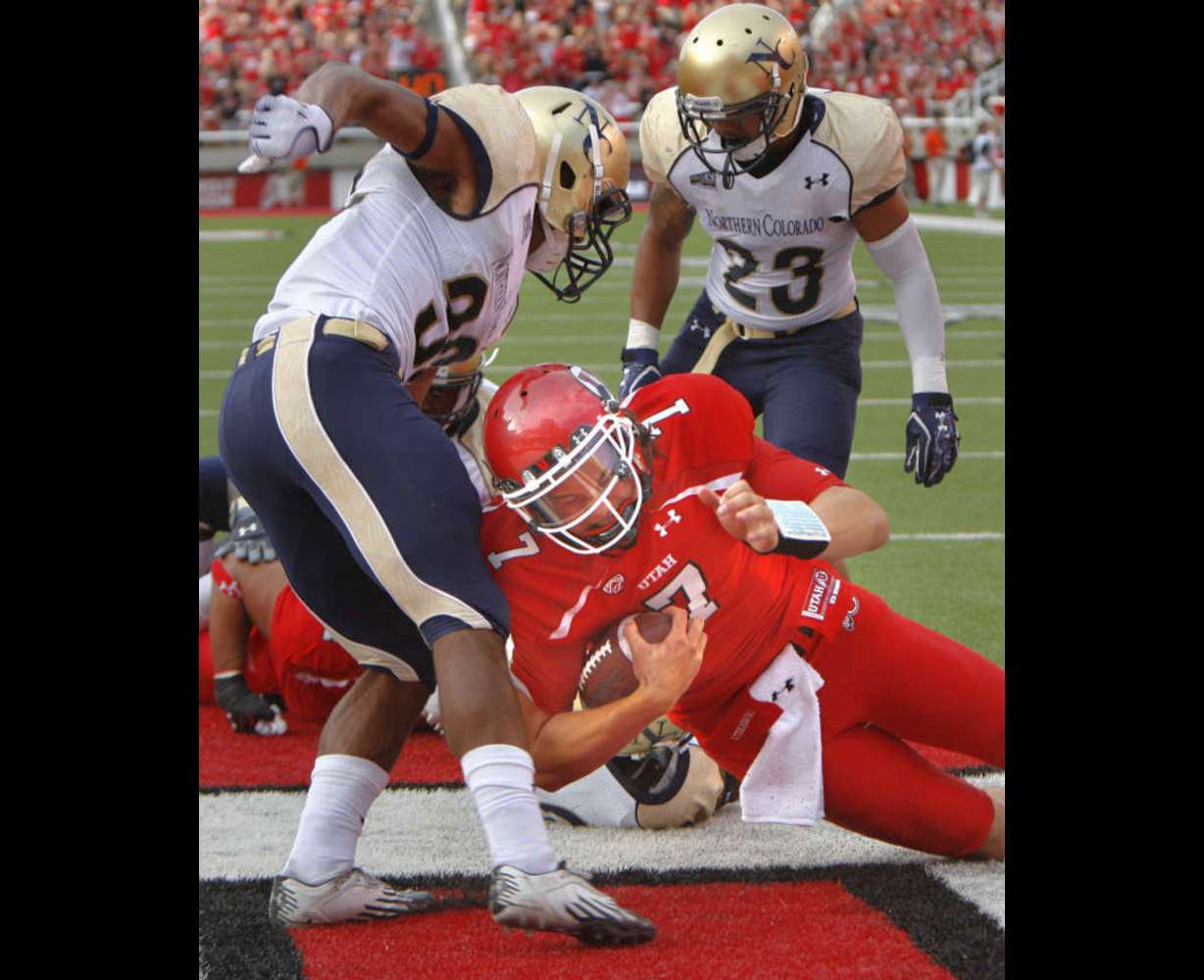 Brian Johnson, his first start was against Arizona in 2005, threw 19/30 for 220 yards and one touchdown and no interceptions. His running back, Quinton Ganther, ran 24 times for 137 yards. Utah also beat the Wildcats.
Brett Ratliff, in his first start against BYU in 2005 after Brian Johnson was injured, threw 17/32 for 240 yards and four touchdowns and no interceptions. Ratliff also ran for 129 yards with a touchdown. Ganther also ran for 135 yards on 21 carries. Ratliff lead the Utes to the shocking win in Provo.
Terrance Cain, in 2009 had his first start against Utah State, and threw for 286 yards on 20/30 passing with two touchdowns and one interception. Meanwhile, Matt Asiata ran 36 times for 164 yards and two touchdowns. The Utes won easily over the crew from Logan.
Jordan Wynn, who took over for Cain later that 2009 season against New Mexico, threw for 297 yards on 18/28 passing with two touchdowns and one interception. Eddie Wide, who actually took over for Matt Asiata due to injury, ran 20 times for 147 yards and two touchdowns. Utah rolled to the win over UNM.
Jon Hays, who took over for Jordan Wynn after injury last season took his first start against Arizona State. Hays was 18/30 for 199 yards, one touchdown and three interceptions. While John White IV ran for 90 yards on 17 carries with one touchdown. Utah fell in this game to Arizona State.
There are a lot of factors that play into those stats - opponents, circumstances, and preparation time - I get that. However, there is one consistent factor in all of those starts. For the most part, those offenses leaned on a powerful running back in those QB's first starts. The pressure was taken off the quarterbacks to not have to carry the team. The lone exception was last year when Hays struggled with interceptions in the Arizona State game.
Those were some good, established running backs to fall back on for those quarterbacks: Warfield, Ganther, Asiata, Wide, and White. When and if Travis Wilson takes over this season, he may have the best running back in school history at his disposal in John White IV. That will be the key for Wilson when he gets under center. Brian Johnson and John White have to make the game easy for Travis Wilson, just like most of those other running backs did with those other quarterbacks. Wilson can't feel like he has the weight of the offense on his shoulders, that's when he will start pressing and making mistakes.
When you see #7 run out on that field for the first time as the number one guy, whenever that is, don't keep your eyes on him as much, keep your eyes on John White. He will be the catalyst for Wilson's success as a first time starter.
Shane Roberts is a producer/writer for the U Fan Cast on TheUFanCast.com, a Utah-centric podcast that gives a voice to the fan. Twitter: @Shane_U_FanCast
×
Related stories
Most recent Sports stories