Estimated read time: 15-16 minutes
This archived news story is available only for your personal, non-commercial use. Information in the story may be outdated or superseded by additional information. Reading or replaying the story in its archived form does not constitute a republication of the story.
SALT LAKE CITY - Last season the Jazz came together without a lot of continuity, a coach that would be in his first full year and a lockout that forced them to play without any training camp. They still made the playoffs.
This year they have kept up the transitions and will still try to keep the chemistry that made their team overachieve. The offseason is over tomorrow when the Jazz play the Warriors in Golden State and now is the time to look forward to the season and see what it has to offer.
A lot of this season will be what head coach Tyrone Corbin can do with the Jazz team in his first full 82-game season with the team.
This will look at this year's Jazz players, keys to improvement, questions that linger and predictions for the team and players.
Players:
This section will break down the players in each of the positions and will end with some lineups that the Jazz could use over time through the season.
Point guards:
Mo Williams: Mo will be the court leader for this Jazz team looking to turn a corner and should add an extra dimension that was lacking last year, shooting. Through his career he has played both the point and the shooting guard spot, but here he will be the starting point guard and be given the keys to the offense.
His leadership will be needed as the team continues to solidify, but on the court his shooting is what has fans and the team excited.
"That's one of the main reasons they brought me in," Williams said. "That's one of my main qualities, a quality I've developed over the years in the NBA. I didn't come into the NBA as a knockdown shooter, but it's something I've developed and something I knew would be a strength of mine."
Last year the Jazz were 20-5 when Devin Harris scored more than 12 points and stretched out the defense.
Jamaal Tinsley and Earl Watson: These two are listed together because at this point, most should know who they are and what they can do. There will be very little surprises, but will be very consistent in who they are.
Tinsley went from borderline all-star, to D-league player to being signed and used as the primary backup last year for the Jazz. He has lost a lot in terms of his athletic ability, but plays smart and uses everything he has to a maximized potential.
Watson is the pitbull of the team. He is greatly optimistic, but with a burning fire that fans have grown to love. His great quote of last year was, "you can't pay me enough to lose." This came after a loss to the Mavericks.
He plays with heart and energy that can change games and lift his team in the second unit, but his offense was a liability last year. He shot under 34 percent from the field and under 20 percent from the three. He is coming off a knee injury and can add a lot in his leadership with the second team if they can get consistent scoring elsewhere.
Wing players:
This section will include both shooting guards and small forwards because they are essentially the same position in the offense.
Gordon Hayward: Hayward is entering his third season in the NBA, looking for the next step and has earned a starting role. He spent the offseason working with the Olympic Select Team, a team that practices with the Olympic team, and has worked on his shooting and just learning to play within his comfort zone.
He is actually one of the more tenured Jazz players and will be a leader on the court even if he never actually yells at anyone.
"Leadership knows no age," Hayward said. "I said some stuff my rookie year, said some stuff my last year. Overall I'm not extremely vocal as a person, I'm more of a leader by example."
---
I don't know. They brought me here, so they obviously like something I did. My job is just to work hard and do what I do. Don't try to be somebody else and just be myself.
–Marvin Williams on his role with the Jazz.
---
He talked about learning to play more comfortably. Last year he went through slumps and runs that saw him start, then on the bench and ending in the starting lineup. His 3-point shooting dropped from 47 percent his rookie year to 34 percent last year.
Marvin Williams: He is a very big player, listed at 6-9. He was used as the lead defender for years in Atlanta and now could be even better if he and Hayward switch off on the opponent's elite wing players. What his exact role will be is a bit of a mystery even to him.
"I don't know," Williams said. "They brought me here, so they obviously like something I did. My job is just to work hard and do what I do. Don't try to be somebody else and just be myself."
He is another newcomer that should improve the shooting on the team. He has a great long-range 2-point shot and last year he shot just under 39 percent from deep.
Randy Foye: The last of the big names that were brought in has been added for his shooting almost exclusively. He started 48 games last season with the Clippers and hit 39 percent of his threes.
He is 6-4 with a thick body that will add some defensive depth against both bigger point guards and shooting guards.
He is an interesting player in the fact that he truly wants to play in Utah. They almost signed him two years ago, but it didn't happen and now he gets his chance.
Alec Burks: What could the second year player do this year with an actual offseason. "I should be a bigger contributor than I was last year," Burks said. "This year I put in the work in the offseason. I had a great Summer League, had a great time in Santa Barbara. I feel like my role should be bigger."
He said he is up to 210 lbs, up from the 202 that he played last year, and it shows. While he never broke down as a rookie he should be in better shape as he plays a full 82 games. His ultimate goal for himself is to start, he wants to push into that role, but added that he at least wants to be a big contributor.
With the addition of Foye, he has been thought of as maybe the odd-man out, but talk from camp is that he keeps on sticking out.
DeMarre Carroll: "Hard work is a talent."
That is the slogan and trademark that Carroll brings. He started last year getting cut by the Nuggets and playing in the D-league before the Jazz signed him to a contract. They picked up a second-year option this year to keep the hard working player.
He ended up playing only 20 games last season, but started 9 and played significant minutes in the playoffs. He is an energy guy that stands out on a team filled with energy guys. He hustles all the time, including diving into the bench for a loose ball in the team's open scrimmage.
Kevin Murphy: The rookie was drafted as another weapon for the shooting arsenal. And shoot he does. Just in the scrimmage he was 4/5 from deep and every shot looked very smooth.
He missed some of camp with the birth of his son Kevin Murphy, Jr. He will struggle to get playing time as probably the last off the bench, but don't be surprised if he is brought in to try and break the zone.
Big men:
With the limbo between the power forward and center on this team this group will be put together.
Al Jefferson: "Big Al" produced last season. Few players that average 19 and 9.6 points and rebounds will ever get the criticism that he gets. He can be unstoppable in the post with his little jump hook.
He has been weighed down as a good player on a bad team for most of his career and with the playoff push last year he spelled that stigma.
He isn't the sexy pick, or the hard working overachiever or even the entertaining youngster, but he is simply consistent. Take away his first two years and he is averaging right around 19 and 10 for his career. He is also still fairly young at only 27, but in his eighth year in the league he has the experience as well.
Paul Millsap: The veteran, the grinder and the overachiever. Millsap just keeps adding something new to his arsenal. He came in as a hustling rebounder. He added a few post moves, a shot that keeps getting distance, an impressive dribbling ability and last season a top-tier defensive ability.
His 1.8 steals per game lead power forwards and was fourth in the league. His ability to play both forward positions allowed the Jazz to go with their big lineup.
He is the longest-tenured member of the Jazz. He has gone from the backup to Carlos Boozer to the starter with is hard work. Since he became a regular starter two years ago he has averaged around 17 points and 7 rebounds per game.
Derrick Favors: The cornerstone of the future? Maybe, that is certainly the hope for the young man out of Georgia Tech. He was brought in as the main piece for Deron Williams and this is the year that he is expected to take his big step.
He is explosive, and has bulked up this offseason. He is 21 and every minute he gets adds to his future. He and Hayward played against the Olympic team and Favors has said that he now has his sight set on not just playing against, but playing on the Olympic team in four years.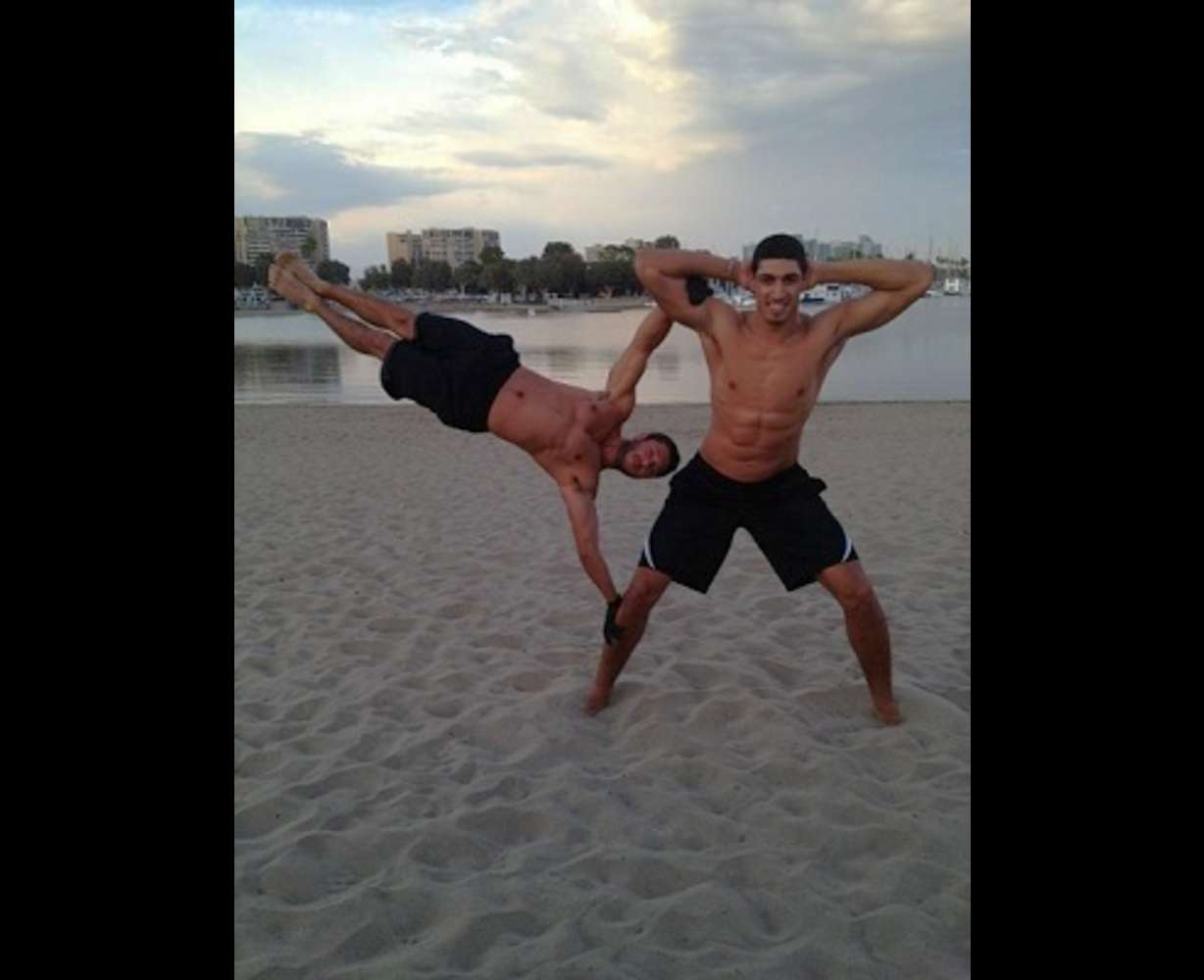 Enes Kanter: What can't be said about the summer that Kanter had. The greatest Twitter event that has happened to the Jazz. But what might be lost in the extremely entertaining Kanter is that everything started from his work. "Enes just needs to play," Corbin said.
The first picture on his Twitter campaign was his workout where he showed off an Adonis body. Sculpted and trim he is playing 20 lbs lighter than he did last year and it is showing. The scrimmage saw him getting up over the rim when he dunked and running the court with a spring in his step.
If he can add a 15-foot jumper, which he showed in the scrimmage he can hit, he will add a dangerous dimension and it will be hard to keep him off the court. ESPN's Chad Ford took notice at the scrimmage about both his ability and shortcomings, "Kanter missing lots of reads on defense, but he's running the floor and finishing. Playing hard and looks like he's in great shape."
Jeremy Evans: The slam-dunk champion is still what he is. The crowd favorite that will play in cleanup time and show off highlight dunks. He will play power and small forward, but is just the odd man out no matter where he is.
He is a great locker room guy, who got a contract extension, married and his braces off in the same summer. He might be the only player to rival Kanter for greatest summer.
Lineups:
Expect the Jazz to use a few variations of their starting lineup to maximize value and match ups. What exactly is the starting lineup?
"We have ideas," Corbin said. "Always subject to change, but we have an idea of what might work out. What gives us the best chance to win. Which combination is going to give us the best chance to win against what opponent. It may change at times, it may take a little while to figure it out."
From that quote it seems like Corbin won't panic about what game one's line compared to game 40 and 80. The logical starting lineup is Mo, Hayward, Marvin, Jefferson and either Millsap and Favors.
With Favors starting there is a better defensive presence. This would also give the second team a definitive scorer and an identity with Millsap.
With Millsap starting it would allow the Williams' and Hayward to focus on shooting and defense. The second unit would then lean heavily on Foye, Burks and Kanter for offense.
The big line could come into play, playing Favors, Millsap and Jeferson, but it seems Corbin wants to avoid it to keep a four man rotation and leave shooting out.
Another big line that Corbin could use is Foye or Burks at point guard. The backup point guard is up for grabs and one or both of these players will get time there.
Corbin played them both in the scrimmage and said that he has used them, both for a changing lineup and in case of injuries.
They could also go "small" with a point guard, Burks, Hayward, Marvin and Favors, Kanter or Millsap at center for a 3-point shooting look or just to create match up issues. It would seem small, but they would have every player over 6-6, just light and athletic.
Keys to the season:
In order to take the next step the Jazz need to do three things well: 1. Make open shots. 2. Continue to develop. 3. Keep their chemistry.
Hitting open shots is no secret, the Jazz were awful last year. They were 27th in the league. The shot 32 percent, averaging 4 out of 12, which is next to last per game. If they were closer to the median, 35 percent and 19 taken, that would be about three more per game. That would put them up over 100 points per game.
They lost eight games by 3 points or less, or in overtime. Getting into the average NBA range could have won those games and gone from the 8-seed to maybe upwards of a 4.
"We have to get better," Corbin said. "We have to get more consistent making outside shots."
The development is key both for the starters and the second team. Hayward, Favors, Burks and Kanter will all be important cogs that seem like that have a lot of upside. Hayward and Favors gained chemistry from the summer and could make the starting line elite.
Burks and Kanter need to add small pieces to their games, but they will both be given the chance to be the second team top options. They will play any number of places
Last key is how this team keeps its chemistry. They were propelled last year by everyone wanting to play as a team. Injuries changed the lineups, some infighting with Raja Bell and new players didn't stop an unexpected playoff run.
This team worked out with each other through the offseason and every indication is that they are close still. What happens when Favors starts and Millsap sits, or vice versa. What if Burks doesn't get playing time or Kanter's off court presence take over the team's on court success.
Ultimately, what happens if they come out losing. If they are a few games under .500 after a month do players start questioning leadership.
Big questions left:
There are three big questions that have to be answered for this team. The first is how Corbin works the minutes and starts. The next is their defense and the last is whether the Jazz make a trade.
So, what a great problem to have.
"Great group of big bodies," Corbin said.
Everyone is pushing each other.
That is what keeps coming from the Jazz brass and team players. But can they balance youth and experience. Build for the future and play for today. Millsap and Favors both looked great in the scrimmage and both have a right to start and play.
When asked how they would balance the minutes, Jefferson, Millsap and Favors said they were glad they didn't have to make the decision, that's the coaches job.
Can the defense step up? They really weren't that awful last year. But they were fourth in scoring and 23rd in defense. Denver was the only team worse than them to make the playoffs, but they were the top-scoring team in the league.
They changed their defense last year, so another year together should improve it, but can the players work with it.
Once again, a point here and a point there changes this team from fighting for a playoff spot to working from home in the playoffs.
Last is what happens when someone comes along with a big package for an expiring contract, especially Millsap or Jefferson.
There has been nothing said, but both contracts are so valuable and could be played into picks, players or both if a team feels they are a player away from a championship.
This could also come from a losing team that needs to make a change. The Jazz won't make the trade just to make it, but they will if the team gets better. There is nothing more than speculation right now, but as the season moves along it will be a topic that keeps coming up.
Predictions:
#poll
The Jazz have a fairly favorable schedule, not having to play Lakers and Spurs four times and they get an easy stretch to work out the kinks early on. Of course more will be known after November, but They should be right around 12-5 to end the first full month.
December will be tough lots of travel and lots of upper-echelon teams, they can get out at 20-12. January is probably their easiest month and could do a lot determining their schedule. Ending the month at 30-16 would be right where the expectations should be.
February will be where the grind starts and if they can escape with a .500 record they will be 36-22, and they will continue with breaking even ending March at 44-30.
They will end the season with a winning month, barely and finish the season with a 49-33 record.
49-33 puts them with a 59.7 winning percentage. That spot puts them fighting for the fifth spot in the West.
×
Related links
Related stories
Most recent Sports stories