Estimated read time: 3-4 minutes
This archived news story is available only for your personal, non-commercial use. Information in the story may be outdated or superseded by additional information. Reading or replaying the story in its archived form does not constitute a republication of the story.
ERIE, Pa. (AP) - A man nicknamed the "Bucket List Bandit" because he allegedly told a Utah bank teller that he had just four months to live just shrugged when asked Thursday if he really was terminally ill, moments after a federal judge ordered him jailed until he can stand trial for a northwestern Pennsylvania bank robbery.
U.S. Magistrate Judge Susan Paradise Baxter ordered Michael Eugene Brewster, 54, of Pensacola, Fla., incarcerated after he waived his right to a detention hearing.
Had Brewster not waived the hearing, the judge would have had to determine whether Brewster was a risk to flee prosecution or a danger to the community. Both findings were likely given that the FBI's contention that he's robbed 10 banks in nine states while crisscrossing the country since a heist June 21 in Arvada, Colo.
Federal officials have yet to charge Brewster with any heist but the Sept. 10 robbery of a Huntington National Bank branch in Erie, which is believed to be the last of his string.
By then, the FBI had nicknamed the suspect after bank surveillance photos from nine other robberies showed what appeared to be the same suspect, in his early 50s, with graying hair combed backward, and wearing a blue polo shirt with a pocket. In each instance, the robber handed the teller a note and claimed to have a gun and, in some instances, claimed to be terminally ill - going so far as to say, "I have four months to live" to a teller in Roy, Utah on July 6.
---
Brewster just shrugged and smiled when a reporter asked if he really was terminally ill as he left the courtroom.
---
Although the suspect had a nickname, the FBI didn't know his real name until a still-unidentified tipster saw news coverage of the Erie heist and called to give agents Brewster's name and birth date. The FBI filed a criminal complaint for the Erie heist after the teller picked his mug shot out of a photo lineup, and the attached affidavit makes clear the FBI is convinced he's responsible for the earlier robberies.
Brewster was arrested Sept. 13 in Roland, Okla., after he ran a stop sign near a casino close to the Arkansas border. When the FBI warrant for the Erie heist showed up on a computer search, Brewster was jailed there until he could be brought back to Pennsylvania for Thursday's court appearance.
Brewster wore an orange, one-piece jumpsuit from the nearby Erie County Prison, and had a stubbly beard, mustache and wore his graying light brown hair brushed straight back, as it appeared in the bank surveillance photos. He answered most of Baxter's questions with a simple, "Yes, ma'am" before pleading not guilty to the unarmed bank robbery charge and grabbing a manila envelope full of court papers, before he was handcuffed and led away by deputy U.S. marshals.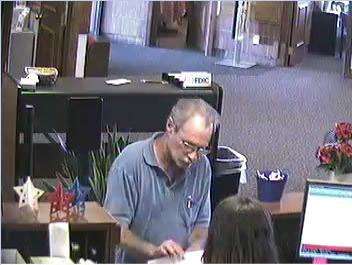 Brewster just shrugged and smiled when a reporter asked if he really was terminally ill as he left the courtroom.
Although he was returning to the county jail, Brewster will then be moved to the Northeast Ohio Correctional Center, a private lockup near Youngstown, Ohio.
The FBI and marshals say they can't comment on Brewster's medical status because of federal privacy laws and Assistant U.S. Marshall Piccinini said he "really didn't know" if Brewster had requested any special health care.
Federal public defender Thomas Patton wouldn't say anything about Brewster.
"I don't have any comment," he said.
Piccinini won't handle the charges should Brewster be indicted in any of the other bank robberies. The FBI and Justice Department officials have said only that those investigations were still being coordinated.
In addition to the robberies in Colorado, Utah and Pennsylvania, Brewster is suspected of robberies in Flagstaff, Ariz.; Pocatello, Idaho; Winston-Salem, N.C.; Chattanooga, Tenn.; Bloomington, Ill.; Columbia and O'Fallon, Mo.
Nobody was hurt in the robberies, and the total amount of money taken hasn't been released, though the indictment said Brewster took $4,080 from the Erie bank.
(Copyright 2012 The Associated Press. All rights reserved. This material may not be published, broadcast, rewritten or redistributed.)
×
Photos
Related stories
Most recent Utah stories