Estimated read time: 5-6 minutes
This archived news story is available only for your personal, non-commercial use. Information in the story may be outdated or superseded by additional information. Reading or replaying the story in its archived form does not constitute a republication of the story.
The following post is a rebuttal to Vai's View from Sept. 21 in the Deseret News, in which Vai Sikahema claims that BYU's performance is not what ESPN signed up for and that the BYU program under Mendenhall should be much further along than it is.
PROVO — Whenever BYU plays on ESPN, which is virtually every week now thanks to the success of Bronco Mendenhall, I clear my schedule to tune in. I mean, I fly in for the game. But I could choose to watch the game on national television if I wanted to; not a trivial point, as we all know. And last week's game was exactly what ESPN signed up for: a 47-0 drubbing of an old WAC rival. Man, those WAC days were nice. ESPN must really enjoy making money off the Cougars again.
I'll say this much: Tom Holmoe better keep BYU as an independent (for as long as it makes sense for BYU to stay independent). Given all those touchdowns last week, there is NO way ESPN could justify not renewing its contract with BYU in seven more years (unless, of course ESPN decides to not renew).
Midway through the second quarter of last week's game, freshman quarterback Taysom Hill took the snap from center, dropped back like he was going to pass, then tucked the ball and ran longer than Steve Young ever did in college. In fact, Hill's electrifying 68-yard touchdown run was the longest BYU quarterback run since 1962, when Ty Detmer was still a half decade away from being born.
It's hard to believe that BYU is able to continually produce such phenomenal quarterbacks such as — well, we all know the list. And even given the rich quarterback history at BYU, Hill just accomplished something that no true freshman quarterback has ever done at BYU: He won his first game. Mendenhall continues to show great recruiting prowess, plucking the highly-recruited Hill out of Silicon Valley — the last place in America people are moving away from (anyone checked out housing prices in San Francisco lately?). And that's not to mention the 17-year-old true freshman Jamaal Williams, who was recently recruited to Provo by way of a California hospital delivery room. Williams rushed for 155 yards and two touchdowns, becoming one of only 10 BYU freshman to ever run for more than 100 yards in a game. Interestingly enough, Mendenhall has been the coach for five of those freshmen (Unga, Hague, Quezada, Hill and Williams). Mendenhall can spot freshman talent.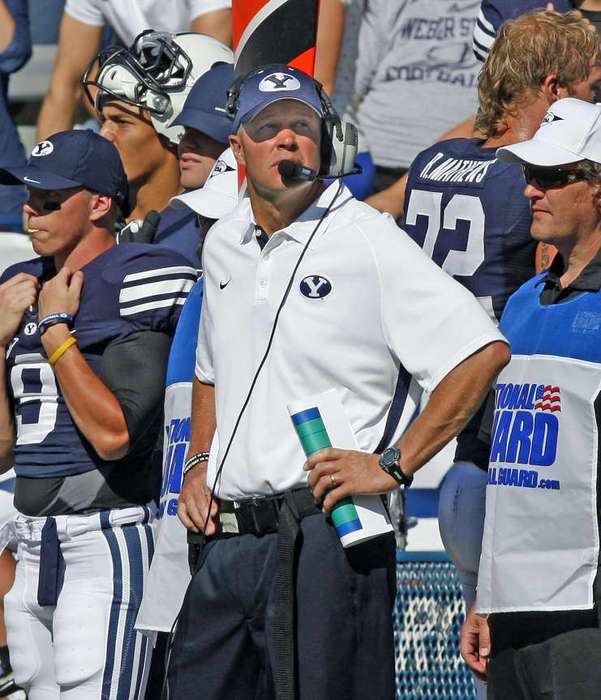 Mendenhall has shown that he is adept at not only recruiting great players (witness Kyle Van Noy and the entire top-ranked BYU defense) but also at developing those players. Under Mendenhall, BYU has produced the all-time BYU leading rusher (twice), receiver and tight end — not to mention that Mendenhall's first two starting quarterbacks (Beck and Hall) both made it to the NFL. The jury is still out on Mendenhall's other quarterbacks, but Hill, for one, looks like a slightly smaller, more accurate version of first-round draft pick Jake Locker.
Critics of Mendenhall claim that he "can't win the big game." History, of course, proves otherwise. But first, a look at the pre-Mendenhall era. It took the legendary LaVell Edwards 11 seasons to beat a ranked team that was still ranked at the end of the season. Mendenhall accomplished this feat in only his second season by beating TCU on the road in 2006, a team that had the longest winning streak in all of college football. Against ranked teams (including those that were ranked at the time of the game and/or at the end of the season), Edwards lost seven of his last eight. Gary Crowton, who followed Edwards, lost eight in a row. This was the program that Mendenhall took over in 2005 — a program that was 1-15 in its last 16 "big games."
It didn't take Mendenhall long to get the ball rolling (as mentioned above when Mendenhall beat a ranked TCU team in his second season) and in year five, Mendenhall picked up three wins against ranked opponents in one season — something Edwards did only once, and not until his 25th season. Since 2010, BYU has been in rebuilding mode (which included a 10-3 season last year) and hasn't beaten a ranked team, but given Mendenhall's history, NO one can doubt that BYU will soon be beating ranked teams again (except for those who do doubt it).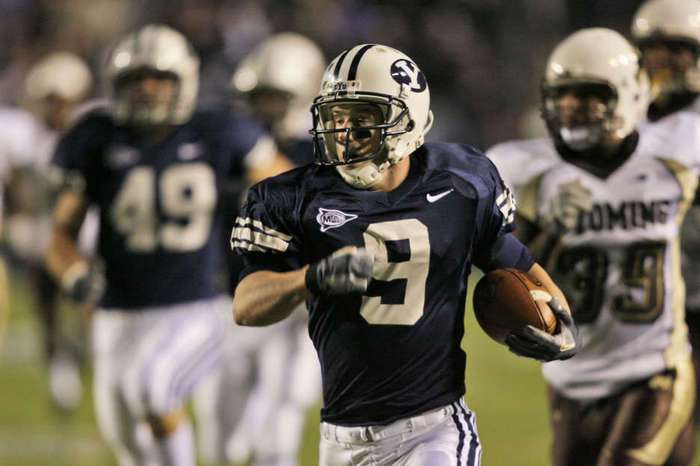 Having played for Mendenhall, I can vouch for his ability to read his players. He had our pulse, had a feel for the ebb and flow of each player's temperament. He has an uncanny ability to get the most out of each player — and he knows that some players will play better than others each week, which is why he went to Hill against Hawaii. He especially knows when to go for it and when to play it straight (OK, I stretched on that one — no coach really knows that; they all just make their best guesses, and sometimes they are right and sometimes they are wrong). Given Mendenhall's winning percentage of 72 percent in his first 94 games (compared to Edward's 67 percent after 94 games), Mendenhall is already closer to the national championship than Edwards was at this point. NO one should disagree with this analysis (unless you do).
Winning a national championship with integrity and producing productive members of society are not mutually exclusive. It can be done because it has been done. And Mendenhall will have to beat a ranked team in his bowl game to do it (the 1984 team beat an unranked Michigan team in its bowl game). His biggest win of the season will have to be bigger than a five-point victory over an unranked Air Force team that finished the season ranked 24th. It must also be bigger than a win over a third-ranked Pitt team that finished the season unranked.
Thanks to independence, a product of the success of both Mendenhall and Edwards, Mendenhall will have that chance. And given his past success, I sincerely look forward to watching him try — in person and on ESPN.
×