Estimated read time: 4-5 minutes
This archived news story is available only for your personal, non-commercial use. Information in the story may be outdated or superseded by additional information. Reading or replaying the story in its archived form does not constitute a republication of the story.
SALT LAKE CITY — Popular Science Magazine has named a Utah native one of the ten most brilliant young minds on this side of the Atlantic. It's a distinction Greg Nielson shares with scientists who have mapped both the brain and the edge of the universe, and he earned it by taking a good idea and making it a whole lot smaller.
Though the cost of power and heating these days might have you thinking otherwise, there is no energy shortage. We are surrounded by energy. It is constantly pouring down on us, heating the air, the earth. Plants live off of it and it even burns our skin. But still, when we need energy for our phones, our computers and our cars, we burn the stored-up energy of a world that came before us. Nielson wants to change all that.
"The amount of energy available with solar power is immense," Nielson said. "It's way more than all the fossil fuels, all wind, all hydro, all nuclear — every other source of energy combined. It's probably a thousand times all those put together."
Though it's constantly shining down on us, it's hard to harness solar power on the cheap. Solar panels can often be large and cumbersome, and above all expensive, or at least more expensive than cheap fossil fuels currently powering things. To get around these problems, Nielson and his crew of solar scientists took traditional solar cells, roughly the size of a hand and often much larger, and made them more efficient and much much smaller, roughly the size of glitter, or less than a millimeter.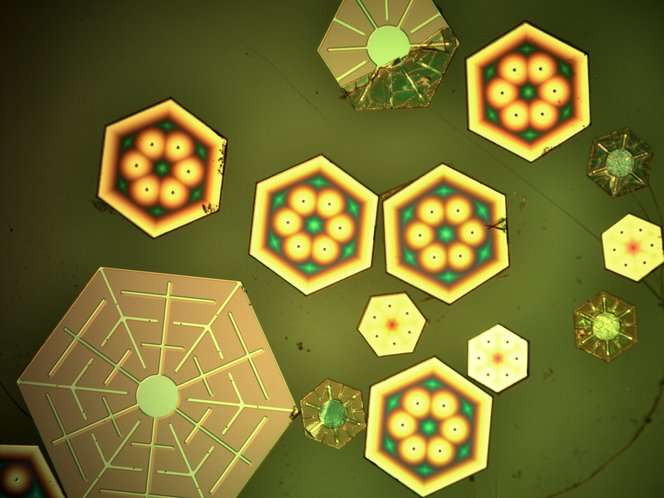 With a tiny, flexible construction, these mini solar cells could be used in all sorts of ways that have so far been impossible. Imagine a cell phone with a case covered in cells that keep it perpetually powered. Or a mobile hospital that can bring medicine to poor, rural areas where electricity is hard to come by. The possibilities are almost endless.
"I get really excited," Nielson said. "I'll read about something or have a conversation with somebody in a certain area that needs an application and we'll talk about what we're doing provides a solution for them that no other (photo-voltaic) technology can provide."
Nielson thinks that the technology could be commercially viable in the next 3 to 7 years. His team has focused on using existing tools to create the smaller cells, so that production could be done in any microelectronics factory without having to invest in new equipment or materials, which should make development relatively speedy.
Growing up in Utah
Related:
Nielson, now 38, developed the technology at the Sandia National Laboratories in Albuquerque, New Mexico, where he's been since getting a graduate degree at MIT.
But before all that, he grew up in Utah. He said it has had an influence on his later career.
"Where you grow up really forms who you are. I grew up in Bountiful and lived there all my life until I went to school up at Utah State. It was a great place to grow up," Nielson said.
By the time he was 7 years old, he had read every children's book in the Bountiful library, and his mother persuaded the librarian to give him an adult card so he could move on to more advanced topics.
He also had the benefit of a high school physics teacher that instilled in him a love of science. In class, they blew up a car battery, launched a weather balloon and hurled bowling balls off the roof. All in the name of science.
Nielson said that he's glad to be working on a project that could help protect the environment. As a young man, he spent a lot of time taking in the beauty and grandeur of Utah with the Boy Scouts and on vacations to Lake Powell.
"Almost every month we would go out camping somewhere," Nielson said. "We did 50-mile backpack trips up in Uintas. We made kayaks and kayaked across Flaming Gorge reservoir."
Preserving that landscape is an exciting prospect.
"As I've done more and more work with solar research, the idea that I'm doing something that benefits the environment and the outdoors really feels great to me because I just enjoy the mountains so much."
×
Photos
Related links
Most recent Utah stories