Estimated read time: 5-6 minutes
This archived news story is available only for your personal, non-commercial use. Information in the story may be outdated or superseded by additional information. Reading or replaying the story in its archived form does not constitute a republication of the story.
SALT LAKE CITY — The NFL and the referees' union reached a tentative deal Wednesday night to end a months-long labor dispute that locked out officials and led to questionable calls by replacement referees that infuriated fans and made both sides eager to resolve the dispute. The fans were angry, but in the end, it was all about the money.
The sum the NFL and the referees' union were arguing over: $3.3 million. That is the amount per year the NFL will save by switching from a guaranteed pension plan to a 401k-based retirement plan.
It is more than most of us will make in a lifetime, but critics of the dispute are calling it a paltry sum in comparison to the league's $9-billion-per-year earnings — something hardly worth fighting over as inexperienced referees continue to make upsetting calls on a weekly basis, including a highly controversial one that cost the Packers a win Monday on the final play of the game.
Despite Packers safety M.D. Jennings appearing to intercept a Hail Mary pass thrown by Seahawks quarterback Russell Wilson, a scrum in the end zone and a disagreement between referees led to Seahawks receiver Golden Tate being awarded a touchdown, winning the game for the Seahawks.
It wasn't the first blown call of the season, but it was certainly the most egregious — and suddenly NFL fans across the nation were calling for an end to a labor strike that 24 hours prior had been little more than an annoyance.
Related:
Businessmen shed light on why the situation was a bad one, both for the fans and the NFL.
"Most of the questionable calls seem to have been 50-50, one team versus another," said Jonathan Johnson, president of Overstock.com. "But this Monday night one was so egregious, I think that's why there's this huge uproar. Referees will never be perfect, but this call was far less than perfect."
Johnson, a Washington Redskins fan who has seen his own team suffer from blown calls this season, said the call would put increased pressure on the NFL to solve the dispute because the fight has been so public.
"If steel workers go on strike again and it affects people making cars, people don't see that effect on themselves directly," he said. "They aren't watching it every week, having tailgate parties, devoting entire afternoons to it. With this dispute, they can see it impacting their own lives."
Sure enough, social networks erupted with calls to return the regular referees — regardless of the cost. National media joined the voices calling for an end to the dispute, as did politicians including Wisconsin Gov. Scott Walker, Pres. Barack Obama and Republican presidential candidate Mitt Romney.
"I've been saying for months, we've got to get our refs back," Obama said, calling the outcome of the game "terrible." And Romney seemed to agree, saying he would "sure like to see some experienced referees ... come back out of the NFL playing fields."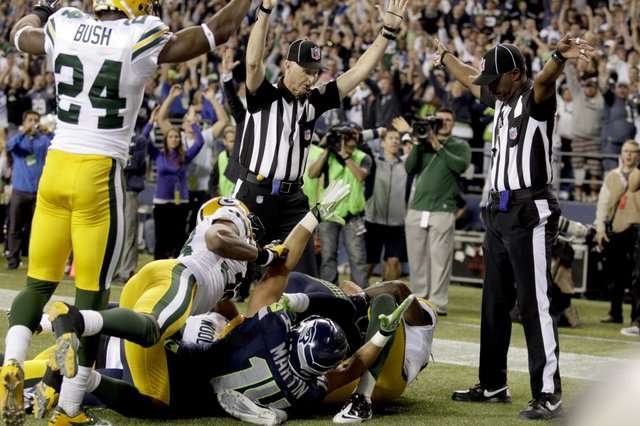 The call did what seems impossible: in a country in the midst of an ideological war with itself as the general election approaches, it united both sides of the aisle. Football was more important than money, labor unions or even the organization that made the game possible. "Let them play" had never more heartily been said.
Ultimately, though, it's not the fans who matter in the dispute. If you build it, they will come — regardless of how much of a mess you leave in your wake. If the dispute had not been resolved Wednesday night, fans would have kept buying tickets and turning on their TVs, if for nothing than to witness for themselves the disaster. Football is a powerful thing.
"Football is a big business; people seem to like it an awful lot," Johnson said. "It's also nearing a time of year when there's really not something that replaces it. And the fans love their pro teams."
The NFL found itself trying to answer an important question, though: at which point would the mess have been so large that the fans would stop tuning in? At which point would $3.3 million saved on pension plans fail to make up for respect, and ultimately money, lost? It's a fraction of $9 billion, but $3.3 million is still $3.3 million.
"Even for a company that makes billions, $3.3 million is still real money," Johnson said. "I'm always frustrated when the government talks about millions, billions and trillions like they don't matter. It is still real money, and for most of us, myself included, that's still a significant amount of money."
#poll
The NFL certainly did not make a bad business decision in an effort to please football fans, but it may have felt pressured to act quickly in order to avoid a damaged reputation.
"The money is important to any business, but so are the fans," Johnson said. "There have been multiple opinion pieces calling on the NFL to resolve the labor dispute. It was the top story on SportsCenter every night. There was clearly a lot of pressure on the NFL."
That pressure meant a Hail Mary pass thrown by the referees' union at just the right time may have lead to a compromise no one was expecting, but fans shouldn't take the newly resolved dispute to mean the NFL got bullied into doing something it didn't want to do.
"The NFL didn't become the most successful franchise in the history of professional sports by making bad business decisions," Fran Tarkenton wrote for the Wall Street Journal before the dispute was resolved. "The idea that the locked-out officials have a gun to the league's head is laughable."
It's all about the trade-off: being willing to take one step back to take two steps forward. The league took a hit to its reputation, but it may have been a small price to pay in exchange for resolving the dispute on its own terms. After all, the fans will always return.
"Fans will hold it against the NFL for now," Johnson said. "But after three or four more weeks of exciting games, and when the playoffs get underway, these mistakes will be more or less forgotten."
×
Related links
Related stories