Estimated read time: 2-3 minutes
This archived news story is available only for your personal, non-commercial use. Information in the story may be outdated or superseded by additional information. Reading or replaying the story in its archived form does not constitute a republication of the story.
LOGAN — Both BYU and Utah suffered ugly losses last week on the road, but Utah State got another good looking win against the Colorado State Rams in Fort Collins.
Here's a four-minute video with the highlights from the USU CSU game. The game was a bit hard to find last Saturday, so if you missed it, here's your chance to see Kerwynn Williams tear the CSU defense apart.
Next up for the Aggies is UNLV at home on Saturday.
Logo Mishap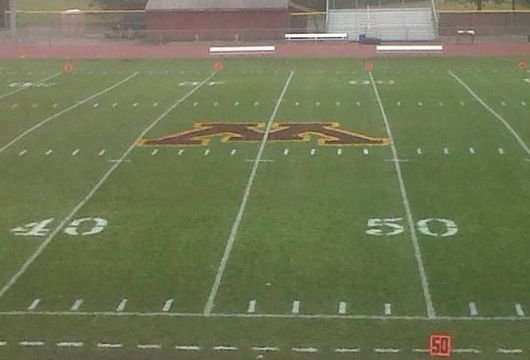 The Division II team University of Minnesota, Crookston, painted a pretty new logo onto their field, but when the artist stepped back I'm pretty sure he just hung his head in defeat.
Everything looks fine at first glance, but then you notice the logo has been painted at the 45-yard line, not the 50.
Hopefully the field crew has time to fix that "Great googly moogly" moment before next game..
Replacement Weatherman
Replacement refs seem to be all anyone can talk about this week. Granted, the game-ending call on Monday night was terrible, but please ESPN, don't show it for the 8,398,435,677th time.
Anyway, as you can imagine, folks in Wisconsin aren't too happy about the call and a Green Bay TV station decided to take a shot at the refs.
The NBS station NBC26 started their weather segment with a "replacement weatherman" and it was a disaster.
I guess the station has kind of made their point, but personally, I'm just relieved that a ThunderBlizzardHurricane isn't a real thing.
Soccer Shenanigans
Brazilians take their soccer seriously and will do just about anything to make sure their team wins. They'll even ruin a game to make sure their team comes out on top.
During a match in a low-level soccer league a player was deep in the other teams' territory late in the game with his club trailing by one goal. As the player starts to make his move a defender comes out of nowhere and kicks the ball away.
Wait, did I say defender? I meant the other teams' trainer.
Yes, the trainer. The guy loves his team and instead of seeing them give up a late goal he decided to take the game into his own… feet… and kick the ball clear.
You might want to get after the trainer for losing his team the game, but truth is, the ref was at a total loss and just let it go and the trainer's club won 1-0.
×
Most recent Sports stories