Estimated read time: 4-5 minutes
This archived news story is available only for your personal, non-commercial use. Information in the story may be outdated or superseded by additional information. Reading or replaying the story in its archived form does not constitute a republication of the story.
If there's ever a time for BYU to pull it together and start putting wins under its belt again, now is the time.
The Cougars will face the University of Hawaii Warriors this Friday back home in Provo for the first time since their two road losses against Utah and Boise State.
The losses — close and against formidable opponents, both culminated in the fourth quarters and, since the recent development of quarterback Riley Nelson's injured back during both games — could have ended with wins.
Hawai'i (1-2, 0-1) at BYU (2-2)
Game Notes
Hawai'i (1-2, 0-1) at BYU (2-2)
Date/Time: Sep. 28, 2012 6:00 p.m. MT
Site: LaVell Edwards Stadium
TV: ESPN
Radio: KSL Newsradio 102.7 FM 1160 AM
Series Record: BYU leads 20-8
Last Meeting: 2011 (BYU 41-20)
Kickoff Weather: Sunny, temps in the mid-70s
But the could have's and should have's are in the past, and the country has turned to debating on the newest gossip concerning BYU: the clash of the quarterbacks.
After throwing three interceptions during the Boise State game, Nelson handed the reigns over to freshman quarterback Taysom Hill, who ended up scrambling for the first offensive touchdown of the game.
Immediately, many BYU fans across the nation begged for Hill's placement as starting quarterback, but BYU head coach Bronco Mendenhall put those pleas to bed when he stated, "The starting quarterback is the same one we've had. Riley's a little bit beat up still; might take to the end of the week before we know for sure if he can play or not, but nothing's changed in my mind."
While some call for one quarterback or the other, Samuel Benson, a featured columnist for Bleach Report, asked, "It only makes sense to use the players to their advantage, so why don't the Cougars try out a two-quarterback system?"
Benson even gave potential plays:
"In a situation where BYU might run the play, Taysom Hill could line up as quarterback and bring Riley Nelson in motion. Riley then would scramble to his left (being a lefty) and could throw to a receiver. Flip the play, and you have the same thing, just with Hill in motion and rolling to his right. Or, to make it even more crazy, you could keep Riley as a wide receiver and have Hill toss a screen to him, after which Nelson would throw a pass."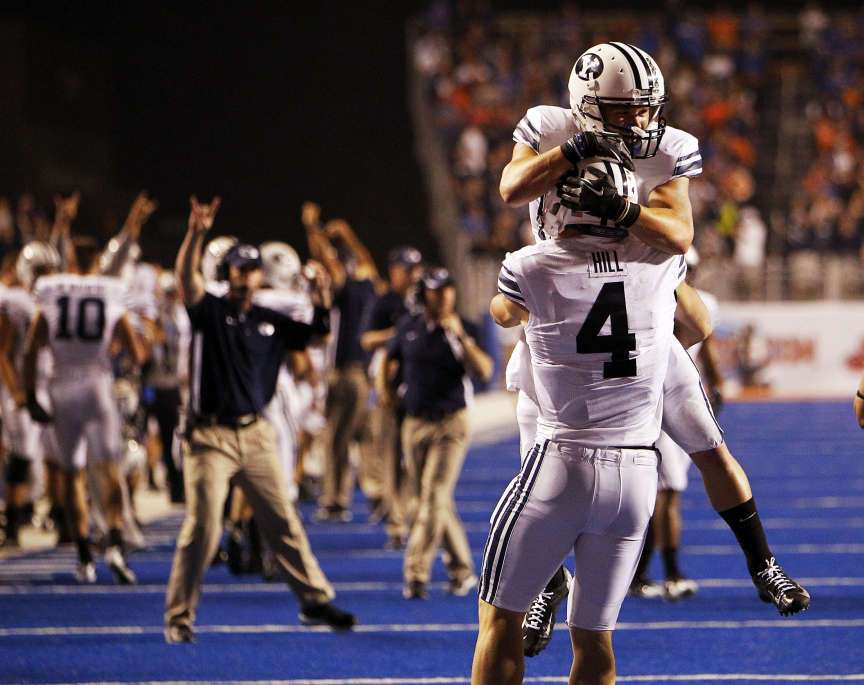 Benson also gave a blunt report of what needs to happen for BYU to succeed the rest of the season, saying, "A few people or units made mistakes that had a hand in leading to each loss. If the Cougars truly want to become a great — not a good — team, a few changes need to be made at these four coaching and playing positions."
Amid quarterback controversy, Hill is taking all the learning experience he can get during his limited game time.
"It's tough when you start a drive and your heels are on your goal line and you're doing all you can just to get out of there so your punters aren't punting out of the back of the end zone," Hill said. "It's a tough situation and it allowed me to grow up and mature quickly and learn from those experiences so if they do come in the future, I've been there before."
Hill was recently bumped up from third-string quarterback to second-string — a decision made based on playing style.
"The reason that Taysom is getting the majority of the snaps is it allows us to train, because he and Riley are similar in style," Mendenhall said. "So it allows us to keep the game plan alive for Riley, and if he can't, it's not going to be that big of a jump to get to Taysom."
Concerning the loss to Boise State, Hill simply stated, "That's football, and we live. And now we're preparing for Hawaii and we can't worry about things in the past."
Looking ahead to the game versus the Warriors, who just came off a crushing 69-24 home loss to Nevada, BYU is aware of Hawaii head coach Norm Chow's skill.
"He's an experienced and well-thought out offensive coordinator, so he has a good plan week-in and week-out, a good system, a good style," said Mendenhall of the opposing head coach. "I'm sure he'll have a nice plan versus us."
Chow, whose 26-year history with BYU took place during the Cougars' 1984 championship, is acquainted with the style of Cougar football.
Said Chow concerning BYU's defense:
"(BYU defense does) a lot of different things. They play very good defense. They held Boise State scoreless. Boise only scored on a defensive touchdown. Utah got 24 on them but got lucky on a couple shots, going over the quarterback's head and that kind of thing. They're nothing fancy. They play an even front. They bounce around pretty good and play a lot of zone coverage. But they do it very well. They know the type of athletes that they have and they make very good use of them."
Regardless of who will start this Friday, the Hawaii game looms, and if BYU wants to start winning again, not only will the quarterback decision need to be made, but the tightening up of Cougar offense in general is a must.
×
Related stories
Most recent Sports stories