Estimated read time: 2-3 minutes
This archived news story is available only for your personal, non-commercial use. Information in the story may be outdated or superseded by additional information. Reading or replaying the story in its archived form does not constitute a republication of the story.
GREAT FALLS, Mont. — The parents of a teenager who ran away from home last week are concerned for the boy's life after receiving an ominous phone call claiming the boy is dead.
Daniel Christensen, 13, went missing Sept. 17 from his home outside of Great Falls, Montana. His family has posted fliers at most truck stops in Montana, Idaho and Utah and have created a Facebook page.
The teen's father, Ken Newell, has received multiple phone calls from people claiming to have seen the boy: one sighting was Sept. 17 outside a Walmart in Missoula, Mont. with a man in his 40s or 50s, who had long gray hair and a beard; the other was on Sept. 19 at a Flying J truck stop in Bonner, Mont., with an older man.
A seven-second phone call Newell received at 9:30 p.m. Sunday, though, has left Newell and Christensen's mother, Heidi Christensen, of Layton, in a panic.
"I said 'hello' twice, heard it click to connect, and a deep, scruffy voice said, 'You're son is dead,' and hung up," Newell said.
There are currently no leads on who made the phone call, and Daniel has been listed as a runaway with the Cascade County Sheriff's Office.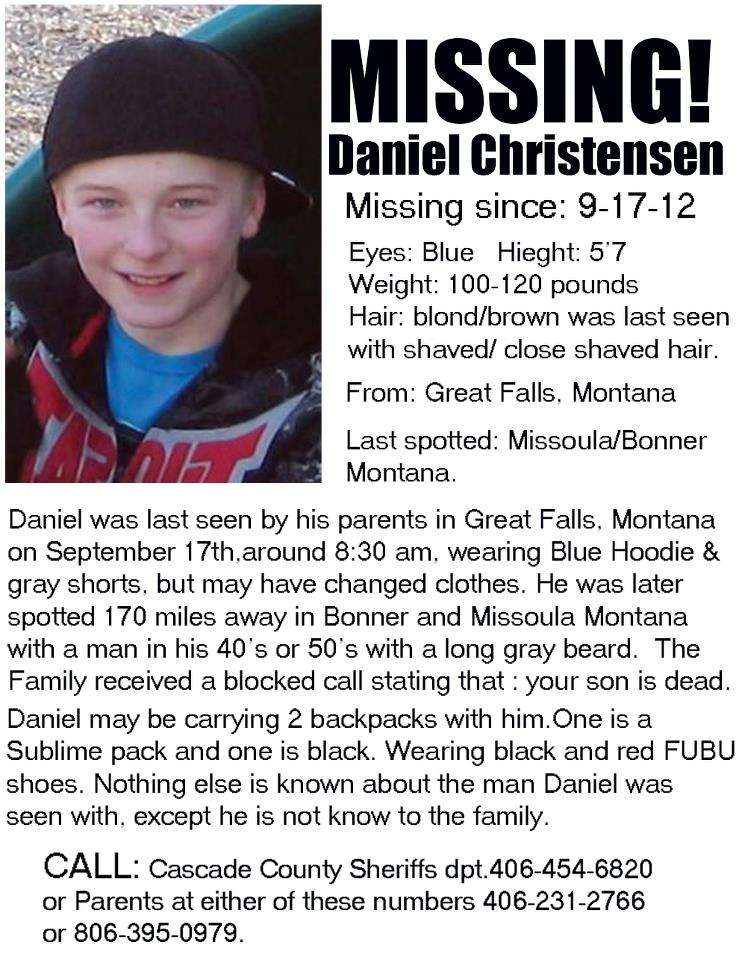 "It doesn't seem like this is a very high priority for them," Newell said. "They said the phone call is a prank. I'm hoping it's a prank and we don't find his body lying in a shallow grave somewhere."
Calls to the Cascade County Sheriff's Office were not returned.
The teen had lived with his mother in Layton for 10 years before moving in April to live with Newell and his wife, Roz Newell, in Montana.
"He was a troubled teen, getting into trouble at home, so we brought him to Montana for a more simple life," Newell said. "A couple weeks ago, he threatened to run away, so I sat him down and talked to him about what would happen if he did, and someone picked him up on the side of the road. Anyone who is going to pick up a 13-year-old is going to do unspeakable things."
Daniel packed two backpacks and left his family's home while his stepmother was at a doctor appointment, according to Newell. He had been left in the care of a friend. Ken Newell is a truck driver and had left Sept. 16 for a four-day trip.
Newell said Daniel has relatives in both Montana and Utah, but has contacted no one. Anyone with information is urged to call Ken Newell at 806-395-0979 or 406-231-2766, or the Cascade County Sheriff's Office at 406-454-6846.
×
Photos
Related links
Most recent Utah stories