Estimated read time: 5-6 minutes
This archived news story is available only for your personal, non-commercial use. Information in the story may be outdated or superseded by additional information. Reading or replaying the story in its archived form does not constitute a republication of the story.
SALT LAKE CITY — The 2012 season hasn't gone as well as expected (hoped?) for BYU fans (or Utah fans for that matter, but this little nugget is for the Cougars), but here's something to mark down for next season.
According to The Tennessean, BYU has a signed a home-and-home series with Middle Tennessee State that has the Blue Raiders traveling to Provo in 2013, and BYU making the return trip to Murfreesboro, Tenn. in 2014.
BYU has not confirmed the deal.
So looking at next year's schedule for the Cougars:
Home: Texas, Boise State, Utah, Georgia Tech, Middle Tennessee
Away: Wisconsin, Notre Dame, Hawaii, Houston, Utah State
Middle Tennessee, a member of the Sun Belt Conference, has been as FBS school since 1999. After going 10-3 with a New Orleans Bowl victory in 2009, The Blue Raiders have gone a combined 8-17 in 2010 and 2011.
This season, the Blue Raiders have started 2-1 with Georgia Tech up next.
These will be the first time BYU and Middle Tennessee have ever met.
Flip for a scoreWell, it wasn't on purpose, but it was pretty.
After catching a pass from quarterback Bob Bentsen, Rhode Island's Brandon Johnson-Farrell is upended, but lands on a James Madison defender, flips over and continues into the end zone for a 56-yard touchdown.
Amazing, but I'm going to argue both his helmet and his knee hit the ground.
But in this day and age of replacement refs, let's just enjoy it for what it is.
One-legged goal
Okay, so I'm guessing most soccer goals are scored with one leg, but this goal was scored by a player who only has one leg.
Concord-Carlisle Regional High School (Concord, Mass.) senior forward Nico Calabria (#13), who was born with one leg, scores on a corner kick.
Nico supports himself with his crutches and as the kick heads for him, does a sort of bicycle kick to knock the ball past the goalie.
the goal is impressive, but more so is this kid.
Explosive soccer
While the crowd erupted on Calabria's goal, an actual explosive erupted during a soccer game in Iran.
Last week, during a Asian Champions League quarterfinal match between Sepahan FC (Iran) and al-Ahli SC (Saudi Arabia)
Sepahan midfielder Adel Kolahkaj picked up a small, black object that was thrown on to the field and tossed it off to the side, out of bounds.
Turns out that object was some sort of explosive,, which exploded upon landing.
Everyone in the vicinity, including players and referees, took off running.
No one was hurt, luckily, and the game was cancelled, justifiably, but players came back on field after security inspection was made.
Not that it should matter at this point, but the match ended in a goalless draw.
Turn back the clockKSL TV provided a blast from the past on Sunday, posting this 17-year old clip of Greg Wrubell, the Voice of the BYU Cougars, and sitcom star Matthew Perry playing a little hockey.
Well, it was a stand-up Wrubell was covering for KSL TV on January 21, 1995.
With footwork like that and those refined puck-handling skills, a dead giveaway that he's Canadian.
Hockey coach "throws" out first pitch
Tampa Bay Lightning coach Guy Boucher added a little flair to his ceremonial first pitch at a recent game between the Tampa Bay Rays and the Toronto Blue Jays at Tropicana Field.
Instead of trying to wind up and throw a strike to the catch, Boucher did what cam more natural.
He set the baseball on the pitching rubber, grabbed a hockey stick and whipped a wicked wrister to the catcher for a strike.
Impressive indeed, but it would have been off the charts if he'd walked out there with skates on.
Fan favorite
Staying in Tampa, Rays shortstop Elliot Johnson is quickly gaining "Fan Favorite" status, not just because of his hard-nosed style on the field, but for his efforts to mingle with the fans.
Before a game last week between the Rays and Boston red Sox, a fan named Chris tweeted Johnson before the game, asking Johnson if he'd like to join him in the parking lot to play catch.
No doubt a longshot, but what the heck, why not?
At the very least, maybe you get a response or a retweet.
Johnson responded, by asking which lot they were in an wouldn't you know it, came out to play.
Johnson enjoyed it enough to snap a picture and note it on Twitter.
According to Chris, after the game Johnson saw Chris and his buddies behind the dugout and tossed them a few game balls.
"What a great experience, Elliot couldn't have been a nicer guy," wrote Chris.
Agreed.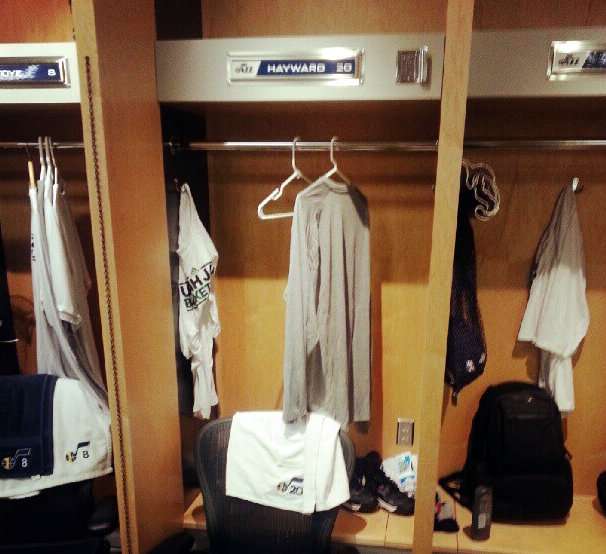 Knock, knock, knocking on hardwood floorIf you are too caught up right now with the fate of your favorite football team, you may not have realized that the NBA basketball season is knocking on your door.
Training camp opens in about a week and if you don't believe me, then don't take my word for it.
Look at what Utah Jazz forward Gordon Hayward tweeted:
"Basketball season starts soon #jazznation"
He also included a picture of his fully stocked locker.
Yes Jazz fans... be excited!
Mascot Bowl
And if you are looking for something to do with your Monday night tonight, check out the Jazz Bear's annual Mascot Bowl.
"Local, NBA and NFL mascots vs Lehi little league football team," reads the press release, so you know it'll be an all out war.
Admission is $3 and it's for a good cause. All proceeds benefit Bear Hugs for Kids Christmas.
The game's at Lehi High School (80 North 500 East, Lehi) and will start at 6 p.m.
If you aren't able to attend, check out Sam Penrod's live shot on KSL TV News at 6.
×
Most recent Sports stories