Estimated read time: 1-2 minutes
This archived news story is available only for your personal, non-commercial use. Information in the story may be outdated or superseded by additional information. Reading or replaying the story in its archived form does not constitute a republication of the story.
NEW YORK — A New York City college student was knocked unconscious this week when a mattress fell at least 30 stories from the top of a building.
Jesse Scott Owen, 18, was on his way home Tuesday from class at King's College in Manhattan when he was suddenly knocked unconscious, he told the New York Daily News.
"I woke up and people were putting me on the mattress," he said. "I asked where the mattress came from and they said, 'You were knocked out by it.'"
The futon mattress had fallen from the rooftop spa of the Setai Wall Street, according to witnesses.
Owen was taken to a local hospital with a sprained neck. The journalism student from central Florida had been in New York for only three weeks and said he he not been prepared for that type of incident.
"I keep my wallet in my front pocket, and still, tragedy strikes. #fallingmattresses," he tweeted.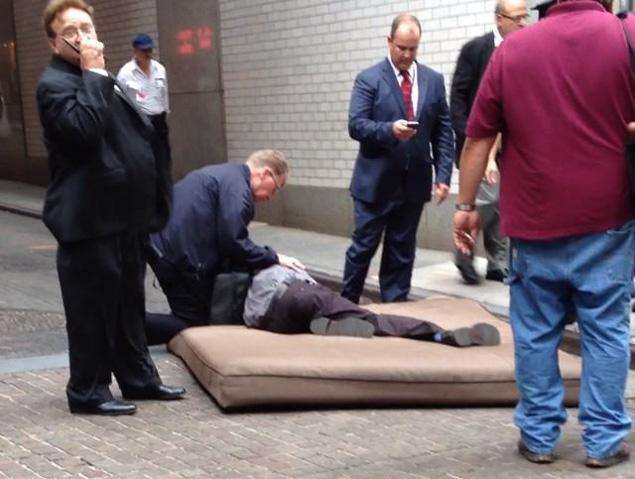 Owen told CBS New York he has plenty of material to write home about.
"I got into class today and people were clapping for me," he told the station. "People brought me food and everyone's hugging me. They're like 'You're alive! You're alive!' So it was an exciting experience."
Owen interacted on Twitter with a Brooklyn man who said he was the first on the scene. The student asked Neil Hooey what he saw.
"I saw a mattress fall out of the sky and land on you," Hooey replied. "You fell down and said 'What happened?', then I told you the obvious."
×
Related links
Related stories
Most recent Features stories
More stories you may be interested in