Estimated read time: 3-4 minutes
This archived news story is available only for your personal, non-commercial use. Information in the story may be outdated or superseded by additional information. Reading or replaying the story in its archived form does not constitute a republication of the story.
BOISE, Idaho — The BYU Cougars headed to Boise to take on the Boise State Broncos on the Smurf Turf and pitiful offense, impressive defense and a questionable two-point conversion both gave the Cougars a chance to win and ultimately lost the game.
The first half was all defense and both offenses were inept at best.
"19 yards passing by BYU in the first half," tweeted @BrandonCGurney. "Has to be some sort of school record."
"Big defensive game," tweeted @kirkjeffery. "0-0 at the half BSU/BYU. First time since 2005 BSU hasn't scored in the first half."
Riley Nelson was struggling and managed to throw two interceptions, one of which was returned for Boise State's only score, and lost a fumble in the first half which left people wondering if he'd start the second half.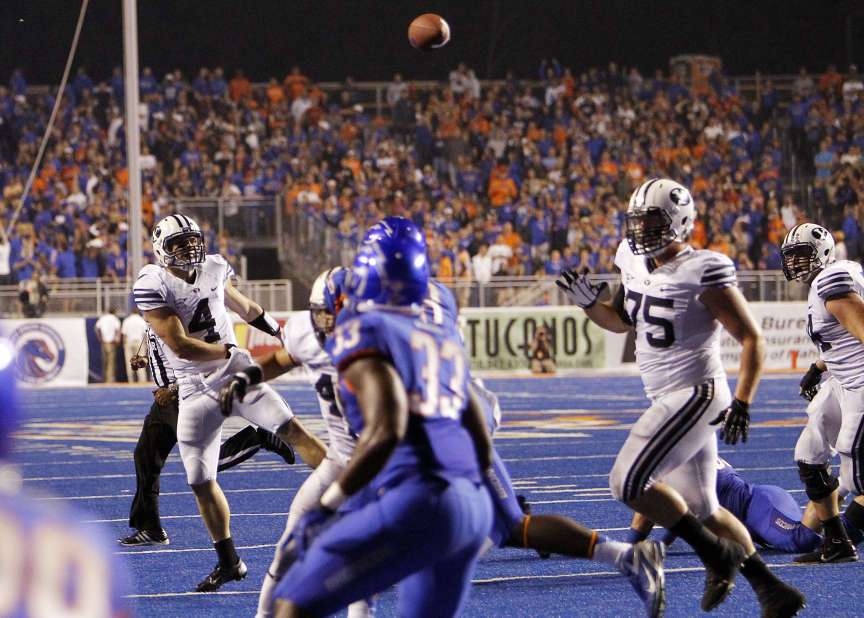 "If Riley Nelson starts the second half I say we all start an online petition," wrote @TheSheriff009.
"Please don't let Riley Nelson throw the ball again!" tweeted @BBQGrail.
"If BYU can sit Jake Heaps for bad play, then Nelson is long past due," tweeted @lordanddrew1. "Don't play favorites, coaches!"
Much to the dismay of those tweeters Riley started the second half and quickly threw and interception. After that the coaches made the change went with freshman Taysom Hill.
When Hill came in he handed off to Alisa on the first play and Alisa coughed it up on their own one-yard line. The Broncos took over but the BYU D had the stop of their lives and kept them out of the end zone.
"Fantastic defensive stand," tweeted @usujason. "The BYU D should just go old school and play both ways at this point."
"Nice job D," tweeted @caseliv. "I don't care if BYU wins.. The best goal line stand in the Bronco era."
The Cougars went into the fourth with the score still at 7-0 and finally the BYU offense started making some progress.
Taysom Hill lead the Cougars down the field with some great decision making and solid passes and finally capped it off with a hard run into the end zone. BYU was out of timeouts with just over three minutes to play and the Cougs were an extra point away from overtime. But, the coaches decided to go for two. The play resulted in an incomplete pass and the Cougars were down one point with no timeouts and the clock running.
"BYU was down 1 point and went for 2 just to not get it. Get out the NCAA," tweeted @Mind_YaOwn.
"So BYU just made the dumbest 2 point conversion decision I've ever seen," tweeted @demmert4. "Talk about a coach blowing a game."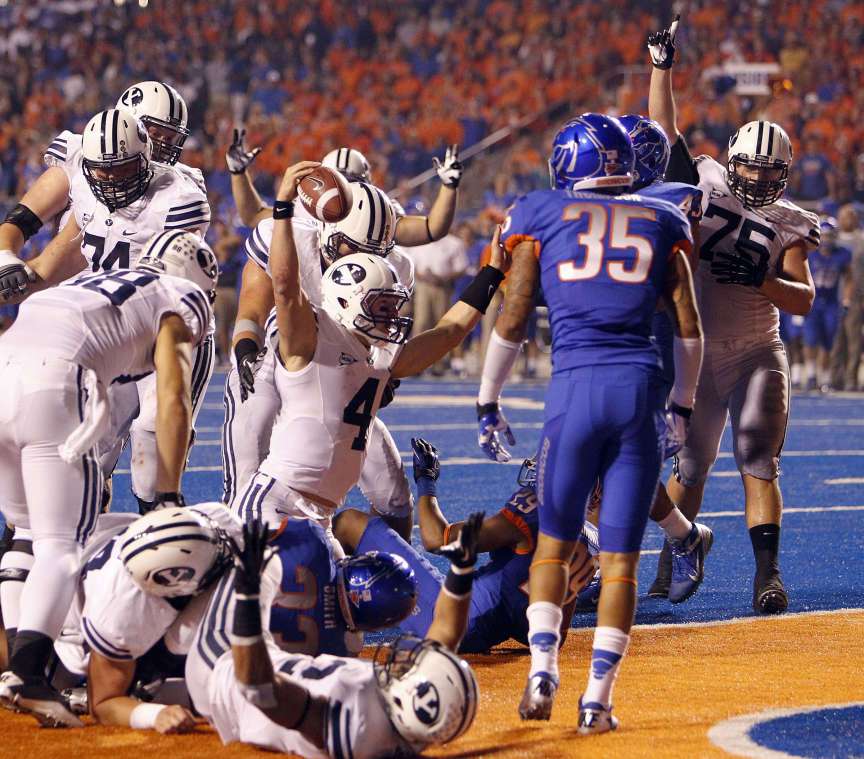 "BYU Loses To Boise St 7-6 All Because BYU Head Coach Wanted To Go For The 2 Point Conversion," wrote @TBland_ESPN24.
"0 timeouts. 4 minutes left. Solid D. BYU 2-point conversion decision is in top 10 for dumbest I've ever seen," tweeted @richaned.
Clearly the choice to go for two was not a popular one, but would Bronco be lauded as a hero if they got it?
While the game was a mess to watch there was one bright spot that seemed to emerge.
BYU's bizarre decision to go for two pt conversion overshadows great performance by freshman QB Taysom Hill: some say he's next Steve Young," tweeted @edwyatt.
"We might have lost, but Hill is a beast!" tweeted @jwitts72.
"How does a defense shut out a team and still lose...? Looking up, the future looks bright for BYU with Taysom Hill," tweeted @mgadams3.
Hill had to shake off a few cobwebs, but once he got rolling he looked like a leader, but the question now is, will he get the starting job next week?
×
Related stories
Most recent Sports stories